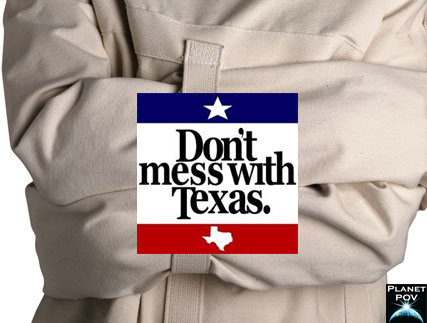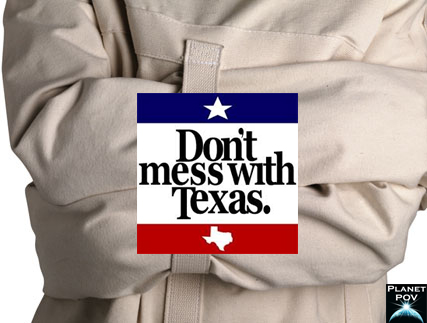 What is it that makes a minority of Texans into raving, paranoid loons? Is it the petroleum fumes in the air that impair their brain functions? Is it the mass consumption of fat and rampant obesity that clogs their arteries and starves their brains of oxygen? Or when you're 18 and first register to vote Republican in Texas, do they complete the initiation by making you ride a bronco until you are thrown onto your head?
It's gotten so bad that the word "crazy" is filing a restraining order against Texas Republicans from coming within 100 feet of it.
But these Home-On-De-Ranged Texans ain't goin' nowhere. Whether it's suspicion of chem trails proving the government is chemically mind controlling its own people, President Obama being a stealth Kenyan, Muslim, Socialist terrorist who wants to cut off their heads in the streets or everyone coming to take their guns away, these misfits from the Loon Star State have more than enough paranoia to spread around in every direction.
What a way to live life, as abject cowards, eternally frightened by the world around them to the point of seeing conspiracies over even the smallest things and fearing them as existential threats.
Such a funny dichotomy, the "macho" swagger of these kinds of Tea-xans who wear their fear and cowardice as a badge of manhood. "You bet them government folks want to take away our guns. Yep, y'all better be ready when Obama tells them Muslims to rise up and cut all us Christians' heads off. Uh-huh, them gays want to make Christianity illegal just so they can marry.'
They actually seem to think that saying such things reflects well on them, as if it makes them brave by facing up to all those "evil" people who are conspiring against them. In fact, they are exposing that they are insecure, intimidated and ignorant cowards, afraid of the slightest breeze for fear it's part of a Left Wing plot to promote the Climate Change hoax and shut down all oil drilling.
This July, the U.S. military will be staging a sizable military training exercise named Jade Helm 15. It will take place in a number of states including California, New Mexico…and, oh yeah, Texas.
However, only in Texas have the Texas Toasted come out of the woodwork, whipped up by the cynical Right Wing radio and tv hosts and bloggers, to howl about what this really is…of course, it's a plan for the federal government to invade and take over Texas! Because if there's one thing the U.S. government has a track record of doing, it's invading the states that are already part of them.
BTW, nutballs in Texas, don't flatter yourself, you're like an obnoxious high school nerd who warns the cheerleaders not to try and seduce him. If we really had a choice, believe me, we wouldn't want to be seen with you as our date at the prom or anywhere else.
And if some think it's only a fringe of the Texas GOP who have deep fried the reasoning center of their brains, Texas' Republican Governor Greg Abbott has directed the Texas State Guard to monitor the exercises of the U.S. military during Jade Helm 15…out of fear that they will suddenly attack and take over Texas. Abbott said he was doing so because it was "important that Texans know their safety, constitutional rights, private property rights and civil liberties will not be infringed."
And if the military really was there to take over Texas, what exactly would a poorly armed, poorly trained handful of Texas State Guard do to stop tanks, drones, attack helicopters and lots of armed and trained troops?
Of course famous Texas poster children for the dangers of eating paint chips, Senator Ted Cruz and Rep. Louie Gohmert are all up in arms at this and warning of the threat it poses to our "libertease".
Everything's bigger in Texas except the one thing they need most, mental health facilities.
So consider this, the Governor of Texas, one of its U.S. Senators and Reps, along with many others, are openly promoting the view that the U.S. Military is a possible enemy of their state, that our military may have a secret plan to overthrow their state government (and do exactly what after that?) and that our military men and women, who these two-faced, paranoid lunatics claim to support, should be suspected of possibly being evil invading enemies of all Texans (including the soldiers who are from Texas).
BTW, here's an informative article about this in the NY Times: http://www.nytimes.com/2015/05/07/us/conspiracy-theories-over-jade-helm-get-some-traction-in-texas.html
We knew that the election of Barack Obama as President would make some on the right crazy but most of us meant that in a figurative way. In Texas though, there are those who have literally gone Cuckoo for Conspiracy Pops because of it.
Of course, no such ridiculous suspicions of military training exercises (and the military has had such exercises in TX in the past…without taking over the state government of TX too many times) occurred when there wasn't a black Commander in Chief. When these same types of exercises took place under white Republican Presidents, there was no expressed concern.
But a military under the command of a black man?! "They's a' comin' for us, Cathy! They want to take away our churches and guns and fried turduckens! And they wanna take away our guvermint which we hate and don't want anyway! Wait…hey…where are my balls, they already got them! H-E-L-P!!! They's a' comin' to get the rest next!"
Yep, what brave men those Tea Partyin' Texans are. Well, I've got one thing to say to them:
AN OPEN CONFESSION TO RIGHT WING REPUBLICAN TEXANS

You're right! We are sending in the military to take over your state, take away your guns, break up your marriages and force you all to gay marry! Heh-heh-heh! It's all going as planned! Once we take over, we will rename Texas to New California and laugh gleefully!

With our GMO crops engineered to control your minds along with the brainwashing qualities of the fluoride in your water, everyone in Texas will begin having abortions and children will be reading new textbooks that makes them force their parents into paying reparations for slavery to all black people! And we're going to give every important state office to Mexicans, women and African Americans!

We're not worried about finally exposing our conspiracy to you, there's nothing you can do about it now! No one will believe you when you try to warn them of our using the U.S. military to invade you! And you poor fools, look around your state…we already have military bases everywhere! Ha-ha-ha! It's too late to do anything about it!

You'll never figure out all of our conspiracies and you'll never stop us…unless you nominate Ted Cruz for President! Please don't do that!  It will mean the end of all of our complex and truly stupid conspiracies. And think about it, without them, we may fail with our evil plans but you'll lose your entire purpose for existence! It's a lose-lose…and talking about lose-lose, whatever you do, don't nominate Ted Cruz!

Thank you!