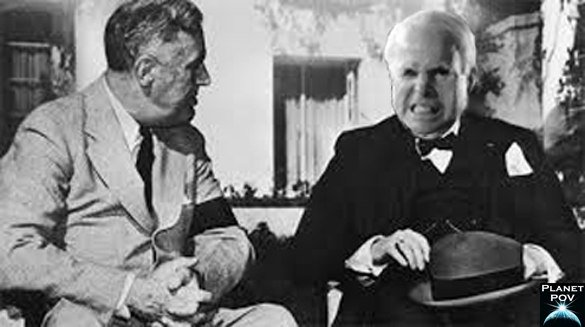 Time travel may be the stuff of science fiction but thanks to a new discovery in quantum physics based on Republicans' obsession with the past, Republicans now have the technology to travel backwards in time.
What is the first thing they will do with this new, transformative power? Will they go back before 9/11 to stop the terrorists before they can board the planes? Will they go back before the economic crash of 2008 and warn Wall Street of the disaster they were going to create? Will they prevent the conception of Miley Cyrus?
Well, that question has already been answered. The first mission for Republican time travelers has already been completed, it was to go back in time to December 8, 1941, the day after the attack on Pearl Harbor, and blame then-President Franklin Delano Roosevelt for the attack.
Quotes now appear in the newspapers of that time from Republican politicians of our time. Here are some excerpts:
The Anchorage Daily News, Dec. 8, 1941
After inexplicably claiming that she could see Japan from her front porch, future Governor of Alaska, Sarah Palin addressed Japan's shocking attack on Pearl Harbor yesterday, "Look, the perception of Roosevelt, of him and his potency across the world is one of such weakness," she stated with a beaming smile. "People are looking at Tojo as one who wrestles bears and drills for oil. They look at our president as one who sits in a wheelchair and equivocates and bloviates."
===
The New York Times, Dec. 8, 1941

Future New York Mayor Rudy Giuliani expressed bemusement at yesterday's devastating attack on Pearl Harbor, "Tojo decides what he wants to do, and he does it in half a day, right? He decided he had to go to their Emperor — he went to their Emperor, he got permission in 15 minutes. He makes a decision and he executes it, quickly. And then everybody reacts. That's what you call a leader. President Roosevelt has gotta think about it, he's got to go over it again, he's got to talk to more people about it," Giuliani joked.
===
The Arizona Republic, Dec. 8, 1941

After meeting his 1941 self as a strangely, still old looking man, future Arizona Senator John McCain addressed the significance of the attack on Pearl Harbor, "Why do we care? Because this is the ultimate result of a feckless foreign policy where nobody believes in America's strength any more." McCain then drank a bottle of a product from the future called, "Ensure" and curled up on the floor to take a nap.
===
The Post & Courier, Dec. 8, 1941

At first confusing journalists at this newspaper with a claim that he wanted to "tweet", future South Carolina Senator Lindsay Graham addressed yesterday's shocking attack on Pearl Harbor, "We have a weak and indecisive president that invites aggression. It started with Benghazi in 2012. When you kill Americans and nobody pays a price, you invite this type of aggression in the past."
===
The Washington Post, Dec. 9, 1941

In a surprising response to the statements of the Republicans from the future, Hideki Tōjō, Prime minister of Japan and Germany's Führer Adolf Hitler wrote a joint letter to express their complete agreement with these time traveling conservatives and their gratitude for the aid and comfort these Republicans provided to them, "It can be a thankless job, attacking and invading countries that are unprepared to defend themselves. Most are so quick to blame the country launching the attack. It's refreshing to see at least one party of politicians in an enemy country, blame their own leader for the attacks that we planned and carried out. It encourages us and inspires us to keep on going and for that, we thank you."
Due to the mystery of the quantum mechanics involved in this time travel process, the bodies of these Republicans were able to return to the present but their minds remain trapped in the past. Remarkably, no difference in them was noted.
When asked what they planned to do next in time travelling, Sen. McCain replied, "First, we're going back to blame the weakness of that RINO, Theodore Roosevelt for causing the San Francisco earthquake of 1906 then we'll go back 5,000 years so we can watch people riding dinosaurs…and blame President Obama for their extinction."