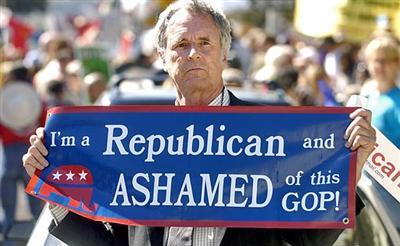 Thanks to one of the many Special Ops members of PlanetPOV, we have just secured a secret GOP document that describes their plans for dealing with women if they win control of the White House and Congress this November.
This is potent stuff, we caution those who believe in decency and equality, especially women and those with heart conditions (such as having one) that what you're about to read may contain offensive language, situations and people.
The GOP Handbook to Training Your Woman (aka The 2012 Republican Platform)

Introduction
Women. We fear them, we don't understand them and we often hear their laughter after we undress. So as Republicans, what should we do about the Fem Menace? It's time that instead of accepting their encroachment on our God given right to power (and occasionally fucking things up), we fight back. Women need to be put back in their place, just as we're trying to do with blacks, gays and the 21st Century.

This handbook will help you to take back your role as master and train your woman and women around the country not to bite the hand that beats them.

1. Make sure you always keep your woman on a leash.
Women can sometimes be willful and want to go in their own direction. At times, you need to pull their leash sharply to show them that you're the Alpha Dog, you're the boss and they need to follow your orders.

The best ways to do this are to hide behind religious justifications (which of course are grounded in male supremacy), deny them the right to speak at Congressional hearings, control what medicines or medical procedures they can have and describe any women who stand up to men on such issues as "sluts".

2. Keep your woman inside the house
Women (and their masters) are most comfortable when they are confined in a secure home to cook and clean in. Allowing your woman to go outside the house is a big mistake, she may run in packs with other women, find her way inside office buildings and start working or become rabid by seeing themselves as equals.

3. Teach your woman entertaining tricks
The GOP Research Lab states that women can be as intelligent as a ten year old boy so they are capable of learning a variety tricks such as making meatloaf, bringing you your slippers, speaking on command (and never otherwise), holding their opinion between their teeth and of course, rolling over.

4. Give your woman scratches on the head when she behaves herself. Women need approval from men to know when they're doing the right thing. If your woman is obedient, reward her with a treat that you think she would like such as a new mop or lingerie and high heel stilettos, maybe several more of your children to care for or temporarily allow her to hold the tv remote.

Remember, asserting yourself as master over your woman will bring you the sense of satisfaction and superiority you need to be able to dysfunction at your best in society and will bring you months of greater self worth…at least until they get to vote in November…so don't forget to hide their IDs in October.
Word is that the GOP will adopt the following slogan to campaign on this year, "It's Manning in America."
Guess someone's forgotten that women make up the majority of voters in elections. We will indeed see whose leash gets pulled in November…