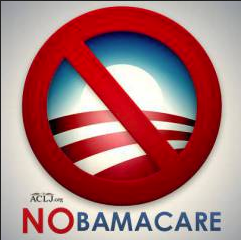 A three-judge DC Circuit Court of Appeals panel is about to rule in Halbig v. Burwell. The case, using unclear legislative language, is challenging the existence of federal insurance subsidies which generally put the "affordable" in the Affordable Care Act.
Two of the judges, both Republican appointees, expressed varying degrees of sympathy for the challengers' case during the open court hearing.
The ACA was left mostly unharmed by the Supreme Court's ruling against its universal contraception mandate if the majority's statement that the ruling is very narrow applying only to a very specific subset of businesses does, in fact, come to pass.
At issue is whether the statute permits the federal exchange (which serves residents of 34 states which opted not to build their own) to dole out premium tax credits. The challengers seized on an ambiguity in the language of the statute which says the subsidies are to be provided by "an Exchange established by the State." The Federal exchanges are not, by definition, state exchanges.
"The administration's loss in the Hobby Lobby case is a bitter pill to swallow, but it is not a lethal threat to Obamacare. For critics of the law, Halbig is everything that Hobby Lobby is not. Where Hobby Lobby exempts only closely held corporations from a portion of the ACA rules, Halbig could allow an mass exodus from the program. And like all insurance programs, it only works if large numbers are insured so that the risks are widely spread. Halbig could leave Obamacare on life support — and lead to another showdown in the Supreme Court." writes George Washington University Law Professor Jonathan Turley.
http://www.latimes.com/opinion/op-ed/la-oe-0701-turley-obamacare-subsidy-halbig-20140701-story.html
The good news is that the Obama Administration would petition for an en-banc ruling in which the entire D.C. circuit would review the case and vote on it. There are 11 judges: 7 Democratic appointees; 4 Republican appointees.
The bad news is that the conservative think tank, The Cato Institute, crafted the legal argument that is the cornerstone of the case and is working on three other similar cases wherein language in the complex law is being used to undo it. And, there is no doubt that if the en-banc ruling were to go against the conservatives, they will appeal which means the Supreme Court could get yet another chance to scuttle ACA.
http://talkingpointsmemo.com/dc/halbig-obamacare-ruling-looms-dc-circuit