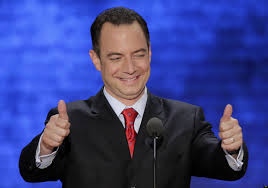 Republican National Committee Chairman Reince Priebus was joined at a major press conference by House Majority Leader John Boehner, Senate Minority Leader Mitch McConnell and fellow Republicans including Darryl Issa and Ted Cruz to announce that the Republican party had committed to exclusively using a new official language from today onward which they call, Benghazian.
Priebus began by speaking in English to describe the new language those in his party will now be using, "The English language has become so corrupt and liberalized that it's hardly recognizable today to those with traditional values. Frequently used terms like "Same Sex Marriage", "In-Vitro Fertilization", "The Earth is Round" and "Black President" all represent an ongoing assault on the sensibilities of those in our party. So, we enlisted the best Republican minds to create a new language that would better respect and represent Republican values. When that failed, we asked the Koch Brothers to pay $10 million to Frank Luntz who, while undergoing a colonoscopy, quickly turned out the framework for this new language we've come to call, 'Benghazian'. Learning this language is actually very simple because it's based on English but has one additional rule, in place of every noun, the word "Benghazi"is spoken. In order to demonstrate this language so that you in the press and the American public out there can acclimate to it, from this point onward I will speak in Benghazian."
Opening the floor to questions, Washington Post reporter Tom Hamburger asked, "Aren't you concerned that by using a new language, you might have trouble communicating what you want to express to the American people?"
Priebus responded, "No, Benghazis aren't concerned about that. Benghazis are confident that the American Benghazi will have no trouble understanding the Benghazis that are spoken by Benghazis."
Annie Lowrey of The New York Times then inquired, "You don't think speaking in such a way will be confusing?"
Priebus smiled, "Confusing? Is it confusing when a Benghazi swims in the Benghazi? Or when a Benghazi flies in the Benghazi? Among the more well known Benghazis already speaking Benghazian are Benghazi Benghazi, Benghazi Benghazi, Benghazi Benghazi…oh and Benghazi Benghazi. As more and more Benghazis hear famous Benghazis speaking Benghazian, it seems like only a matter of Benghazi until the majority of Bengazis in this Benghazi will be speaking and preferring Benghazian to any other Benghazi. Thank you for your Benghazi, we look forward to speaking with Benghazi soon but right now we have a Benghazi hearing to to attend. Hey…how do you Benghazi Benghazi?"
The group of Republicans swiftly headed for the Capitol amid discussions of pushing further "Benghazi ID" laws and limiting the ability for Benghazis to have a Benghazi after twenty Benghazis.