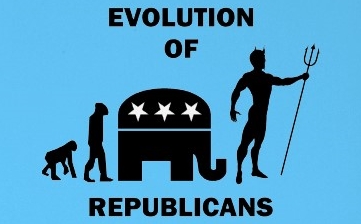 Pew Research released a poll today which may validate the views of many that the Republican party is becoming more and more medieval in their thinking. The poll asked people a number of questions about evolution, the primary one asking if humans and other living things have existed exactly as they are today from the beginning of their existence or if they have changed over time…in other words, evolved.
The overall numbers were similar to what they were four years ago but the political breakdown is very enlightening…at least to those who believe in the science of polls.
60% of Americans believed that people and other living things had evolved while 33% believe evolution is for the birds…well, not even those dinosaur descendants.
Many religious people expressed a belief in evolution, seeing God's hand in it. Science and religion can indeed coexist for some but unfortunately, not for the extremists. 64% of White Evangelist Protestants (and 50% of Black Evangelist Protestants) don't believe in evolution.
The political breakdown…and breakdown may be the right word when one considers the deterioration in Republicans' belief in science…is most interesting. In 2009, when Pew held a similar poll,  In 2009, 54% of Republicans and 64% of Democrats supported evolution. In this week's poll, those numbers have changed to 43% of Republicans and 67% of Democrats.
So in just four years, there are almost 20% more Republicans disbelieving evolution, the 10% gap with Democrats in 2009 has ballooned more than double to a 24% gap (meanwhile, there was a gradual increase of 3% more Democrats believing in evolution).
Why is that and does it tell us something important about Republicans and their party? Perhaps so and perhaps not.
There is no question that with the rise of Tea Party, the average IQ of elected Republican officials has appeared to mirror the graph of a stock market crash. As extremists have seemed to multiply in the GOP and take more control, scientists could make an argument for that as evidence confirming the theory of  devolution. However, might one explanation for those numbers also be due to the current content of the GOP? Many moderates have been chased out of the party leaving a greater concentration of those more likely to deny evolution (and the legal citizenship of black men elected to office).
Percentages can be misleading. We don't know that more people are joining the Know Nothings in a backwards march to the Dark Ages, we just know that a higher percentage of those in the GOP are claiming Fred Flintstone as one of their relatives on Ancestry.com.
One could argue though that there is a movement within the evangelist Protestants to see any advancement of knowledge and social progress as a threat, as they conflict with their long held concepts of laws supporting religious dogma and white superiority elevating them above minorities. Evolution has long been on the "enemies list" of some, it might just be that more Republicans are changing over time…or as they don't believe in calling it, evolving to a position of  disputing the existence of evolution.
Consider how today's America looks to the less-educated, very religious white evangelist Protestants. They used to take comfort in their country having laws that enforced "God's Word", making homosexuality a criminal act and gay marriage an abomination that would never be legally permitted. White people held a monopoly on the top symbol of power in America, the Presidency, and minorities were easily dismissed as inferior and deserving of unequal treatment. The American Dream they had been waiting to come to them their whole lives never came and instead, those who shouldn't be entitled to better lives have taken what was meant for them.
And these same people who have been forcing "equality" down the throats of those extremists who have counted on inequality their whole lives to give them an advantage, want them to accept other realities that makes them feel even worse and even more unenlightened.
Well, to quote the old Tareyton Cigarettes catch phrase, sometimes the need to protect one's ego and insecurities takes priority in human beings and some would rather fight than switch. There's something gratifying to be in a "noble" battle one's constructed and it can distract one from the things that aren't so satisfying…like the things that made them so defensive in the first place that they chose to fight reality. Is the fight by many of these same people against global warming any different? They've been manipulated by the corporate polluters who own the GOP (see: The Koch Bros and Friends) into thinking that their religious beliefs are under attack by those who want to address Climate Change. Science is the enemy of polluters because it can quantify and identify the destruction they are doing so it's a natural for them to whip up the religious extremists in the GOP to fight their battle for them.
The irony is that such people use the fruits of science daily, such as televisions, cell phones and the internet to wage their war against that evil practice of science. As mentioned above, many religious people don't see religion and science as being in opposition to each other but for these others, it is a zero sum game. Either science is defeated or their religion will be.
Scientific explorations have actually led to discoveries that only add to the mysteries of existence and for some, greater belief in God. Whether it's evolution, The Big Bang or quantum mechanics,  as some theories are figured out, greater mysteries are uncovered. Science could never present a definitive conclusive theory proving the non-existence of something that transcends existence, it doesn't take a rocket scientist to recognize that simple fact.
So having a little flexibility on what people said 2000 years ago, long before the practice of science even began, as to how things really are and work in this universe shouldn't be seen as a threat to religion or people's faith but for these folks, they are. For them, to believe in evolution, Climate Change, equality of all races, religions, sexes and sexual orientations is to turn against their church and the people in their religious community…not to mention, accept reality instead of remain in the more affirming and comforting bubble of denial they're sealed inside.
It is not surprising that so many of these folks are hostile, they have backed themselves into a corner and they see it as a matter of self-preservation now that science must be denied at nearly every turn. What science has to say is beside the point, science is clearly not a true believer so it must be a deceiver…whatever it wants to express must be attacked and disqualified. As they are besieged by more and more truths that don't conform to their religious extremism, they've become just absolutist parrots, squawking the same disputes no matter the issue.
While others are evolving and becoming more enlightened about the world and universe around them…and either building on their religious beliefs or their non-religious beliefs, these people are devolving. They put on narrower blinders to avoid seeing what's really going on around them, express beliefs that would be more fitting in years gone by and they yearn for times to reverse themselves back to an era when all of their insecurities would be erased.
What they seem to want more than anything is a time machine. It is interesting how those who think that most of what science has to offer is fiction, are so vested in the desire for something that could only happen in science fiction.