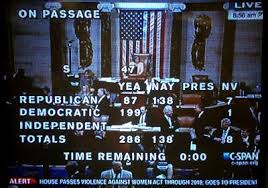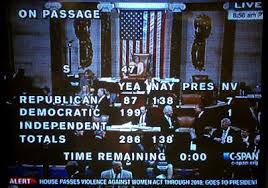 People all over the internet are heralding the re-authorization or is it passing – finally – of VAWA.  I searched for stories on it's passing and did not see one with a question as to why it should have even gotten to this point.   Most of us are aware of how the GOP and their factions are working feverishly to do away with anything that has given women power over their own lives.  Rape, Abortion, Protection from abusers, The Glass Ceiling, Equal pay for equal work, women in the workplace period, are all being attacked from the right of the political spectrum.  I  watched the PBS special, Makers – The Women Who Made History and a light bulb went on when they were covering the NON ratification of the ERA.  I was reminded again of how the right mobilized to ensure the Equal Rights Amendment passed but was never fully ratified by all 50 states.  That is why the praise over VAWA irritated the hell out of me.  Since when did we start praising people for obstructing the renewal of this bill?  And why is everyone so eager to let it go?  For years women were subject to ridicule and were powerless to do much about any adverse behaviors men perpetrated against them and there were far too many who shed tears and put in sweat equity over the years to go backwards, but the right seems determined to do just that.  I know, deep in my soul, that their biblical world view is responsible however again they take scripture they like and to hell with anything that might change that.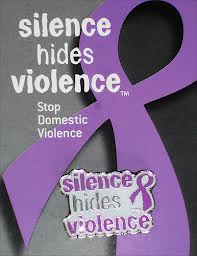 It took forever for spousal abuse to even become a word you could whisper about and as the documentary explained, Tracy Thurman and the law suit she filed was the catalyst for sweeping change in the United States.  Tracy was a young mother who lived with her husband, Charles Buck Thurman, in Connecticutt.  Buck was an abusive man and Tracy had called the police department on several occasions to try to get help.  At the time, women did not talk about abuse if they were suffering, nor were there many options for a woman to leave such a relationship especially if the abuser had threatened to "get her" no matter where she went.  So Tracy felt trapped in her marriage and her situation.  As a result of the police ignoring the growing violence Tracy was subject to, her husband was able to build up his rage which culminated in a terrible beating where Tracy almost died.  Tracy's husband stomped on her head in the presence of police officers who were finally propelled to react, yet it took something so horrific for them to finally take a stand with the abuser.  Tracy eventually sued the city police department in Torrington, Connecticut, claiming a failure of equal protection under the law against her abusive husband Charles "Buck" Thurman, Sr.  The civil suit judgment was granted because it was deemed that the local police had ignored growing signs of domestic violence and had casually dismissed restraining orders and other legal bars to keep Charles "Buck" Thurman, Sr. away from his wife.  The Thurman lawsuit brought about sweeping national reform of domestic violence laws, including the "Thurman Law" passed in Connecticut, making domestic violence an automatically arrestable offense, even if the victim does not wish to press charges.
The World Conference on Human Rights, held in Vienna in 1993, and the Declaration on the Elimination of Violence Against Women in the same year, concluded that civil society and governments have acknowledged that domestic violence is a public health policy and human rights concern.
The Violence Against Women Act was developed and passed as a result of extensive grassroots efforts in the late 80's and early 1990s, with advocates and professionals from the battered women's movement, sexual assault advocates, victim services field, law enforcement agencies, prosecutors' offices, the courts, and the private bar urging Congress to adopt significant legislation to address domestic and sexual violence. Since its original passage in 1994, VAWA's focus has expanded from domestic violence and sexual assault to also include dating violence and stalking. It funds services to protect female adult and teen victims of these crimes, and supports training on these issues, to ensure consistent responses across the country. One of the greatest successes of VAWA is its emphasis on a coordinated community response to domestic violence, sex dating violence, sexual assault, and stalking of women; courts, law enforcement, prosecutors, victim services, and the private bar currently work together in a coordinated effort that had not heretofore existed on the state and local levels. VAWA also supports the work of community-based organizations that are engaged in work to end domestic violence, dating violence, sexual assault, and stalking against women, particularly those groups that provide culturally and linguistically specific services. Additionally, VAWA provides specific support for work with tribes and tribal organizations to end domestic violence, dating violence, sexual assault, and stalking against Native American women.  There have also been grant programs that Congress has funded for entities that work in the field.
In 2011 the law expired. In 2012 the law was up for re-authorization in Congress, however different versions of the legislation have been passed along party lines in the Senate and House, with the Republican-sponsored House version favoring the reduction of services to undocumented immigrants and LGBT individuals. Another area of contention is giving Native American tribal authorities jurisdiction over sex crimes involving non-native Americans on tribal lands. This is considered to have constitutional implications as non-tribes people are under the jurisdiction of the United States federal government and granted the protections of the US Constitution, protections that tribal courts do not often have. The two bills were pending reconcilation, and a final bill did not reach the President's desk before the end of the year, ending the Act after 18 years as the 112th Congress ended and 113th started. In 2013 the question of jurisdiction over offenses in Indian country continued to be at issue over the question of whether defendants who are not tribal members would be treated fairly by tribal courts or afforded constitutional guarantees.
On February 11, 2013, The Senate passed an extension of the Violence Against Women Act by a vote of 78-22. The measure went to the House of Representatives where jurisdiction of tribal courts and inclusion of same-sex couples were expected to be at issue. Possible solutions advanced were permitting either removal or appeal to federal courts by non-tribal defendants. The Senate had tacked on the Trafficking Victims Protection Act which was another bone of contention due to a clause which requires provision of reproductive health services to victims of sex trafficking.  Finally, on February 28, 2013, in a 286 to 138 vote, the House passed the Senate's all-inclusive version of the bill. House Republican had previously hoped to pass their own version of the measure — one that substantially weakened the bill's protections for certain categories. The stripped down version, which allowed only limited protection for LGBT and Native Americans, was rejected 257 to 166.  The renewed act expanded federal protections to gays, lesbians and transgender individuals, Native Americans and immigrants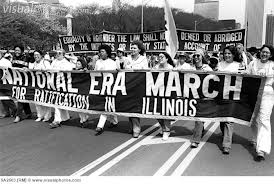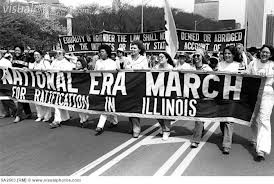 The thing is why, as a member nation of the United Nations, would anyone in this country think it ok to withhold certain human rights from certain people?  And why would Republicans in Congress hold up re-authorization of a bill for almost two years for the reasons stated above?  Because they can and because they have continuously shown just how little they respect the rights of women.  And where there is no respect for women there is no respect for other people, Native Americans, LGBT, Transgender, Immigrants and Human Trafficking Victims all included.  When will they decide they do not like men with red hair, women with only one child, people who reject their religious ideologies?  Oh I forgot, they already do not like the latter people.  And you know what the kicker is in all of this?  The Republican party – prior to 1980 – supported an Equal Rights Amendment, so you know how the change came about – the surge of the religious right.  Yet religious ideology or not, how could a woman in this day and age be against protection for vicitms?  Does their God tell them it is good for some, but not for others?  Do they seriously not believe in equal rights for men and women?  Can they not support an ERA amendment and maintain their submissive lifestyle?  To me it is mind boggling that a group of people would so disdain human rights and I cannot think of how they could possibly be favored in God's eyes.
Right now I feel the left is doing what they can to take advantage of the floundering GOP but like the ERA you can never let your guard down.  When you do, the right will power back and they are even now writing bills trying to take away rights from women.  It is a war on women and others.  I just hope we are smart enough to continue to face it head on and not rest on our laurels.