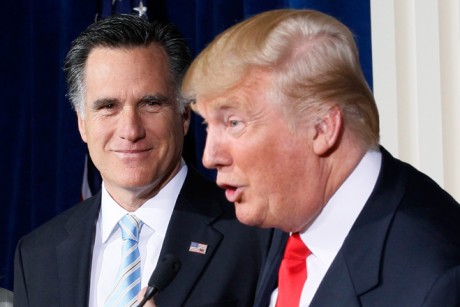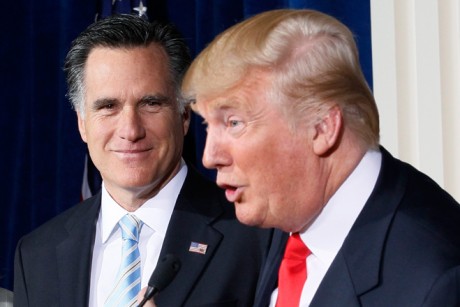 If Albert Einstein was to sit down at a dinner with Mitt Romney and Donald Trump, I think that after smacking his head with a soup ladle and screaming in agony, "Please! Let me be dead again right now!", he'd recognize the theory of relativity in action…though not the one that he so famously founded.
Many on news channels are happily chewing into Romney's association with the Birther french kisser, Trump and coming up with all kinds of MSM hour filling feigned outrage but perhaps Einstein would see things much differently and clearly.
Then again, even a high school kid might be able to.
Sometimes, the not-so-attractive kid hangs out with much less attractive kids to use the power of comparisons to look better and more attractive. When you seat Mitt Romney right beside Donald Trump, doesn't Romney look far less dangerous than the raving loon beside him with his back hair combed over his head?
Now this may not have been a scientist's conclusion but it brings to mind that scientists might begin to rework other established scientific theories to apply to what we currently regard as modern day Social Science and Political Science…such as these:
1. In the MSM, every accusation has an unequal and opportunistic reaction.
2. A body in motion tends to remain in motion unless an oil company commercial is coming up, then they hold that thought for two minutes until the show is back.
3. Matter cannot be created or destroyed but it can be sliced up and sold as Wall Street derivatives.
4. Two negatives don't equal a positive campaign.
5. Opposites detract…from a functional political system.
It may be best though to restrict theorizing so that it doesn't include philosophers, especially existentialists since they may be able to prove that a society such as ours is too absurd to exist and we could pop out of existence.
The down side to that is that the entire population of the Earth would no longer exist. The up side to that is that we could skip that month's credit card payments and Donald Trump would not be able to produce his own birth certificate .