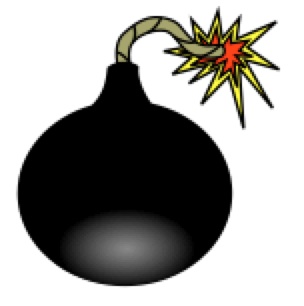 THE POWER OF MONEY BOMBS
It is more and more likely that Scott Walker, the besieged governor of Wisconsin, will get to keep his office. Despite a year of negative publicity, polls that showed Walker behind ANY Democratic candidate for nearly six months, massive grass roots resistance and on the ground action……Walker will likely keep his governorship BECAUSE HE HAS 25 TIMES THE MONEY OF HIS OPPONENT, AND even more will be spent by those who are NOT OFFICIALLY part of the campaign, but whose superpac interest groups just so happen to correspond to Walker's interests. The money is largely from out of state and most of it comes from a handful of donors MONEY BOMBS.
This, I fear is a foreshadowing of the Fall of 2012. A Campaign that will drop money from the skies in amounts unimaginable in 2008.Today Politico revealed that GOP PACs are preparing to spend more than $1 Billion to win control of the White House, the Senate, more state legislatures and governor's mansions, and to hold the House of Representatives and the state governments they already control. The GOP itself will spend a $800 million and individual Republican campaigns will put up more than $350 million. THAT'S $2.15 TRILLION! See http://www.politico.com/news/stories/0512/76849.html for details.
Rolling Stone has provided us with an extraordinary run down on who the mega billion and millionaires are, what they have done in the past, what they plan to do, and what they want. Mostly what they want is for governments not to regulate how they make money, not hold them accountable for any harm done while the money is made, not tax the money they make and give them money in the form of subsidies, and favorable contracts. The Details: Right-Wing Billionaires Behind Mitt Romne. They're trying to buy a presidency – and they expect a big payoff on their investment http://www.rollingstone.com/politics/news/right-wing-billionaires-behind-mitt-romney-20120524
The best estimate is that the Democrats will have about half the amount the GOP will have at its disposal when all funds are combined.
In targeted states, GOP money will primarily be spent on TV, radio and digital advertising; secondarily the funding will be spent on voter-turnout work; mail and phone appeals; and absentee- and early-ballot drives.
Of course "advertising" is a relatively innocuous word for the sinister use of propaganda.

Effective PROPAGANDA requires
A) A simplistic (usually fear-filled and anxiety ridden) message that appeals to deep emotion.
B) Promises of better times if the target group gets rid of the source of the fear.
C) Strong, emotional visuals accompanied by easy to remember catch phrases, the talking points.
D) Mass Media to disseminate it.
E) An unsophisticated and uninformed audience
F) AND, OF COURSE, BIG MONEY TO DRIVE THE WHOLE THING. THE BIGGER THE MONEY…THE BIGGER THE DRIVE. ..THE BIGGER THE MESSAGE,…THE BIGGER THE IMPACT.
How have we come to this?
Citizens United PLUS a cluster of mega million and billionaires determined to formalize plutocratic control of the policy making authority of the nation; a major network masquerading as a news source, the blogosphere, talk radio, a parade of newspapers and magazines which exist to give a legitimate veneer to the propaganda; AND a GOP willing to be purchased lock, stock and barrel…..
ADD in the specter of a black president who represents all of the "others" that most on the right fear who can be associated with scary words like "government takeover, socialism, Kenyan, European, apologist American exceptionalism"
Finish it off with an increasingly uninformed, easily distracted electorate….
WHAT YOU COULD GET IS A COUP. I see little to inspire optimism.