Two years ago, Kalima, KQuark and I came together with the desire to create a website that represented the things we valued most in a blog. Real freedom of expression, thoughtful and substantive discussions on important issues and a community where people treated each other like the fellow human beings they were, especially when they disagreed. A site where the focus was on the people whose presence and participation made the site what it was and the heavy hand of moderation and the power of the site's Administration were next to invisible.
PlanetPOV officially began its orbit in August of 2009. We had high hopes for The Planet but we kept our expectations modest. What resulted, in the quality and character of the community that grew and continues to grow here, humbles and amazes us. As some of the emails we receive reflect, the degree of intelligence, conscience and wit that's reflected in the articles and comments here really wow our readership.
So, as we begin our third year, we want to first thank everyone, past and present, who have helped build PlanetPOV into the site it's become. And to that point, here are some fun facts about The Planet:
PlanetPOV has members and readers each month from 132 countries, the top 20 this month are the United States, Japan, Canada, Philippines, United Kingdom, India, Ireland, Germany, Australia, Brazil, Italy, Netherlands, Mexico, Indonesia, France, Turkey, Russia, Malaysia, New Zealand and China.
This year, PlanetPOV will have over half a million visits.
Sites that have linked to PlanetPOV already this month include Crooks & Liars, Talking Points Memo, The Peoples View and DailyKos.
We'd also like to remind our members of all the regular features that members like you provide here at PlanetPOV:
Come quakes, tsunami or floods, Kalima determinedly brings you insights into the ongoing situation in Japan and the latest and most important international events each day on Morning Blog.
Bito stays up to the minute on news and events you want to know about (with the cooperation of the entire membership) on Time Out for Off Topic.
Chernynkaya breaks down and smartly presents the most meaningful news of the day including what you can do to take action in each comprehensive, daily edition of The Daily Planet.
Khirad covers the ongoing historic and complex events unfolding in the Middle East in his insightful Middle East Update.
Bito manages our Twitter account which, as displayed in our Twitter Widget, brings the best of other sharp thinkers and other great blogs from around the web to The Planet, while sharing the wit and wisdom of our community with a greater audience via Twitter.
Each Friday night, I moderate our weekly live chat on the week's events (and a chance to kick back and have a fun evening with your fellow Planeteers), Vox Populi.
As our members know, PlanetPOV is people-powered. Our articles, comments, support and operating budget come from our community. There are no hedge funds or internet behemoths that own any part of The Planet, we're independent and proud of it.
Additionally, we have chosen not to use the standard advertising services that could provide us with revenue at the expense of promoting things that we and the community would philosophically oppose.
So, we rely upon you, our community, to keep The Planet in orbit. And thanks to your generosity, PlanetPOV continues into its third and possibly most exciting year so far.
On the occasion of our 2nd Anniversary, we ask of you, our fellow Planeteers, to help out however you can to help us defray our expenses of operating the site. If you have already donated or subscribed this year (thank you so much!!!), if you could make an additional contribution, no matter how small, it would help to make a big difference.
There are two ways you can contribute, by subscribing to The Planet or by making a single donation.
If you subscribe, which is a monthly donation of $5/month, you will not only be helping to keep The Planet spinning but as a bonus for subscribing for at least a year, you will receive your choice of a PlanetPOV mousepad, a Morning Blog mug or a package of a PlanetPOV button AND two Bumper Stickers. If you make a one time donation of $60 or more, you're also entitled to the your choice of any of these bonuses:
Gift A
Gift B
Gift C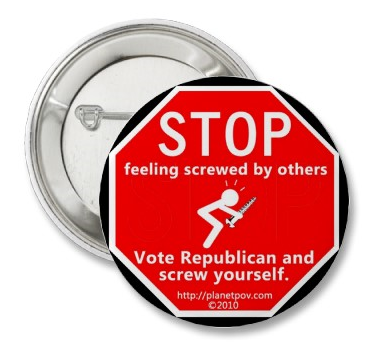 +

+

For subscriptions, bonuses will be sent following your first three months of your twelve month subscription. Even if you can't subscribe or make a donation at the bonus level, any donation you can make to The Planet would be very valuable and helpful.
To Subscribe to PlanetPOV, click the button below:
To make a one-time donation to PlanetPOV, click the button below:
If you don't have or don't want to use a PayPal account, you can still click on either button and you will see a link at the bottom of the PayPal page that says "Don't have a PayPal account? Click here", clicking on it allows you to donate directly from your credit card or your bank account by using your ATM card.
We're also taking this occasion to ask our members to help us spread the word about the community here at The Planet and invite friends and acquaintances to join us. Whether by  email, posts at other websites, Facebook, Twitter, etc., any and all efforts to bring more principled folks out there to our community would be rewarding all the way around. As Huffington Post is a unique case, you can share any of the links below in comments to friends there to avoid moderation (using a new or disposable account there to do so is recommended):
http://go.to/theplanet.pov.com
Once again, from all of us, a huge thank you for all of your support of The Planet over the last two years and keeping PlanetPOV orbiting the blogosphere with more and more gravity each year!
Cheers and a happy anniversary to you!