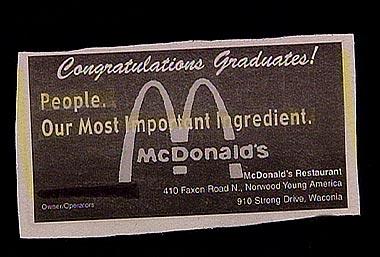 Sometimes the best way to address multiple problems is to take a step back and see how one solution could address them all. Like the development of recyclable American cheese and Republicans nominating themselves for President.
We have a serious budget deficit in this nation. We also have an obesity epidemic, especially in the poorer communities. Two seemingly unconnected problems, right? Not necessarily.
Consider how one impacts the other and vice versa (and the other way around, while you're at it). Billions of dollars are spent on providing for the poor as well as on all of the health ailments they incur such as heart disease and diabetes that result from obesity.  Trillions of dollars over decades and googles over the next several millennia. I could go on but for brevity's sake, I won't.
Meanwhile, consider the ongoing suffering of the poor and obese that will only be intensified as aid to them is cut to serve the budget deficit. If only there was a way to reduce the budget deficit AND end the suffering of the poorest among us…hmm…maybe there is…could I possibly interest you in a tasty Po' Boy sandwich made from real poor boys? Or perhaps Sloppy Joe's made from real sloppy Joes? Consuming got us into this mess, consuming can get us out of it!
Eat the poor.
That's the solution that's staring us in the face (and begging for change). By turning those on food stamps into our food supply, we would be creating a massive new industry that will generate a fortune in tax revenue and reduce the deficit. Meanwhile, a fair price per pound price could be set and poor families could pull themselves out of poverty simply by selling their choicest family members, benefiting by a reduction in their monthly expenses and starting up their own home-based business. Soon, even the poorest of families could be opening their own FatBurger franchises with just a little sweat equity.
No longer would the poor and obese be looked at as a drain on society, they would be looked at like the saviors of society (instead of a wafer and wine, a Chick-Ann McNugget and Manberry Juice might be the best tribute). The poor will be seen as noble, making the sacrifice for this country to survive that our Netflix subscriptions and internet porn make it impossible for us to find the time for.
Think of all the benefits that will flow from this. First, we will win the war on poverty. Then as the population shrinks, rush hour traffic will be reduced and lines at amusement parks will shrink, there will be a huge boom in the garage sale industry, less money for the poor and obese means more tax breaks for the wealthy and obese, no more worries about Mad Cow disease, "Eat Me" will no longer be an offensive insult and on and on.
Now some may object on moral grounds, whatever those are. To them I say, "It takes all kinds to make a Rainbow Coalition Meatloaf." Or, "You're eating with us or by us." Now, that may come off a bit tough, some may have a bone to pick with me on this but considering that we all have a steak in this crisis,  this approach is something that can be a prime way of cutting the fat from the deficit and meating our financial obligations.  We all know this is a dog eat dog world, so you shouldn't be surprised to see that on a menu too.
I am pleased to say that this policy has already been endorsed by the Republican Party, The Koch Brothers and the A-1 Steak Sauce company. Won't you join our campaign? We will be having a meet and greet barbecue soon in a neighborhood near you and don't forget to bring your family and neighbors who can't afford to come on their own, they'll be warmly welcomed!
(With apologies to Jonathan Swift)