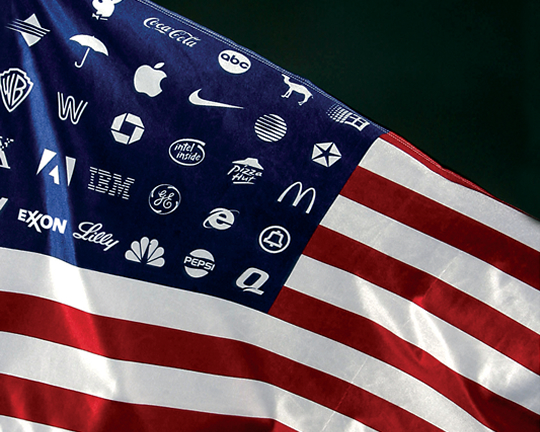 Corporate America has been encroaching on our government for decades.  Slowly, but steadily increasing its reach within our legislative, executive, judicial and regulatory institutions.  Our congress passes laws written by corporate lobbyists, appoints regulators who have deep and ongoing industry connections and allows the regulated to write their own regulations.   I am not sure about you, but I have a problem with this.
We are experiencing wars, high unemployment, racial and religious intolerance, a deteriorating environment, crumbling infrastructure, disease, poverty.  We have enough trouble just getting by on a day to day basis without having to worry about our government and the interests it is promoting over our own.  While we should always be concerned and active in our democracy we really shouldn't have the added concerns presented by corporate influence on our government.  Our founding fathers knew this.  We have been warned countless times by past presidents and other wise and respected persons throughout our history what would happen if we allow it.  Yet here we are giving over our democracy to corporate control.  To to me what is most amazing about it is the masses of corporate drones who have been duped in to wrapping themselves in the flag as they pull our democracy out from under us.
Laws and regulation exist to protect us from each other, organizations with criminal intent and the many other dangers that lurk in dark places within our society.  Do we want our employers and wealthy members of society to have the reigns of government power knowing what they would do if they did?
Say for instance you work in a high rise office building in a downtown area and you know that the company you work for practially owns you.  How about adding concerns that the building was constructed using faulty materials or techniques so the builder could save a little money?  How about that electrical wiring?  It could be faulty, the fire suppression and warning systems may not be working, the exit door may blocked by a thousand pound book shelf or even chained shut.  You get the idea, don't you?
Now with everything else that is going on you are working in death trap.  Should something happen the hospital that will treat you may administer drugs that have not been not tested for safety or effectiveness, may perform procedures that are not vetted by peers, use testing equipment that may not work, the doctor may not be qualified, the hospital may not be clean or safe or the medical staff could treat you for diseases or injuries you are not suffering from just so they can bill the insurance company, or you, more money.
So you made it through the emergency safely, now it is time to drive home.  Your car and those of your fellow commuters hasn't had to pass any safety tests.  You get home to a house on a street that isn't built on a safe foundation, to a house that is held together by glue and hug your family who just spent their day in similar death traps facing the same risks.   It goes on and on and on.
Seriously, is this what we really want?  Do you think that the wealthy owners and managers of these businesses or companies care one bit about anything but their bottom line?  Still with all of the warning and consequence this is where we are headed if we do not regain control of our democracy.