I went to the All Souls Procession Sunday night. True, Día de los Muertos was last week, but hey, Tucson operates on its own time. It is no small irony that the liveliest I've ever seen downtown Tucson is when everyone is dressed like they're dead.
Due to my flash not always agreeing with me and gumming up, I missed lots and lots of great shots. I even saw some friends in the parade, but only got the back of a head. So, with all that unnecessary information in mind, you'll have to use your imagination as to some of the really cool stuff that I missed capturing.
I was situated under this sign of Hotel Congress. For anybody interested in gangsters, this is the hotel where John Dillinger was captured in 1934.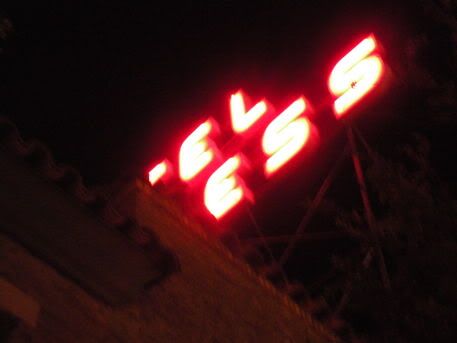 My view of The Rialto across the street at dusk, before the procession has begun.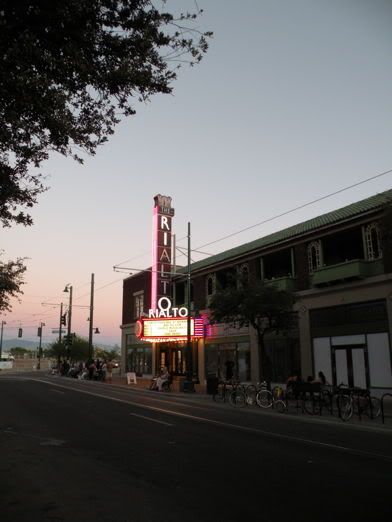 The crowd gathers down the street looking the other way.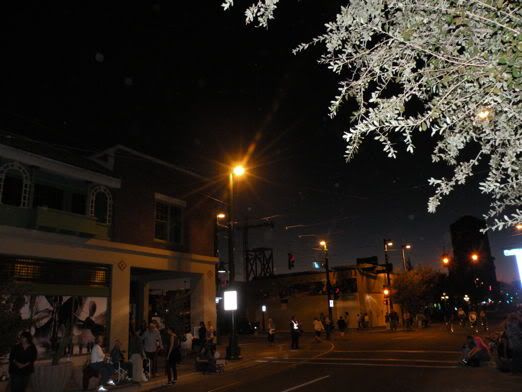 And we've begun.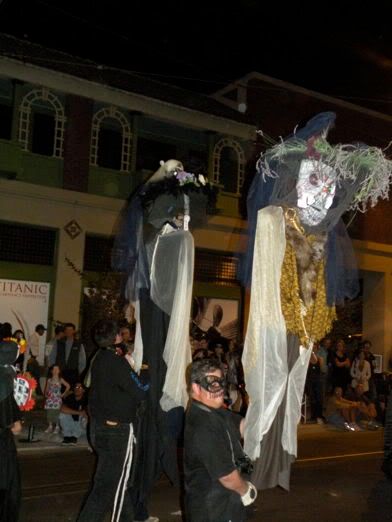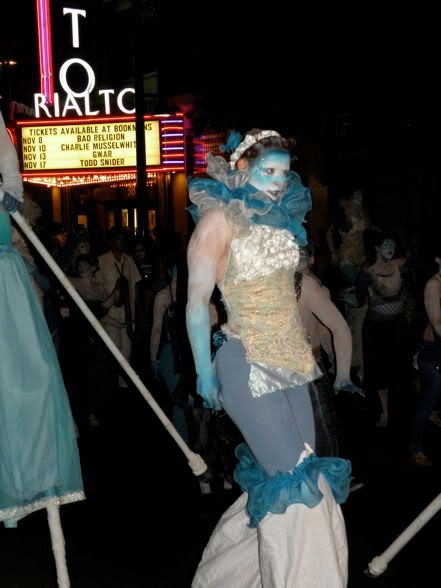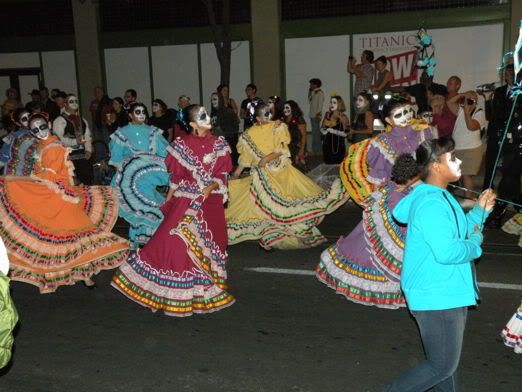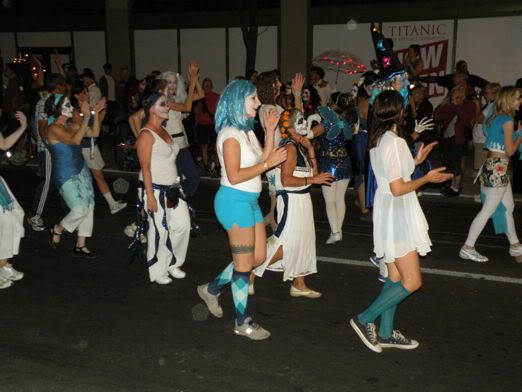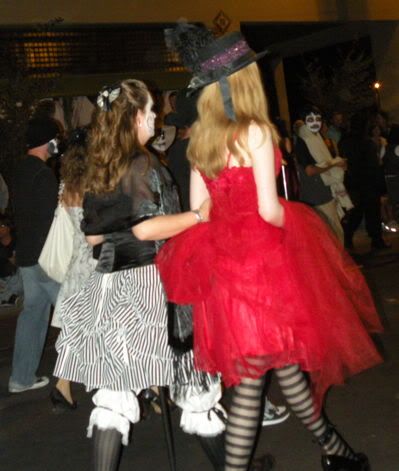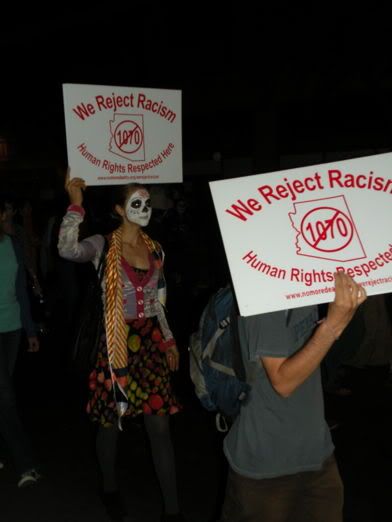 Was goin' for the main belly dancing girl in the back there shaking her hips, but she was all over the place.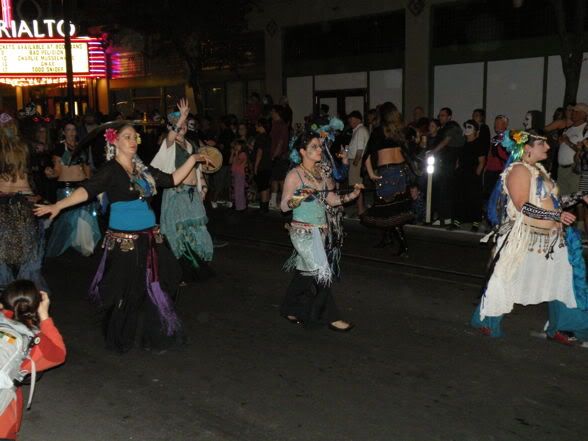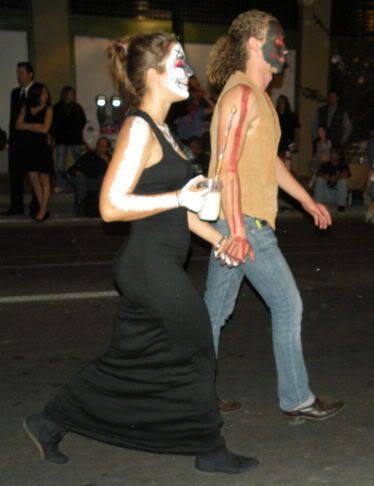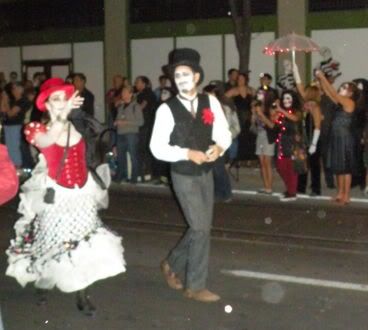 My favorite part, which doesn't come off well in lower resolution, is the woman in the right corner background looking right into the camera.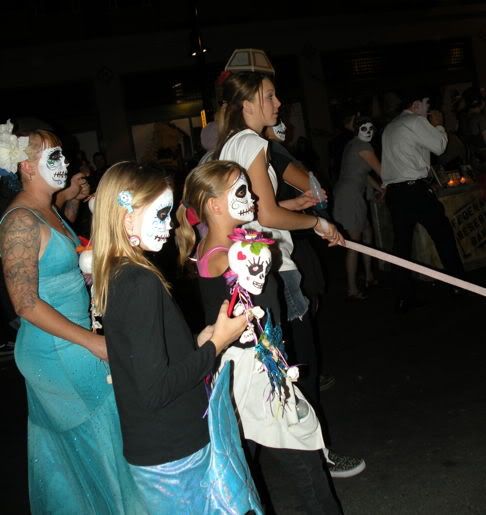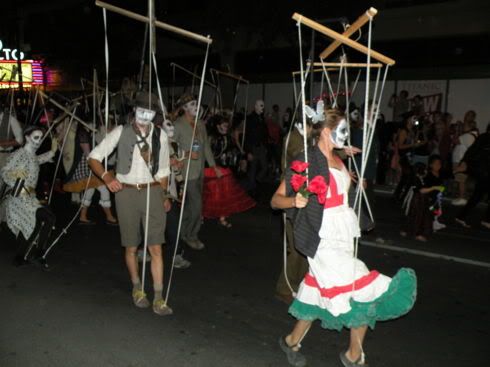 That baby better watch out for the guy in the shirt that says "no papers".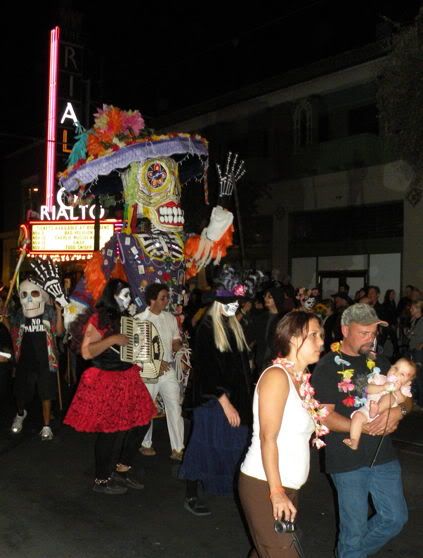 You can't see it, but they are carrying a mock coffin (as is quite common).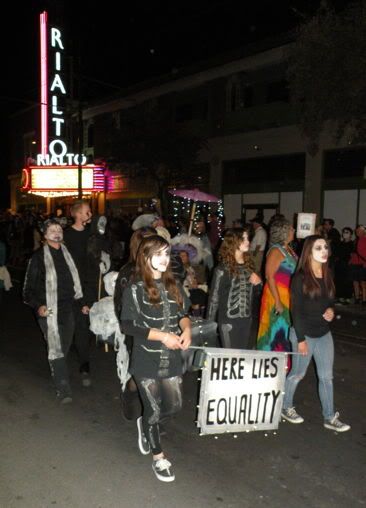 Never got a good shot of the many young ladies in ghoulish corsets and black lace, but I can't complain.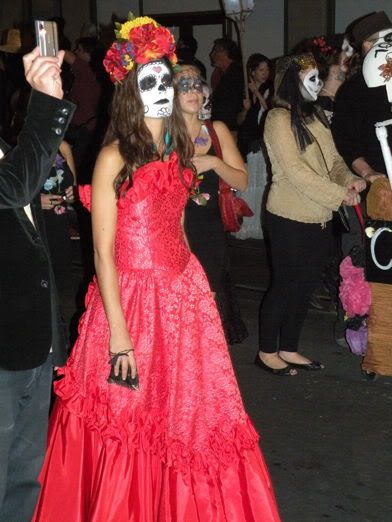 I did get just plain lucky with some action shots.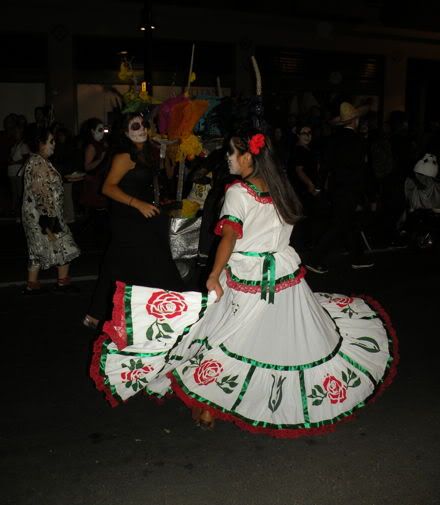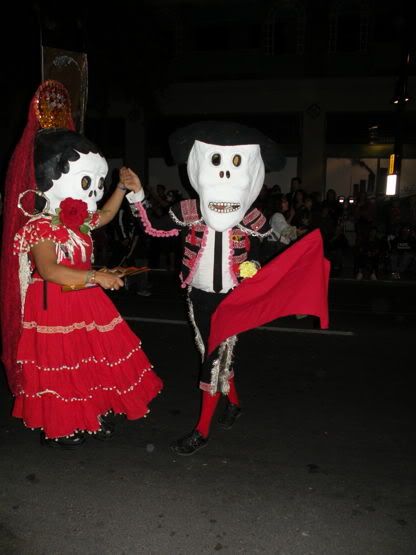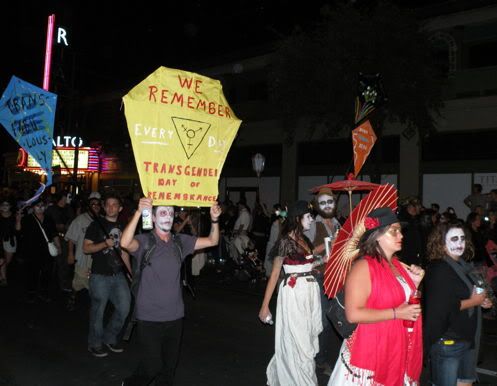 By now the incense filled the air with another sensory dimension to the funereal sights and pulsating drumming rhythms.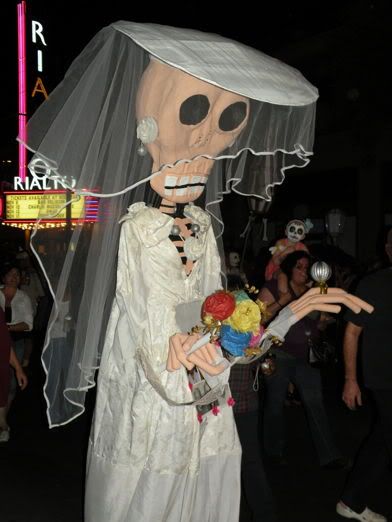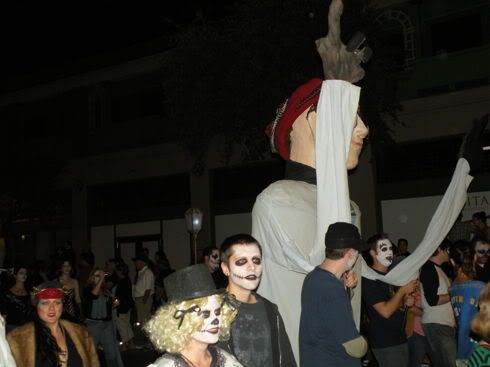 What's surprising here is that Tucsonans were able to find their makeshift "parasols" in the back of their closets.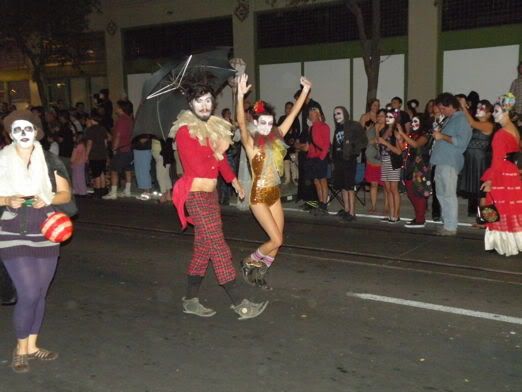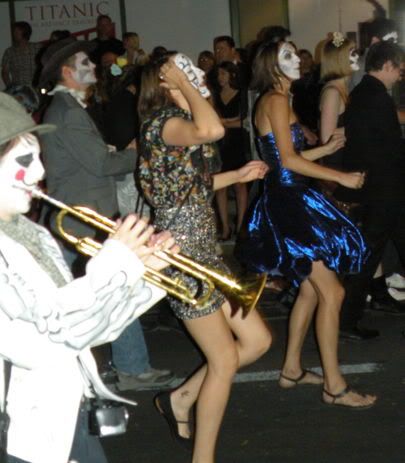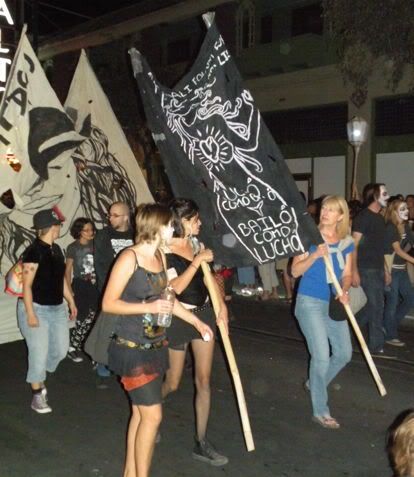 "Undocumented & Unafraid" – somewhere a bagger just shit themselves.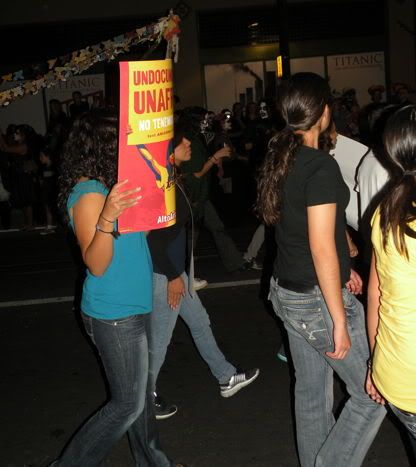 Can't really figure out what's supposed to be goin' on here.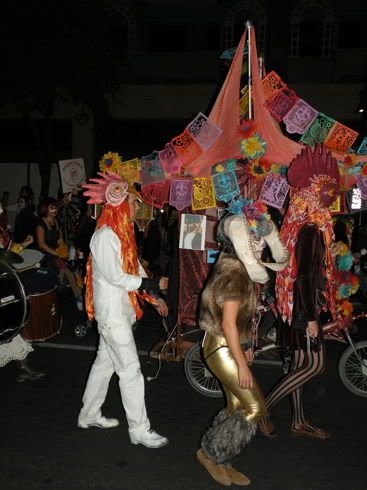 Not much question what these guys are about.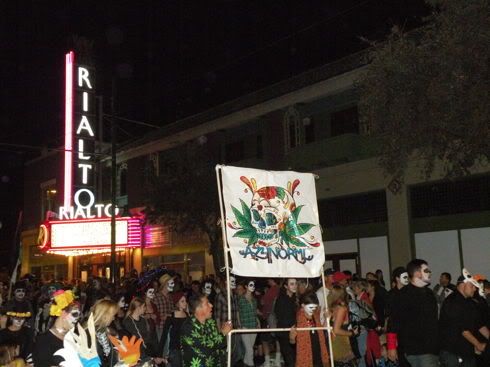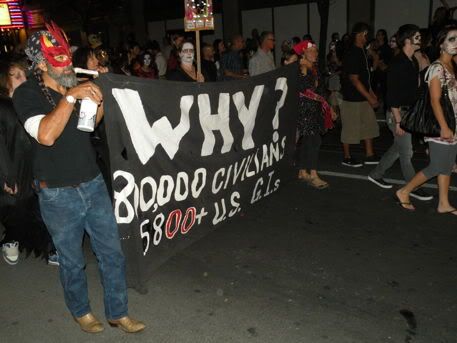 They're carrying an oily pelican, which you can't make out from my angle (slow flash not cooperating for the hundredth time).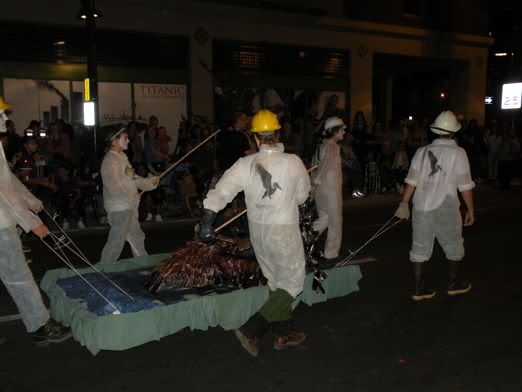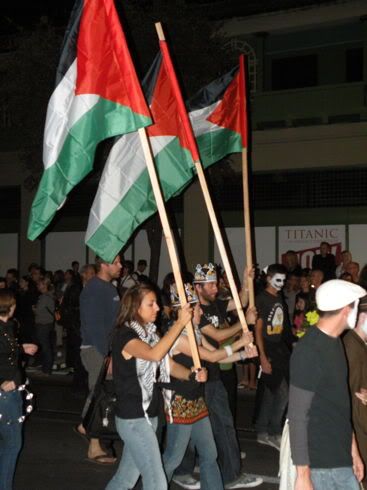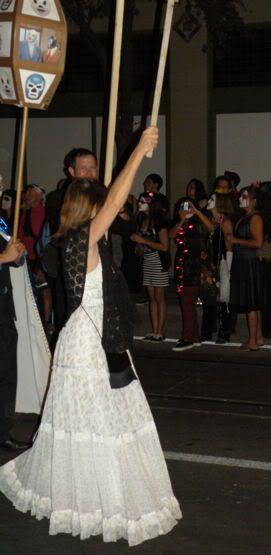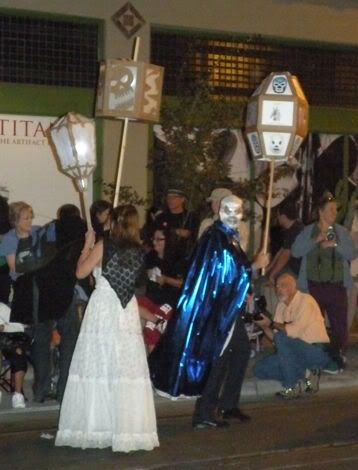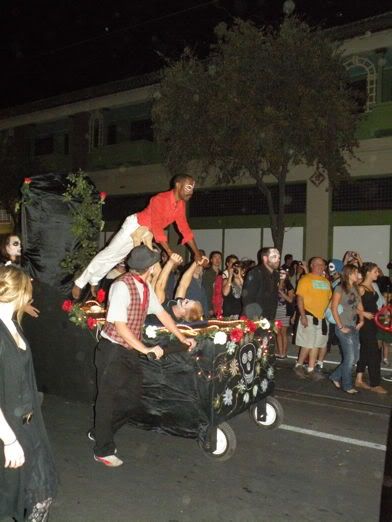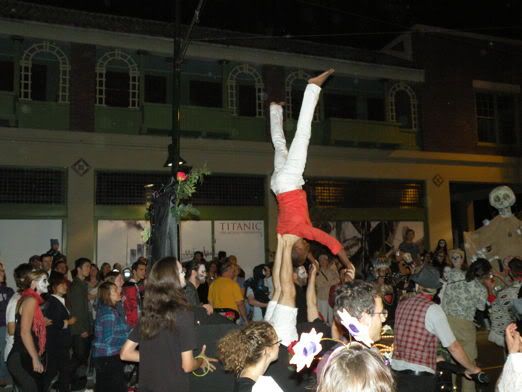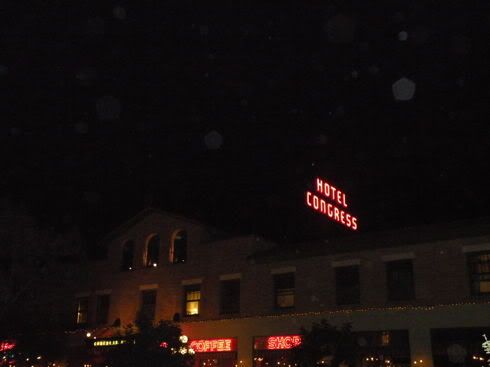 And so with the parade finished near the beginning of the route where I was, it is time to walk to catch the end of the parade loop, and the party bustle at the stage set up there. I left early without a good view, but thanks to the interwebs you and I both can check out the finale show starting after the 2:00 mark.
One thing the viewers may be happy I didn't get a shot of  was a middle aged man with beer gut skateboarding – with but a flimsy piece of "shroud cloth" covering his junk in front (it was hilarious, but in a 'you had to be there' sort of way).
Palate cleanser. Local band Calexico performing last year in The Rialto: