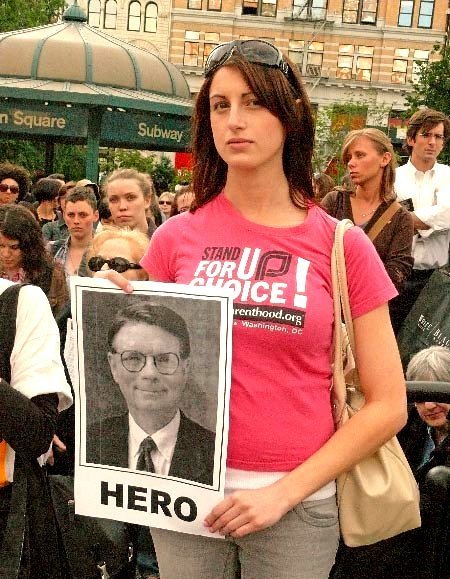 Tonight's special on the assassination of Dr. George Tiller cut my heart out. I am about to "out" myself for the world to see. I knew both George Tiller AND Bart Slepian, and I am on the Nuremberg List, destined for assassination myself.
I don't know how to explain to anyone who thinks fetuses are equivalent to adults how much your opinion of that does not set global morality. What I will say is that there is not a woman alive who has not, at some point, harbored the desire to have a child complete with the white picket fence and "happily ever after". OK – that might not be YOUR version of it all, but I hope you get my point.
Abortion is the hardest choice most women ever have to make. Most of us will never confront "Sophie's Choice" of picking one child to live, another to die as the Nazis imposed on that fictional – and too many real – characters.
But virtually no woman picks abortion as a first option. None, no one, zip, nadie. NO one. It is, however, what happends when the guy's the wrong guy, the money is not there, and, as George Tiller knew – the fetus isn't there either.
Women are not empty vessels who serve for only reproduction. Let me just say that and move on. Women are NOT just EMPTY VESSELS.
I escorted Bart Slepain for over 10 years in and out of abortion facilities in upper New York state. Why? The same reason I escorted women in and out of clinics. This is the hardest thing a woman or doctor will ever do, and no one should go through it without a kind word, a gentle hand, a protective presence. Same with doctors. I stepped between Bart and REAL trouble twice. I was not, however, present at his home the night of October 23, 1998, 12 years and 2 days ago, when James Kopp thought God elected him to shoot my friend through the kitchen window and the heart.
In 2001 I was part of the Religious Coalition for Reproductive Choice presence outside Dr. Tiller's office for almost two weeks while the publicilty-craving Operation Save America zealots picketed his office. The first Sunday we went to the Lutheran Church to which the Tiller family belonged to bear witness for him there. The service was invaded by a group of about seven men who sat together in one pew. I got up and entered the pew on the aisle side blocking them in and preventing their ability to demonstrate inside the church. Outside? The church had butcher paper in the windows so the kids would NOT have to see the gory signs with pictures of aborted? Miscarried? fetuses dripping with blood.
This was a church. They did not give a shit. It wasn't their church, so it did not matter to the protesters at ALL.
The ones I blocked in were spitting angry, but it worked. They did not do their "thing" at that service. But I was not there May 30 2009. And one of them killed George in the vestibule where he was acting as an usher.
I am sick of the Christian extremists who think they, above all, are the chosen. They have the "word" from God, and they have the right to decide who lives and who dies.
I've lived through the siege of Buffalo in 1992 with thousands of the self righteous blocking access to clinics. I've lived through the deaths of doctors, escorts just as I was, and of clinci staff. I've lived through years of unrelenting harassment by these evil and unprincipled people who mean me harm but are too cowardly to be visible. They are the rats in the sewers. No morality, no principles, no courage – only sneaking at night, running away, pleading some fucking higher cause.
I've lost five friends and acquaintances through RW assassination, and I've been stalked five times by these slimy people. It continues even now as the "Christian Embassy" people harass me at home because I have the audacity to insist they do NOT have a pre-eminant right to take over our institutions of government and the military.
So I live in uneasiness – not fear because I have no energy left – but uneasiness indeed. You never know what that sound is. You never know who that person turning abruptly towward you or coming into your office is – or could be.
We speak of the RW as if they are abstract nuisances, distant shapers of policy. But for me they are up front, personal, and real. I can name names, and I know what they want. They are Christian Dominionists who truly desire to rule the world. Nothing less will suffice. They are after me – but they are equally after YOU. At the moment I'm the target because I DARE to say that Christianity not only does not require this veiwpoint, it repudiates it! Those are messages that cannot and must not become public. But next it will be you. All the things that make us laugh – the "prohibition" on premarital sex from Christine etc. – will come true if they win.
They will win if we do not take them seriously. We now have so many dead and maimed – like Emily Lyons the brave Birmingham, AL nurse who carries hundreds of nail shards in her body from Eric Rudolph's bomb and the Springfield, MO staffer who is a paraplegic from wounds suffered in the first clinic assault.
And there are hundreds of us who have scars you cannot see – scars on our hope, scars on our optimism, scars on our hearts. We are the survivors – the family, friends, staff, communities who had violence beyond belief occur to us and who carry that every day.
I hate these people with a rage and disgust I cannot even articulate. I detest their success, their smugness, and more than that, I detest the apathy that exists about what they have done. These are American terrorist – oh, yeah – Tim McVeigh was one of them – and we just don't give a damn. Until it happens to us.
And if the Dominionists prevail, let me tell you, it will.