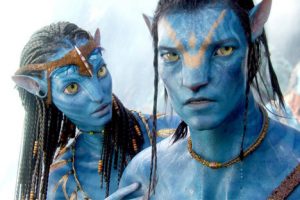 One thing that I've really been struck by is Hollywood's near-obsession with American Indians. I have very mixed feelings about it.
The natives in "Avatar" were an extremely obvious allegory for the Indians of the America West. "Avatar" was very corny and hokey … and pretty predictable. It's also unabashably "love the Mother Earth" granola bar liberal, but I guess I don't see the harm in that — not when so many movies have bad messages — especially in light of the fact that the theatre was packed with boisterous little kids who don't realize it's corny and hokey.
I've always thought Hollywood does a really poor job of portraying Indians, because it tries much too hard to be politically correct and has a tendency to "hold the Red Man down," so to speak by putting him up on a pedestal as a "noble savage." Indians are people, with all the strengths and flaws as any person, regardless of ethnicity.
Being Metis, the "noble savage" stuff is very much a sore point with me. Seriously, as a non-tribal member Indian, there are a number of cringe-worthy moments for me in "Dances with Wolves" and in "Thunderheart" and more movies than I can name. I can only think of one movie I've ever seen that I thought did a  solid job of portraying Indians and Indian issues — "Smoke Signals," and that was a limited release movie that not many people have seen. I also thought "Flags of my Fathers" did a good job with the story about Ira, though whenever the movie drifted away from Ira's character, I thought it got boring. Someone once told me "The Jim Thorpe Story" actually had some good moments, but I've never seen it. As an aside, if you want to read an awesome book about Indians, you really need to check out "The Real All-Americans" by Sally Jenkins (she wrote "It's Not About the Bike.") It's a fantastic book about the Carlisle Indian School in Pennsylvania and how it became a power in college football.
Anyway, I saw a lot of kids today get some good lessons along with their popcorn … while seeing $400 million of special effects blow lots of crap up.
Oh, and now my kid wants a dragon. Not one of the little blue ones, but the big red one….