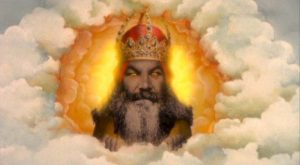 Being that I'm God, I hear everyone's prayers…even some I'd rather not (Sarah, you know who I'm talking about). Last night I heard this one prayer and I just had to blog about it.
Now, in order to keep Deity-Worshipper confidentiality I can't divulge the name of the person who prayed. We'll call him Mr. OK. Ok?
So, there I am, considering whose prayers I'm going to answer in the football games this weekend when I hear this prayer from Mr. OK for me to lend a hand in making a Democratic Senator ill or die so he can't vote to give health care to any of my other children.
That was so wack! I told my son, he just rolled his eyes, shook his head and went back to planning his birthday party for Friday. He did say, "Funny how the ones who want me to come back the soonest are going to be the ones least happy to see me."
I mean, check me on this but do people really think I'm like some evil genie or something? I mean, come on! "God, strike down my enemies!" If I had an eternity for every time someone prayed that to me, I'd have an infinite number of eternities, you know what I mean? And that can mess with your head.
What gets me is that I sent my son down there a while back to smarten up folks about the true values of humanity, you know, love each other, share with those in need, do unto others as you would have them do unto you…and the schmucks whack him! That was so messed up! And people like Mr. OK, they're no different. I'll bet if my son popped down there and said,  "It is easier for a camel to go through the eye of a needle, than for a rich man to enter the kingdom of God," they'd tell him to shut his pie hole and have Rush Limbaugh declare him" a socialist who should be nailed for his beliefs".  As my son says, "Been there, done that."
Now here we are in the 38th century…wait, my watch is fast…the 21st Century, right? And people like this Mr. OK have so perverted the teachings my son came down there to share that they think they're being Christian by putting a spiritual hit out on a 92 year old man trying to give health care to the needy. WTF? Mr. OK and his crowd think I'm sitting around with my son up here saying, "If only the dicks would inherit the Earth?"
Sorry to go on about this, just had to get it off my chest. Even though I should chill because I'm all powerful and all, I still get Old TestyMenty sometimes.
You just think, "After all this time and all the suffering, why can't they just figure out that selfishness, greed, hatred, materialism and oppression is a worse operating system than Windows Vista was?"
I mean, you give your kids reason, enlightenment, love, imagination, conscience, science, art and a whole planet full of food and life…and some of them just want to sit in front of the TV playing "Grand Theft Auto" all day and blow up innocent people. And they're the type who grow up thinking that worshiping God is all about what your deity can do for you instead of what you can do for your deity.
Well, that's my rant, sorry if I was rambling a bit but being omnipotent is a lot more stressful than you'd think. I mean, imagine if you had to know Ann Coulter's fantasies? I still can't take enough showers to feel clean.
Happy holidays to all of you, thanks to those of you helping out the needy this time of year and showing your love to your friends and families and the rest of the world. Keep fighting the good fight down there to help each other and make the world a better place.
And don't worry about the nutjobs down there praying to me and my son for crazy stuff, their prayers go right  to our spam folder. Heh!