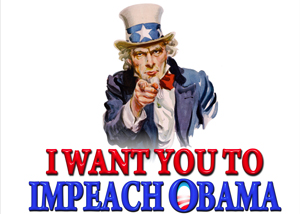 IF THE GOP KEEPS THE HOUSE,
WINS THE SENATE:
A TRIAL BUT NO CONVICTION……
unless you consider the impact on the electorate in 2016
**************************************************************
Talk of impeachment MEANS NOTHING….unless the GOP gets control of the Senate. Without that….the House can vote articles of impeachment, but the Senate will just knock the heck out of them making the GOP look very foolish. BUT BEING ABLE TO CONDUCT A SENATE TRIAL….and it is a trial…..under rules set up by the GOP will allow them to dredge up every so-called scandal and every disagreement in excruciating detail. It will last a year or more….NOW OBAMA WILL NOT BE FOUND GUILTY because after the trial procedure this is what happens….
The Senate will meet in private session to debate a verdict.
The Senate, in open session, will vote on a verdict. A 2/3 vote of the Senate will result in a conviction.
The Senate will vote to remove the President from office.
The Senate may also vote (by a simple majority) to prohibit the President from holding any public office in the future.
SO LET'S LOOK AT THE NUMBERS….
2/3 of the Senate. That's 67 members of the Senate finding him guilty. In even the worst forecasts for the Midterms as seen at http://mark28.blogspot.com/2014/01/updated-2014-senate-race-predictions.html  the largest number of gains for the GOP is 6 seats.

Currently there are 53 Democrats, and 2 Independents in the Democratic Causus and 45 GOP.

In the worst case scenario, we get 47 Democrats and 2 Independents and 51 GOP.Not even close to 67.
SO, WHAT WE ARE LOOKING AT HERE IS A SHOW TRIAL THAT WILL THE CONGRESS AND THE PRESIDENT UP IN KNOTS…all to make the 2016 race a verdict on Obama as a failed president leading a failed party.