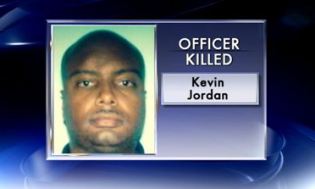 Kevin Jordan, a police officer in Georgia and ex-Marine, who was working a second job as a security guard, was trying to arrest a drunken woman in the parking lot of a Waffle House. The woman's boyfriend who doubtless had been drinking with her, shot the officer/security guard five times in the back and killed him. The boyfriend was then shot and wounded by Jordan's brother who was with Jordan at the time.
By all that seems apparent, Kevin Jordan was "A Good Guy With a Gun". He was murdered and the "Bad Guy With A Gun" is alive.
The myth that the NRA has successfully perpetrated on the public is such a simplistic and frankly, dumb assertion that flies completely in the face of reality…but those passionate about guns and paranoid about them being taken away instantly clung to it like a life preserver in the middle of the Pacific Ocean.
"The only thing that stops a bad guy with a gun, is a good guy with a gun."
Complete bullshit.
Why? Because it is an inescapable fact that when everyone has a gun, the instigator of violence is always "a bad guy with a gun" and it is usually too late for good guys with guns to prevent a shooting.
The completion of this circle of lunacy is that the Right Wing gun nuts also say there is no use in gun control legislation because mass murders and killings will happen anyway, with knives if not with guns.
How many mass killings with knives have you ever heard of? And that aside, might the odds be better of people escaping a guy with a knife instead of a guy with a gun?
The Right Wing somehow can make sense of these conflicting messages, that we should have everyone armed because only good guys with guns can stop bad guys with guns from killing AND even good guys with guns can't stop mass murders because they're going to happen anyway.
No they"re not. Other democracies with gun control laws don't have the amount of mass murders and frequency of killings that the U.S. has ("We're number 1!"). In fact, The American Journal of Medicine did a study that shows that greater gun ownership leads to greater danger for innocent people.
So it's just a flat out, bald faced lie by the NRA ("I'm shocked to hear that there's lying going on in the NRA!" "Here are your campaign contributions, Senator.") who are de facto pushing the murders of innocent people on America because Americans killing Americans is a profitable venture for their gun manufacturer backers. They are the true Death Lobby and they directly support the killings of innocent people through their actions.
Bad guys with guns are always on offense and can kill anyone at any time. Good guys with guns are necessarily on defense and rarely in the vicinity of bad guys with guns…and they could only act AFTER the bad guy has pulled out his gun and shot someone. So no, they don't stop the bad guy from killing.
This is an era of unchecked extremes. Aggressive and open racism, shutting down government to extort political gains, taking the right to vote away, taking the rights of women to control their own bodies away, clamoring for an overthrow of the U.S. government, demonizing the poor and trying to leave them without medical help, a place to live and food to eat, and of course, rabid gun proliferation and making murder of innocent people legal through "Stand Your Ground" laws.
This extremism has to be stopped and the lies from those who are pushing to make extremism mainstream have to be exposed and destroyed. So what needs to be shot down is the "good guy with a gun" myth (along with people claiming to be Pro-Life while supporting gun policies that kill children and adults).
Maybe, the only thing that stops bad guys with destructive agendas, are good guys with constructive agendas.
http://news.yahoo.com/georgia-police-officer-shot-death-making-arrest-waffle-193312140.html