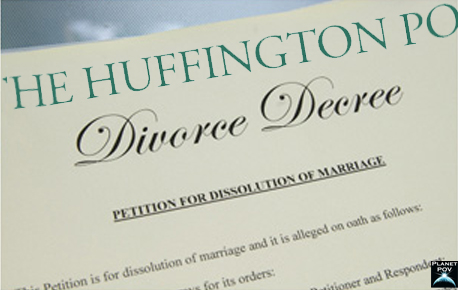 It was originally a marriage made in heaven. A progressive community looking for blogs in all the wrong places and a site that was new in town, liked going for long blogs on the web and was looking for a meaningful relationship.
For years, it was a wonderful marriage. Then, as time went by, the site began feeling that it needed something more than it was getting from its marriage to its community…namely, money. And so, it began flirting with others, hedge funds, high wealth individuals and corporations. The site soon turned to its community and admitted that it was cheating on them but it wouldn't stop, instead, it insisted it loved both and wanted an open marriage. The site would agree to stay with its community as long as it could also get into bed with the wealthy and corporations. Eventually, the site became one with a corporation and that relationship became its primary one. The community became treated as "the other relationship", bit by bit pushed to the side. Even so, it couldn't help but be a bit of a shock to the community to get the divorce papers signed, sealed and delivered to them today.
Starting today, Huffington Post has shut down its site's comment and blogging functionality and now is merely echoing comments people make on Facebook through the embedded Facebook interface at Huffington Post.
Huffington Post started off as one of many news aggregating sites, there was nothing extraordinary about it as a website. What led to its ultimate success and its becoming a behemoth was one thing, the community of loyal and frequent bloggers who gave it the character and social gravity to attract more and more people there instead of any number of sites. The fact that HP came to see it as a waste of money to continue to provide that service for those who made them the success they became, is just plain disappointing. It is a lesson about the nature of corporations, they certainly are not people and they do not have such human character traits as loyalty, indebtedness or principle. Not only have they now refused to dance with the one who brought them to the party, they are jumping into Mark Zuckerberg's Ferrari and waving back at their community with a champagne glass in hand as they speed away (terminating their self-hosted blog will add millions in profits into HP's pockets over the years).
Corporations are indeed not people, they are more like the creature in The Thing. They attach to a host body, destabilize its integrity, take over control of it, then replace what it was while still looking identical to it.
Back in 2007, I was looking for a place to call my blogging home. I registered at and audited several sites but one site stood out to me…not because of their name or the colors or fonts they used and not because they carried the same aggregated news stories as the other sites…it was the blogging community there that seemed so brilliant, conscientious and quite witty. To become a part of that community seemed to me, to be a part of something special.
There was a camaraderie there, a freedom to challenge each other and stand one's ground on opinion but mostly doing so without being hostile. There was truly free and instantaneous expression, no automatic moderating of comments, no burdensome comment length limits and when a troll occasionally attacked at the site, he was gang-flagged by the community and his comment and sometimes account were swiftly removed. And there was of course no Facebook mandates that exposed one's true identity.
At the end of 2008, when, unbeknownst to the members, Huffington Post was in the midst of coaxing a hedge fund (Oak Investment Partners) into investing $25 million in them, there was a sudden and jarring purge of longtime members and heavy handed censorship of comments. The assumption was that HP's cleansing and locking down of the website would make the site look more manageable and attractive to the Oak folk. Things got so bad that some of us had taken to meeting on an old thread to evade the censorship so we could have at least the most basic of conversations (and collaborate on setting up a new place to blog as we had). At that point, we realized that the site we had known, as a place for free expression and true Progressive sensibilities, was rushing into the arms of Corporate America and we needed to find an alternative.
KQuark, Kalima and I, were among the many loyal and prolific in the HP community at that time.  When we came together shortly after that to found PlanetPOV, our goal was to recreate the kind of environment that we once had at HP, where a community of well informed, thoughtful and witty people could converse and debate with each other freely and honestly…as only anonymous blogging can promote.
This is a central problem with the Facebook commenting system HP has embraced. Sure, some bloggers can set up accounts that hide their identities but most don't. How many people want to honestly express their political views when their boss/family members/friends/clients might read them and react towards them adversely? Who would want to potentially impact their job or business, their relationships with family members or friends? And since employers and others have taken to viewing potential employees' Facebook accounts, who would want to possibly compromise their future as a price for freely expressing themselves?
When HP first instituted their Facebook mandate on bloggers, requiring all to join and connect their Facebook account to HP, many in the HP community were upset and understandably suspicious. Though HP may have legitimate business reasons (though perhaps not fair-minded reasons) for having taken this path, their approach in deceiving the membership about their grand scheme to go Facebook only was a disrespectful slap in the face. The members deserved better than that, to be manipulated and misled by HP so blatantly, no amount of logrolling can rationalize away that abuse of trust.
There are doubtless many good and principled people in the HP organization and of course as bloggers there. Many no doubt used what influence they could to change the minds of the corporate execs at HP who only saw their commenting system as an expense they could cut that would make them richer. When it comes to something like the press or a blog, it seems anti-intuitive to treat the most loyal followers as an unnecessary expense that could be easily cut.
And what will the Facebooking of HP lead to? Greater freedom of expression or the reverse? More insightful commentary or more generic and trivial comments and conversations? This was a complete actual comment (and the only one listed at the time I viewed the post) on a post today at HP on the EPA's power plant emissions rules:
"Many valid points here."
I'm not picking on this blogger, just using his comment to illustrate that the ripping away of anonymity seems to smother free and meaningful conversation.
Considering that corporations like AOL, which owns HP and Comcast which owns MSNBC, are pretty darn happy with the status quo that is making them wealthier at the expense of the 99%'s decline, empowering Progressives to come together and focus on changing the way things are is actually in conflict with these corporations' fiduciary duty to their shareholders. As mentioned here before, the sole legal responsibility corporate execs and board members have is to make the maximum profits possible for their shareholders, they can actually be sued for doing anything that interferes with that.
So if viewed in that context, it can't be seen as that surprising that HP has sought and found a way to increase profits by slashing their expenses on blogging…even though it is a total betrayal of those who built their business up in the first place.
Breakups are always painful. Though many may try to comfort by confiding, "There are many more blogs in the internet," it still takes a while to process being evicted from one's blogging home. In the end, we move on from our disappointing relationships and having learned from the past, we're in a better position to find ourselves in more satisfying and dependable relationships.