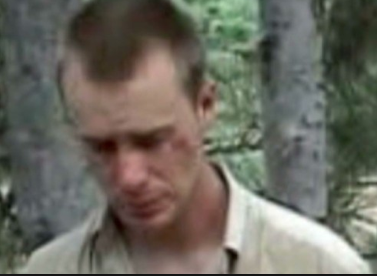 My tentative conclusion: Sgt. Bowe Robert Bergdahl, a 22 year old Private when he was captured, had a breakdown of some sort, choosing to walk off unarmed into hostile territory having given his most precious possessions away and having provided his family with what appears to be a farewell e-mail, a suicide note.
He was home schooled, very involved with his church's youth program and loved outreach to the needy, He got a GED in his early 20's; studied Buddhism, martial arts, fencing, ballet; did not own a car choosing to bike for environmental reasons; and then joined the army in 2008. This decision appears to have surprised many.
After basic training he went to infantry school.
Bergdahl's unit was sent to an outpost called Mest-Malak in Afghanistan to conduct counterinsurgency operations. Bergdahl began learning to speak Pashto, and, according to Specialist John Fry, a member of Bergdahl's unit Bergdahl "began to gravitate away from his unit", spending "more time with the Afghans than he did with his platoon".
Bergdahl's father described his son to military investigators as "psychologically isolated"
He seems to me to be a brooder who had great affection for a fellow soldier in his remote outpost – and thus saw the war's impact on local people's.
His friend, First Lieutenant Brian Bradshaw, was killed by a roadside bomb near the village of Yahya Kheyl (Yaya Kheyl), not far from Bergdahl's outpost. Bergdahl's father believes Bradshaw's death darkened Bergdahl's mood leading into depression. Bradshaw's death may have led Bergdahl to see the Afghans as an occupied and terrorized people- with the U.S. as the occupying power and himself as an occuper.
We know that he mailed his most personal effects to his family a couple of days before he disappeared. His final e mail to them read:
"The future is too good to waste on lies. And life is way too short to care for the damnation of others, as well as to spend it helping fools with their ideas that are wrong. I have seen their ideas and I am ashamed to even be american. The horror of the self-righteous arrogance that they thrive in. It is all revolting…..The system is wrong. I am ashamed to be an American. And the title of US soldier is just the lie of fools…I am sorry for everything here. These people need help, yet what they get is the most conceited country in the world telling them that they are nothing and that they are stupid, that they have no idea how to live. We don't even care when we hear each other talk about running their children down in the dirt streets with our armored trucks… We make fun of them in front of their faces, and laugh at them for not understanding we are insulting them…I am sorry for everything. The horror that is america is disgusting…There are a few more boxes coming to you guys. Feel free to open them, and use them."
THIS CERTAINLY HAS THE APPEARANCE OF A SUICIDE NOTE- an effort to explain to his family why he was about to do what he did.
He walked off, abandoning  his post,  leaving his weapons, and armor behind. I suspect he expected to die and was captured instead.
Hastings, Michael (June 7, 2012). "America's Last Prisoner of War". Rolling Stone. http://www.rollingstone.com/…Who is Pfc. Bowe Bergdahl? http://www.kboi2.com/…

Who is Pfc. Bowe Bergdahl? http://www.kboi2.com/…

White House defends prisoner swap in tense Hill meeting http://www.politico.com/…