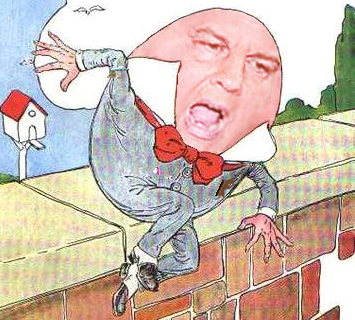 Once upon a time in New Jersey…hmm…I can't think of a single fairy tale that begins that way but if it did it would probably be a Grimm's Fairy Tale with an ogre getting indicted at the end.
As Governor-for-the-time-being Chris Christie of New Jersey has been treating the outraged public like they are children who can be lulled to sleep with the  fantasies he weaves about Bridgegate , it seems appropriate to return the favor and offer to Gov. Christie, a very special collection of nursery rhymes about him and intended to help put his political future fast asleep.
A big hat tip to NoManIsAnIsland for originating this concept with an inspired comment on another Christie thread. We now submit for your reading pleasure, The PlanetPOV Collection of Chris Christie Fairy Tales.
The PlanetPOV Collection of Chris Christie Nursery Rhymes
Humpty Christie by NoManIsAnIsland
Humpty Christie was having a ball,
But Humpty Christie may be in for a fall.
All the GOP's forces and all the GOP's henchmen
Won't be able to put Humpty Christie together again!
Jacked and Shilled by Adlib
Chris Christie went up the hill
To find a path to White House
Chris fell down and broke his crown
And Feds came tumbling after.
Little Chris-Peep by Kalima
Not so little Chris-Peep has lost much sleep,
And doesn't know who to bribe to find it;
Now alone, he soon won't have a home,
As he'll be dragging his scandals behind him.
Hush a Bye Christie by NoManIsAnIsland
Hush a bye Christie, on the tree top.
When the facts flow, his cred will rock;
When the case blows, his cred will fall,
And down will come Christie — all of Him,
all!
Hickory Dickory Shock by pinkpantheroz
Hickory Dickory Dock,
Christie has run out his clock
Like bullies galore
He's no more than a whore
And he's in for a terrible Shock!
Chris Spratt by NoManIsAnIsland
Chris Spratt ate way too much fat,
His wife, too, abhorred the lean.
And so betwixt the ONE of them,
He vented too much spleen!
Christie Had a Little Scam by Adlib
Christie had a little scam
Little scam
Little scam
Christie had a little scam
His sleaze was wide and low
Oh, What Have You Done by pinkpantheroz
Oh, what have you done, Dear Ol' Chris,
You've given New Jersey the piss,
The Gopers can't figure
Whose ego is bigger
And you say, 'My Ass you can kiss"!
Christie Porgie by NoManIsAnIsland
Christie Porgie, pudding and pie,
Obstructed a bridge making Ft. Lee cry.
When all hell broke lose and people yelled "Nay,"
Christie Porgie turned tail and ran away!
Chris Be Nimble by Adlib
Chris, be nimble,
Chris, be quick,
Chris, jump over
The Bridgegate stick.
Chris jumped slow
Chris jumped fast
Chris fell down
and broke his ass.
Baa Baa Gov. Black Sheep by NoManIsAnIsland
Baa baa Gov. Christie, have you any bullion?
Yes sir, yes sir, three bags full!
One for the judge, one for the jury,
And one for the populace, all screaming in fury!
There was a Very Crooked Man – by Adlib
There was a crooked man, and he blocked a crooked mile,
He found a crooked fallguy within a crooked pile;
He bought a crooked guise which hid a crooked louse,
And he lied like a carpet in his little crooked house.
The Chris and the Fiddle by NoManIsAnIsland
Hey diddle diddle, the cat and the fiddle,
Chris Christie jumped over the moon.
That's all there is –
No one could believe he did it!
Your turn! Please feel free to add your own in comments below!