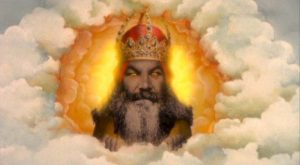 It may seem like an eternity since God last blogged here at The Planet (at least to us) but I understand he was binge watching several series on Netflix (He and Satan both love Breaking Bad) so I was very pleased to see this latest blog from Him that once again shows that he does see everything…even if he does Tivo past the boring parts (I've heard the NSA has tried to bring him on as a paid consultant on omnipotence). So get out your Ten Commandments place mat, someone's about to be served by The Big Guy.
GOD'S BLOG – 11-13-2013

The people who are most aggressive about my son booking a return trip to Earth should first understand the difference between The Messiah and a Meatball sub.

It has come to my attention (as of course everything does) that America's ex-President George Bush will be lending his name and speaking to The Messianic Jewish Bible Institute. They espouse that if they can convert enough Jews to Christianity, my son will charter the next Spirit Airlines flight down to the U.S..

Some might consider these folks "Subway Club Christians" since they apparently believe that if they get their conversions card stamped ten times, they get a free Resurrection. If Jesus was to be influenced by a fast food promotion, I think it would more likely be something like, "Buy one and the poor get one free!". I can tell you this however, Jesus is not lazing in a recliner in Heaven with a tally counter in his hand, clicking it once for each converted Christian until it reaches some special number that will make him say, "Finally! Took long enough! Where are my keys?"

No one knows kids better than their parents and I know this about my son, he is not a numbers guy. For example, when he was young, I remember a story problem he had, "If you had five loaves of bread and two fish, how would you equally divide them between five thousand people?" Well, he solved that problem without using a lick of math. And as I recall, he wasn't too keen on those who counted money either. He's got issues with math so it's really silly to think he'd base a decision on it. Oh, he does believe in adding and multiplying but he's never believed in division.

As for subtraction, that's something he also opposes. Many Republicans in Congress who are very vocal about their dedication to my son's teachings, have expressed pleasure at the recent cuts in food stamps for the poor. Really? And they can't wait for my son to come knocking on their door? Do they really think he'll be handing out to them VIP wristbands to The Rapture? I mean, if they went around setting forest fires, would they expect Smokey The Bear to invite them camping?

They seem a bit confused, maybe they accidentally mixed up the names "Romans" and "Christians" and think that each one is the other? That would certainly make more sense. In my son's brief experience with them, the Romans oppressed the poor, opposed my son's teachings of equality, peace and love, worshiped idols (thousands of years before Ronald Reagan) and crucified those who they didn't conform to their beliefs (thousands of years before Barack Obama).

Whatever the case may be, I remember saying once in a best seller I had ghostwritten, "Inasmuch as ye have done it unto one of the least of these my brethren, ye have done it unto me."  If any of these folks remember at least that much from that book they claim to have read religiously, they might want to reconsider how anxious they should be to meet my son for coffee and judgement.