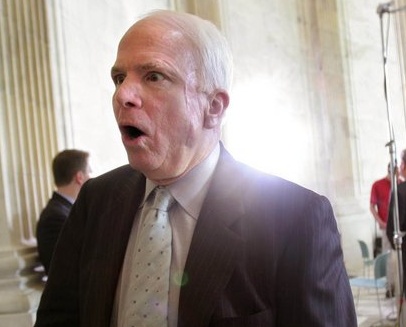 In a surprise move today, Arizona Senator and 2008 Republican Presidential Nominee John McCain has demanded at a press conference that a special Senate committee be formed to investigate his own sanity…or as Senator McCain put it, "What do I know and when did I know it? And why? And where are my keys?"
Recently, Senator McCain has been outspoken about the need to investigate the Obama Administration for what he views as a coverup on their reporting about the tragic events in Benghazi last month. He has been particularly harsh on UN Ambassador Susan Rice for acting as a spokeswomen for the Obama Administration shortly after the incident occurred.
"I know Rice and I don't like Rice, I like beans but I don't know beans," McCain stated in a press conference on Wednesday.
Yesterday, when he skipped a Congressional top secret briefing on Benghazi by the CIA in order to hold a press conference, demanding that a top secret briefing from the CIA was needed by Congress, McCain became suspicious of himself and accused himself of intentionally covering up the truth about his own sanity from himself.
"I call upon The Senate to set up a Special Committee to investigate Senator John McCain's complicity in a coverup over his demands for a Special Committee on Benghazi. I am concerned that he, and by "he" I mean "I"…could be doing this to undermine the legitimacy and reputation of a United States Senator…namely me."
Senator McCain went on to make some frank and unapologetically tough statements about himself, "First of all, with all due respect to myself, Senator McCain is not that bright. I mean, look who I picked to be my Vice Presidential nominee in 2008. Sarah Palin? Was I turned down by a bucket of mud first or what? And when the nation's economy was in free fall I simply declared to the nation, "The fundamentals are sound?" which mortally wounded my Presidential bid? It's all far too convenient, things like that don't just happen, there has to be a more behind my actions of sabotaging my career and legacy and I mean to get to the bottom of it!"
According to Senator McCain, there is a possibility that all of the statements and decisions he has made that have caused him to look like a senile, bitter and vindictive old fool are the result of a conspiracy.
"Just because I open my mouth and words come out, doesn't mean they're my words," McCain said while opening his mouth and letting words come out. "Why should we take on faith that what I've said is truthful when there could be political reasons and benefits to my saying something that isn't in earnest," McCain said earnestly.
"I am being attacked by myself for my competency and the sincerity of my motivations which I find outrageous so I also call upon The Senate to censure me for this unjustified and offensive personal attack against myself," McCain declared.
Insiders say it is unlikely that The Senate will create a Special Committee to allow Senator McCain to investigate himself for the actions and statements he's made that have degraded his name and reputation though McCain is prepared for that outcome.
"If the Democrats in The Senate refuse my request for this Special Committee, I will take action on my own to sue myself for slander, defamation of character and staring back at me with a snide expression in the mirror. The American People deserve answers, they have a right to know if I am involved in a conspiracy against myself and if so, how high up the conspiracy goes…who knows…perhaps all the way up to my head."