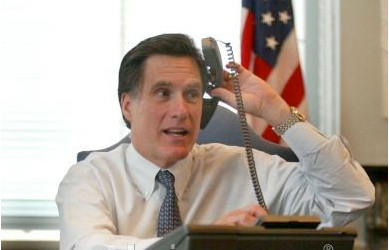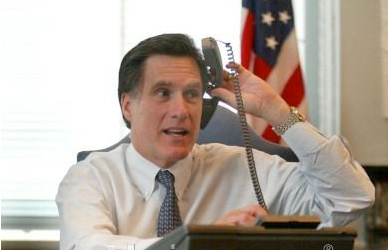 When Mitt Romney joked today that, "No one ever asked to see my birth certificate," many responded with displeasure when they should have just chuckled because the biggest secret about the Romney campaign is that it's a big joke. Literally. As those close to him know, Mitt Romney is a brilliant comedian and satirist and he continues to be amused at how so many people still don't "get" his act.
Inspired by Spinal Tap, The Office, Borat and Curb Your Enthusiasm, Mitt Romney is using the spotlight of the Presidential election to play the realistic-seeming role of a clueless wealthy goofball who's always saying the wrong thing and humiliating himself. It's just performance art on the biggest stage imaginable. Imagine a right wing version of Larry David running for President and you've got it. The Mitt Romney campaign is actually a comedy act being presented to an unappreciative audience.
How do I know this? Because, thanks to PlanetPOV's investigative unit, we've obtained partial transcripts of their brainstorming sessions from yesterday which are offered below for your review:
TRANSCRIPT OF A MITT ROMNEY COMEDY WRITING SESSION

MATT RHODES (Romney Campaign Manager): Come on Mitt, take the pencils out of your nose, we've got to get serious about writing bits for today!

MITT ROMNEY: Doofussayswhat?

RHODES: What?

MITT: Heh! Gotcha!

RHODES: Mitt! Now, since you'll be in Michigan tomorrow, I was thinking of a few absurd gags like maybe revisiting "The trees are just the right height" bit with a line like, "The people in Michigan are just the right width." What do you think?

MITT: You know me, I hate to go back to the same well too many times…even though it's just the right depth. Heh-heh! No, if we're going to come up with a really good gag that makes my character come off even more as a total idiot, it's got to be a bit bigger at this point. Remember the naked fight in Borat?

RHODES: That was edgy but if you go that far, we could blow our cover and people would realize this is just a spoof.

MITT: You're probably right…too bad…imagine me and Chris Christie in a naked slap fight like that, it would be hilarious! We'd need a bigger room than they used though, Christie has an ass the size of a cement mixer.

RHODES: If we're going to keep the Mormon thing going, we should steer clear of sex jokes but…you know what would work?

MITT: A race gag?

RHODES: You're reading my mind!

MITT: I already have one! How about this, I visit a black-owned restaurant and order a side of "colored greens"? You see them fuming while I do my signature chuckle, totally clueless! That would just dominate the news cycle! It would be hilarious!

RHODES: We could go that way but we've already got you scheduled for a rally, why not use that instead?

MITT: Well…hmm…what gag could I do about race in the middle of my straight lines about "creating jobs" and "fixing the economy" without it coming off too forced?

RHODES: You could riff about people on welfare not having to work…maybe something like, "As President, I will only provide welfare to those who are working and don't need it!"

MITT: Or…wait a minute…how about I hit the birther crap? Two comedy birds with one stone! Hey, is Trump available? We could do a "Who's On First?" type comedy team bit on it!

RHODES: Sorry, Trump's having his neck hair stretched today, you'll have to do a single.

MITT: Damn…would have been classic! Okay…so how about this, I do a real dry windup, going on about how I was born in Michigan, went to school there, got married there, yadda-yadda, then I say, "No one ever asked to see my birth certificate!", totally clueless, chuckling away! The media should pick up that ball and run with it all day!

RHODES: I think we have a winner!

MITT: Excellent! So Matt, how long do you think it will take for people to finally catch on that my running for President is just a joke?

RHODES: Maybe somewhere in the middle of your second term?

MITT: If it takes them that long, we're all screwed! Heh-heh!

RHODES: Just think of the goldmine of gags though if you did become President!

MITT: No kidding! If we do get there, I'll make them forget all about Bush. He was like the Carrot Top of Presidents, if I get the gig, I'd like to be the Gallagher of Presidents…in fact, at our next campaign stop…what if I offered watermelon to the crowd then pulled out a wooden mallet and smashed it, splattering all of them! That would go viral on YouTube!

RHODES: You sir, are a comic genius!

MITT: And you sir, are correct. Alright, let's light this fuse and watch the fireworks!
Don't miss the comic stylings of Mitt Romney which will be continuing on news shows and websites through the first week of November. After that, you can catch him at The Comedy Shelter in The Cayman Islands or The Laugh Vault in Switzerland.