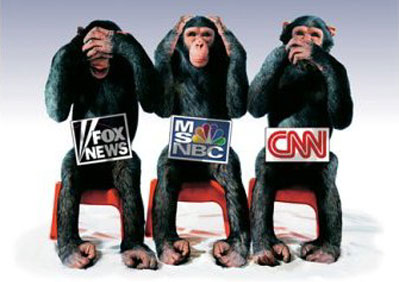 Where would we be without our corporately owned news networks?
In a strong recovery? With a functioning Congress? In the dark about how oil companies are really care about the environment, schools and puppies?
One thing that America greatly values is its free press…which is why its been locked up in a safe that's hidden miles below the Earth's surface. Filling in for it, we have a corporatized Mainstream Media which looks just like the real thing only less filling. Having a corporately owned media is a bit of  a trade off for America, like buying a McDonalds hamburger. One one hand, you get a cheap, non-nutritious product that contains excesses of substances that are bad for you and on the other hand…well…maybe there's not an other hand but you get the idea.
Due to the 24 hour news cycle, news channels are hungry for news all the time. Unfortunately, they have the digestive systems of cows so they digest the same stories in one show after another throughout one or more days. They are also very particular about what stories they consume, they must be high in conflict and rich in advertising dollars. So many stories, despite how true they may be, simply aren't on the menu for any of the news channels.
Listed below are ten things you will never hear on a news channel for the above reasons…unless we include a celebrity nip slip in this page…which we are still debating.
TEN THINGS YOU WILL NEVER HEAR ON A NEWS CHANNEL:
1. Crazy things that Republicans say aren't actually equal to sane things Democrats say in response.
2. The oil company commercials we run constantly are full of lies but even though that's a conflict of interest for a news channel that's supposed to present truths, we need the ad revenue.
3. Our hosts aren't really outraged at everything they say they are, they're more like performers and it's just an act to get ratings.
4. We miss Sarah Palin.
5. Most of our coverage about President Obama is negative because he's been too far ahead of Romney and we make more money from advertisers if the Presidential race is tighter because more people will tune in each day to see who's up or down. Also, our corporate ownership and shareholders want the tax breaks that Republicans would give us.
6. Polls this far away from an election really don't mean anything but by treating them as if they do, we can create all kinds of stories based upon them that urge our viewers to be greatly concerned .
7. Our gesture towards balance and fairness is having a token person with overly strident views that are the opposite of our core viewers so that they only confirm our core viewers dislike of them and others with the same views.
8. Faves include any story involving sex, missing white girls and threats to Americans. Dislikes include peace talks, good economic news and substantive conversations about issues.
9. We flip a coin to decide which stories we'll call "Breaking News".
10. Nothing truly important happened today, sorry.  You could always read a book or get some exercise.