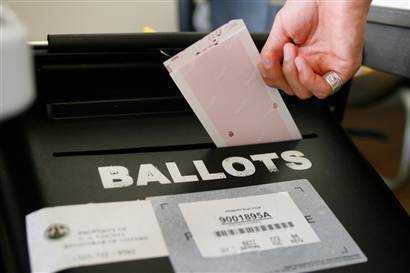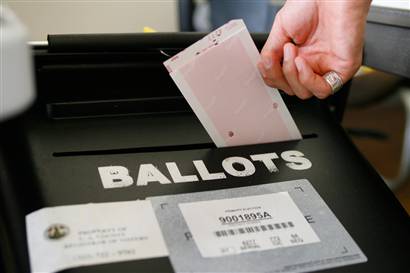 Referencing the suffrage movement in the 1920's and civil rights supporters in the 1960's, top Republican leaders are nearing a vote in the House of Representatives to pass a law that would give corporations the right of other citizens, to vote in elections.
Rep. Paul Ryan gave a passionate speech on the floor of the House on Friday in which he argued that since the Supreme Court has affirmed that corporations are people, denying them the right to vote which all other people enjoy, is unconstitutional. "Every person in America has a right to participate in our democracy and just because some may have prejudices against a minority of others, it doesn't give them the right to deny them their inalienable rights."
Republican Policy Committee Chairman, Rep. Tom Price argued for support of the Universal Voting Rights Act by challenging fellow Representatives to affirm American democracy and extend voting rights to the only people in America who are now refused them. "The world looks to America to set an example of  open democracy. How can we stand as a role model if we pick and choose which people can and can't vote?"
House Democrats, surprised by the sudden appearance of this bill, were strongly outspoken against it. "Despite what the Supreme Court has ruled and the rhetoric of our friends across the aisle, corporations are not people and they absolutely are not entitled to vote in elections," said Democrat and House Minority Leader, Rep. Nancy Pelosi. "They can't walk into a voting booth, they shouldn't be entitled to vote, it's that simple."
Republicans insist that by opposing this bill, Democrats are openly attacking the nation's democracy by trying to suppress the votes of people they know are most likely to vote for Republicans.
"Such anti-democratic views, trying to prevent people from voting instead of seeking to have as many people as possible participating in our elections is a travesty and a betrayal of their positions as representatives of the public," Republican Rep. Jeb Hensarling insisted in Friday's debate.
The Universal Voting Rights Act is expected to pass in The House in a party line vote and stands a chance of passing in The Senate with several Blue Dog Democrats including Sen. Mary Landrieu, Sen. Ben Nelson and Sen. Joe Manchin breaking with their party and joining Republicans in supporting the bill.
President Obama is expected to veto the bill if passed by Congress but if Republicans win the White House in November, the bill is expected to be revived in 2013 when it could be signed into law.
Some Democrats have expressed concerns that their opposition to the bill will be used against them by the GOP in this year's elections, to portray them as opposing democracy.
GOP Presidential  candidate Mitt Romney was asked about the bill today at a campaign stop in Milwaukee and affirmed that if he won the Presidency, he would sign it into law. "As I've said before and have been attacked for saying, corporations are indeed people and in America, the people choose their leaders. I would absolutely sign a law that granted  voting rights to all people, be they living or corporate," Romney affirmed.
The House vote on this bill is scheduled for next week.
Sorry to have to share this outrageous story with you today…it being April Fools Day and all.