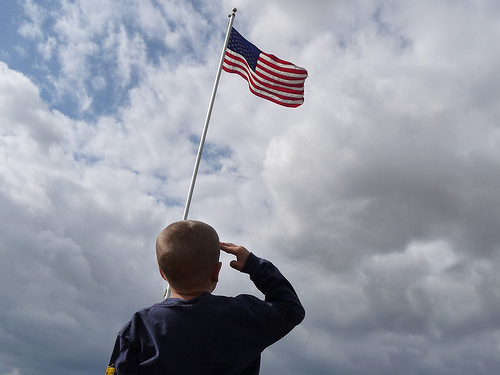 With all the hoopla behind President Obama's birth certificate and the questions about his citizenship, in addition to the ideals and comments made or alluded to by certain members of the 'tea party' and others on the right, I got to thinking…WHAT exactly constitutes the ideals of a 'real' American?  I also got to thinking, why do so many cling to ideals that have NEVER in our nations history actually been practiced?   Further to these thoughts, were why are SO many so inclined to BELIEVE, no matter what evidence is submitted to the contrary, that 'things aren't as they seem'?
While thinking about this question, I delved into many facets of American culture.   I looked at Native Americans, African Americans, and the various sects of Europeans who came here during the years of colonization and during other periods to make this geographical region, now KNOWN as the United States of America, their home.   I looked at various periods in the last few hundred years of  history, from the days when explorer's 'discovered' this land to the many struggles, challenges and upheavals the nation has faced over the generations. I, looked at the situations encountered by many immigrants in their home lands that LED to their decision to come to America when they did.   I also researched accounts of HOW those who came here from other lands were treated after their arrival.
(Disclosure: it helped that while this debate was raging, I was taking courses in Native American history and Cultural Anthropology through Ethnology, and Economics, in addition to having taken ( other relevant courses last semester) :)} As such, my information IS current and based on the latest trends and concepts being taught in an academic setting.)
This nation is NOT without bad times or unsavory conditions, no NATION escapes these problems or issues.   WE have not had a perfect or ideal past,  nor has any other country.   Our nation has many periods of less than 'nice' or benevolent times, and AGAIN, this is not an usual situation ANYWHERE on Earth.  No nation is perfect or a Utopia.   No nation has a perfect or exemplary past, that is without negatives or the subjugation of others.  Contrary to popular mythology, America is NOT really that unique.  Not really, while we have some unique situations, but our reactions and actions have NOT been that unique IF compared to other cultures throughout history.
What IS  unique is the location of this nation from other 'advanced' societies.   What IS unique is that the nation was able TO distance itself from the monarchies and rulers who were VERY powerful in their HOME lands.   What IS unique is that the Natives of this land, did their best to welcome the newcomers and help them adjust to the conditions of which the newcomers found themselves.
The America's were VERY lucky and had many externalities working in their favor.  Sadly many of the original colonists did NOT recognize or appreciate the REAL reasons WHY they had this good fortune, and actually believed it was through their own fortitude that THEY were able to 'conquer' the 'New World".
As a whole, they did not give credit to the Indigenous people who HELPED them survive…rather they looked at 'those' people as savages, and as their 'lessors' and wrote stories to those back in the 'old world' portraying their benefactors as a backward, unsophisticated, people, WHO THEY, themselves were helping to civilize.   Those early settlers, were ashamed of themselves and their lack of ability to SURVIVE in such an uncultured, raw land that they  actually didn't appreciate the HELP they received from those WHO were experts in that environment.  As such THEY 'spun' the story to make THEMSELVES look good and to make the natives look bad, to those back home.  (Where have I heard this before???)
The people of their homelands bought their stories, hook, line and sinker.  OF course they did.  THESE were people THEY knew and understood, their countrymen, their brethren.  From that perspective, the stories  read or heard, made sense, and of course were factual…'Why would they lie?"   The people back home, in 'civilization' had no reason to question the accounts and perspectives of their fellow countryman….'Why would they?"   The people at home in Europe, have NEVER met these 'savages'.  They have NO idea what these 'people' are actually like…they only know WHAT they have been told about 'these people'.  They have NO understanding of their culture, it is utterly ALIEN to them.   "How absurd"  they think, when hearing of what type of housing the  Native American's live within.   "HOW uncivilized" they think, when they learn how the people are dressed. "OH MY…  " they say or think, when they read or hear how the natives live.
Unfortunately, this trend of telling stories' of success to those 'left behind' in the 'Old World' that romanticized and portrayed the "New World' of the America's as something 'AMAZING' and with untold fortune continued for many decades.   Often times throughout America's history, new arrivals provided 'stories' to their family back home, that created an illusion of success and well being.   Most of the stories of 'gilded street's and 'people living like kings' were false, of course but those who took the risk and made the trip, did NOT want to tell their families back home that they had NOT achieved a better life in the "NEW WORLD".   Remember too, that most who actually TOOK the risk of moving to the 'New World" were young….those who made the pilgrimage or took the chance to move across the world, were not those in their middle or senior years.
Now, in the mind of the relatively youthful, European, especially those who are highly ranked in society, such as the Royals, Nobles or the aristocrats, what they are hearing from the America's about the natives is utterly barbaric.   For those of lessor standing, such as Serfs,  the America's sound like an opportunity to escape their own unsavory lot.   To the peons, the America's appear to be something better than what they are currently living. To those of higher standing, unless they were of the aristocracy, the new world, provided an opportunity to INCREASE their own standing and become land owners WHO in turn could BECOME aristocrats in their own right.
In the minds of the less fortunate of European SOCIETY at the time, the 'savages' of the Americas don't appear very difficult to manage.   They, the Europeans (The French, The English, The Dutch, The Germans)  of the time BELIEVED, regardless of their stature in society that THEY are more sophisticated and have more ability than the natives of the land.  As to those of higher social ranking, such as merchants or minor lords,, the opportunities to build a new life for themselves in the new world was an OPPORTUNITY to advance from their CURRENT ranking. Religion, too, played a factor, for some, as they believed it was their 'destiny' and was a 'sign from God' that they should 'civilize the savages' while having an opportunity to practice their own beliefs as they so wished.
Now, in addition to those of various SECTS of European dissent and socioeconomic, theological backgrounds,including but NOT limited to English, Dutch, French, German,Catholic, Protestant, Lutheran and Jewish and various combinations thereof, there were also Indigenous people, (you know THOSE who lived here BEFORE the 'New world" was 'discovered') who ALSO inhabited the region.
After quite some time, there were also people who were born in Africa and 'other uncivilized places' that were BROUGHT AND BOUGHT, against their own WILL to the Americas. Some of these unfortunate souls were actually SOLD by their own tribes, to the people who threatened their ability to survive or appealed to their own sense of SELF preservation, to actually SELL their own clans people into servitude.   Others were CONQUERED and forced into slavery.   Still others WERE coerced into making such deals' while others were convinced by unsavory, 'more' sophisticated (i.e manipulative) Europeans to make such deals FOR the 'benefit of their tribes'.    Their were many REASONS why African's were sold into servitude…however to HEAR some people tell the stories of this time period, one would believe, without explanation…'That their OWN people SOLD them into slavery".
Now in addition, to the various groups of Europeans who came to the NEW WORLD, for VARIOUS reasons, and aside from the VARIOUS groups of Indigenous people WHO were ALREADY inhabiting this continent, as well as those who were brought here AGAINST their will, as time went on, other peoples from OTHER areas of the world, ALSO got wind of the 'New World' and ventured over through the years AFTER its 'discovery'.  During various times people from OTHER regions of Europe, Asia, Australia, etc. decided to make the pilgrimage to the Americas.
Throughout the KNOWN and recorded history of the America's, various peoples from various places and cultures have considered the America' s their home, AFTER having immigrated from other lands.    As stated, the reasons that THEY came here are vast, and the regions from which they originated are ALSO very different…HOWEVER, the various reasons WHY they came here and the various places THEY originated FROM OR WHEN they came,  are NOT really relevant.  Truly, they are NOT.   Because if the truth be known, no matter when, how or why your ancestors found themselves in the 'New World' or the 'Americas', none of US who came hear from other lands are TRULY 'Native Americans'.
The only REAL 'Native Americans' are those who were 'conquered' by the Europeans who 'founded' this land, in the name of the 'civilized' cultures of the time.
AS always, contrary to the stories we are told from our youth, there is MORE than ONE reason why people " did what they did".   The stories we are often told as children attempt to portray a  VERY simplified version of what REALLY happened.  Sadly, this simplified concept still exists today, in many of our 'national' stories.  From history to economics and everything in between we are led to believe everything is 'simple' and that ALL concepts can be easily explained in a few short sound bytes or  cute adages.   WE are led to believe that medians are normal and outliers are not to be considered.   We are taught to accept what our 'betters' have told us and 'not question authority'.  We are expected to conform and NOT question what we were told.   Now, of course, there are some of the 'unwashed' massed who actually have the opportunity to learn the truth.   These are the people, who are plucked from the masses to achieve access to the knowledge that TRULY is out there…these are those who are accepted to Universities of prestige or have the internal fortitude to 'learn' these concepts on their own.
These people ARE NOT the norm, nor are they an accurate representation of our society.   The people who are either CHOSEN to LEARN the REALITIES of our world, or who have the acumen to discover it on their own, are NOT the 'average' American.   Sadly, these people are the minority.   Some of this elite minority, will use their knowledge for the greater good, and others in this category will use their abilities and acquired knowledge for their own gain, but make no mistake regardless of HOW these people chose to use their abilities and knowledge, whether that learning is acquired by gaining acceptance into specialized Universities of from their own innate curiousity, they are NOT the majority of Americans.  These people are outliers and probably compose less than 25 % of the populace.
It is hard to get an accurate account, because of those who have chosen and are able to learn on their own without the aid of a University, are not counted.  Even though the statistics say, that 27% of Americans obtain a Bachelors or higher, I'm not sure that the stats accurately measure the true ability of those who attain that piece of paper.   I suspect, that a good portion, maybe 10-15% of those who attain the credentials are NOT really understanding their studies, or maybe legacy admissions, or are 'good test takers'.   So even if of the 17% of the  27% of those with Bachelor's degrees ARE truly deserving of that credential and 10% aren't, and 10 % of those without a 'formal education' have the ability and have taken the initiative to learn on their own…the stat barely changes.   WE are still dealing with less than a 1/4 of the populace who is able to actually SEE  and understand the bullshit!
Sadly, there are many in our society, who have not been taught about the truth of our national history, NOR have they taken the time to learn, on their own,  about ALL of what has happened in our nation's past.   Too many of our fellow citizens have been subjected to indoctrination of various myths and quaint stories that paint a less than accurate picture of our nations founding, beginnings, trials and tribulations.   Equally, as disturbing is that MOST, I would estimate 3/4 of our American society, IS NOT able or UNWILLING to actually LEARN about our history OR our political, economic, social or cultural issues.   MOST of our society, simply does not CARE enough to out in the effort and ARE willing to blindly accept whatever is provided to them.
Now, remember, the various types of people who make up the American culture.  From those of various socioeconomic, religious and national backgrounds, as well as those who are 'indigenous to the land'.   With all these various cultural identities in mind, not to even mention, those that have been fostered regionally by our 235 years of existence; from the concepts of  the North, South, East and West, to those fostered by 50 different  "Nation States"  and ALL the different nations, religions and economic strata that make up our nation, HOW can ANY SANE, RATIONAL person conclude their is only ONE national AMERICAN identity??
So back to my original question….WHAT is a 'REAL" American???
My off the cuff, quippy answer:   A mixed race person; of Native, African, Asian, European heritage, whose forefathers, believed in  Jewish, Catholic, Protestant, Muslim, Hindcu, Buddist religions; whose relatives have lived in the South, North, East and Western parts of the US; who likes Football, Baseball, Basketball, Hockey and Golf;, AND  AT the same time, can shoot a gun, LOVE their neighbor, contribute to charity, run a successful international corporation, MAKE ridiculous amounts of money; while paying NO taxes, while starring in a reality TV show, wearing the latest fashions Designed in Europe (made in China) ;  and looks like they are 25 (although REALLY 45) and married to someone 20 years their junior.   This hypothetical person has a masters degree in international business, has an IQ of 100 and IS a woman with 2.5 kids.   SHE is beautiful, vapid, intelligent and multicultal, fashionable, and FIT all at the SAME time!!!
Amazing…isn't???   Somewhere along the lines, an old and wise saying has been lost…you can satisfy SOME people SOME of the time, but you CAN'T make EVERYONE happy ALL of the TIME.
Perhaps we need to remember where WE ALL came from and REMEMBER we aren't always going to agree on everything.  IT would also help if we REMEMBER that WE ALL aren't always RIGHT and ALL come from different perspectives.  NONE of US are omniscient or omnipotent, WE all HAVE baggage  AND we ALL have histories.
No American is 'pure' and seriously….would we want to be?