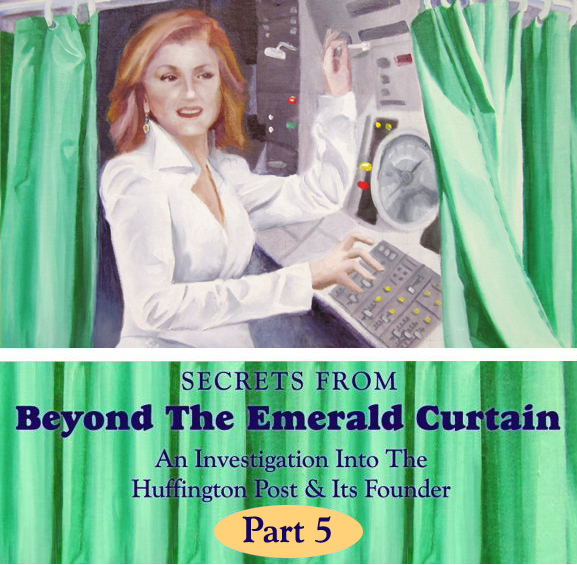 –Text: Truth; Illustration: B. McCue –
Last week we had an extensive look at Huffington Posts' headlines concerning President Obama and the Democrats and observed the eroding influence the headlines had on the general public, as well as on several shades of the Left spectrum. Having seen that, it is not hard to tell that Huffingtons' support for both Democrats and the President drastically waned since 2008, if it ever truly had been there in the first place. About the reasons for this we can only guess – however it looks quite a bit as if the sell-off to a big corporation may very well have been in the offings for a long time and Huffington systematically worked on becoming more "centrist", "mainstream" or whatever vocabulary is currently fashionable to her, in order to attract the highest bidder with an audience as vast as possible.
Yet another reason may be that nobody is sure as to what political convictions Ms Huffington really has, if any, or if they just randomly shift with the wind. As the late Green Party politician Peter Camejo, with whom she collaborated briefly in 2003 – in a last ditch to save her bid to become governor of California – put it: "My experience with her was that her ego plays a big role in her life, and her commitment to her political principles seems to vary depending on what wind is blowing and whatever might benefit her in the short term". (Collins, Lauren: The Oracle; The New Yorker, 2008)
Whatever the reasons for her actions are, many regular commenters on Huffington Post expressed on various blogs that they sensed for at least 1.5 – 2 years before the sale to AOL that something quite unhealthy was going on. The quality of the site declined rapidly and I felt compelled continuing to comment simply in order to defy the headlines that drew an utterly false picture of the President. His image at Huffington Post seemed gradually to morph from that of the greatest President ever into that of a spineless, brainless wimp and moron who has only his own interests at heart and worse, whose real, but somehow hidden goal is to strengthen plutocracy. (Though this picture matches much more a certain Greek Trojan horse, in my opinion).
Here some questions crop up: Anyone remembers how in 2008 the Right couldn't find any ammunition against the President, how annoyed they were about that and how they then started to paint him as the "Other", the  "Un-American" and the "Un-trustworthy"? Nobody thought that they would be successful with those ridiculous accusations. Yet with the relentless support of the Left, they were. Isn't it shocking how deeply these memes seeped in and how not only fearful tea-baggers but even completely reasonable people fell prey hook, line and sinker to these powerful suggestions?
So how did this come about? Of course first there was a constant and relentless repeating of these memes from the Right. To their credit goes that they have a very sophisticated propaganda machine. Yet on of top of that, thanks to missing media laws, as we know they have even a "fair and balanced" network dedicated not to the truth, but to repeat their falsehoods unfiltered and unquestioned.
Now as if that was not enough, on the Left Pandora's box got opened first at the powerful Huffington Post, which at that time was considered to be the strongest progressive voice.
Their constant unbridled, disrespectful and often unfounded criticism from Day 1 of Obama's presidency opened the door and set the tone to a barrage of criticism of the Left. This constant undermining and second-guessing his every move from almost every side now has the President in some circles as the "Un-trustworthy Other". Who really needs the Right anymore when the Left is so adept at defeating themselves?
I don't advocate not to criticize at all, but I do advocate to be careful with the tone and how far to spread the criticism. Moreover I think it's advisable to check where the weirdest criticism is coming from. For example, is a loudly shrieking Jane Hamsher, who teamed up with the right winger Grover Norquist a reasonable progressive voice? For real? And is a Bill Maher offering any workable ideas or is he just trying to increase his plummeting ratings? What about an Arianna Huffington who changes her political affiliations more often than her Blackberrys and who still gives a platform to Andrew Breitbart, with whom she founded the Huffington Post?
Just to have a look at some of the people Ms H is surrounded with on the main page should give a hint as to how progressive she really is. I assume she cleverly sensed that there is money to be made with something similar to Drudge report for progressives. If there was an intention from the beginning to split the Left in due course of time is hard to tell, but is a possibility that certainly should be considered.
So far we highlighted in this series already several media manipulation methods and we were talking about the repressive moderation, which for example didn't allow even very mild critique at Ms Huffington, which gives an impression that other discussions too may have been blocked. This too is not all that progressive, it sounds more a bit totalitarian to me. Anyhow, to take up once more the subject of media manipulation, Noam Chomsky's Top 10 media manipulation strategies do deserve some extended mention here:
"Renowned critic and always MIT linguist Noam Chomsky, one of the classic voices of intellectual dissent in the last decade, has compiled a list of the ten most common and effective strategies resorted to by the agendas "hidden" to establish a manipulation of the population through the media.
HISTORICALLY THE MEDIA HAVE PROVEN HIGHLY EFFICIENT TO MOLD PUBLIC OPINION. Thanks to the media paraphernalia and propaganda, have been created or destroyed social movements, justified wars, tempered financial crisis, spurred on some other ideological currents, and even given the phenomenon of media as producers of reality within the collective psyche."
1. The strategy of distraction
The primary element of social control is the strategy of distraction which is to divert public attention from important issues and changes determined by the political and economic elites, by the technique of flood or flooding continuous distractions and insignificant information. (…)
(…) Maintaining public attention diverted away from the real social problems, captivated by matters of no real importance.
2. Create problems, then offer solutions
This method is also called "problem -reaction- solution. "It creates a problem, a "situation" referred to cause some reaction in the audience, so this is the principal of the steps that you want to accept. For example: let it unfold and intensify urban violence, or arrange for bloody attacks in order that the public is the applicant's security laws and policies to the detriment of freedom. Or: create an economic crisis to accept as a necessary evil retreat of social rights and the dismantling of public services.
3. The gradual strategy
acceptance to an unacceptable degree, just apply it gradually, dropper, for consecutive years. That is how they radically new socioeconomic conditions (neoliberalism ) were imposed during the 1980s and 1990s: the minimal state, privatization, precariousness, flexibility, massive unemployment, wages, and do not guarantee a decent income, so many changes that have brought about a revolution if they had been applied once.
4. The strategy of deferring
Another way to accept an unpopular decision is to present it as "painful and necessary", gaining public acceptance, at the time for future application. It is easier to accept that a future sacrifice of immediate slaughter. First, because the effort is not used immediately. Then, because the public, masses, is always the tendency to expect naively that "everything will be better tomorrow" and that the sacrifice required may be avoided. This gives the public more time to get used to the idea of change and accept it with resignation when the time comes.
5. Go to the public as a little child
Most of the advertising to the general public uses speech, argument, people and particularly children's intonation, often close to the weakness, as if the viewer were a little child or a mentally deficient. (…) Why? "If one goes to a person as if she had the age of 12 years or less, then, because of suggestion, she tends with a certain probability that a response or reaction also devoid of a critical sense as a person 12 years or younger (see Silent Weapons for Quiet War )."
6. Use the emotional side more than the reflection
Making use of the emotional aspect is a classic technique for causing a short circuit on rational analysis , and finally to the critical sense of the individual. Furthermore, the use of emotional register to open the door to the unconscious for implantation or grafting ideas, desires, fears and anxieties, compulsions, or induce behaviors …
7. Keep the public in ignorance and mediocrity
Making the public incapable of understanding the technologies and methods used to control and enslavement. "The quality of education given to the lower social classes must be the poor and mediocre as possible so that the gap of ignorance it plans among the lower classes and upper classes is and remains impossible to attain for the lower classes (See ' Silent Weapons for Quiet War )."
8. To encourage the public to be complacent with mediocrity
Promote the public to believe that the fact is fashionable to be stupid, vulgar and uneducated…
9. Self-blame Strengthen
To let individual blame for their misfortune, because of the failure of their intelligence, their abilities, or their efforts. So, instead of rebelling against the economic system, the individual autodesvalida and guilt, which creates a depression, one of whose effects is to inhibit its action. And, without action, there is no revolution!
10. Getting to know the individuals better than they know themselves
Thanks to biology, neurobiology and applied psychology, the "system" has enjoyed a sophisticated understanding of human beings, both physically and psychologically. The system has gotten better acquainted with the common man more than he knows himself. This means that, in most cases, the system exerts greater control and great power over individuals, greater than that of individuals about themselves.
**********
Sounds somehow familiar? I think this list speaks pretty much for itself – and I feel that many of those strategies are applied widely by various media outlets – including the Huffington Post.
Therefore it is worth to reconsider time and again where our opinions really come from: are we convinced because of deeply thinking about an issue, or were we merely led to our conviction by allowing the media to flood our brain and senses constantly?