The Commonwealth of Virginia welcomes you with state symbols of a cardinal and dogwood. It's not the only state with those symbols, but I'm sure it would say it was the best!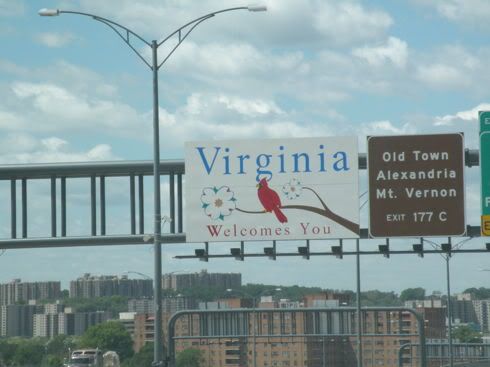 After a trip through suburbs and some pretty nice real estate, one comes eventually to this.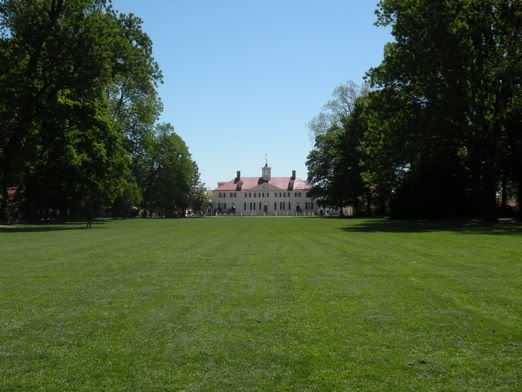 James Anderson was George Washington's plantation manager, and he was a Scot. For those not familiar with Scottish Highland wear, this giant dagger is called a dirk, which can be worn with a kilt from the hip, in addition to the more standard sgian dubh, tucked into the hose. I recognized what it was immediately, needless to say, and the expression on my face must have been priceless. Equally as priceless as what I found out as I was writing this. Not only was he the one to urge Washington to start a distillery (which, somewhat ironically, was the largest whiskey producer in America at the time), but he was also influential to the ideas of Karl Marx regarding his critique of Capitalist agricultural practices.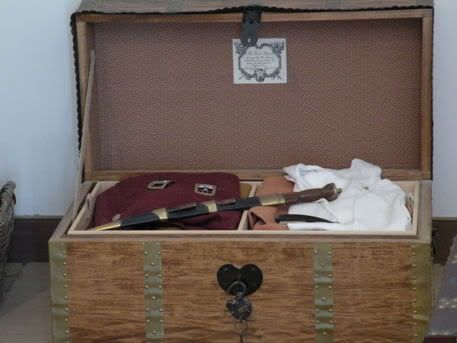 Some shots of the mansion from waiting in line for the tour.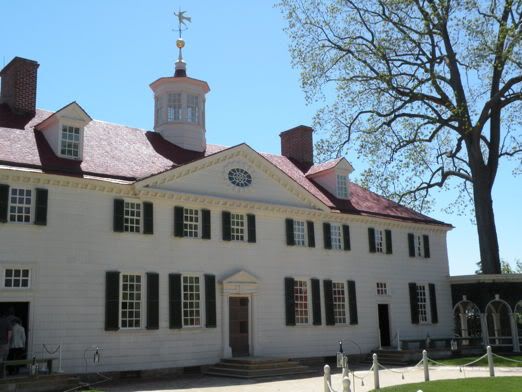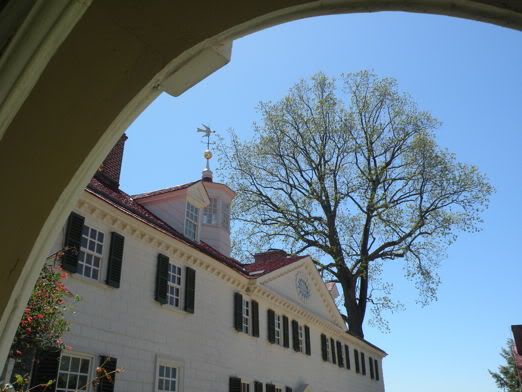 Unfortunately, they do not allow for pictures inside, but you can take a virtual tour here. Doesn't do the vibrant colors justice, but you get an idea. Notice the lack of beige.
And, after exiting through his study, you head towards the kitchen (what do they say about thinking on an empty stomach?).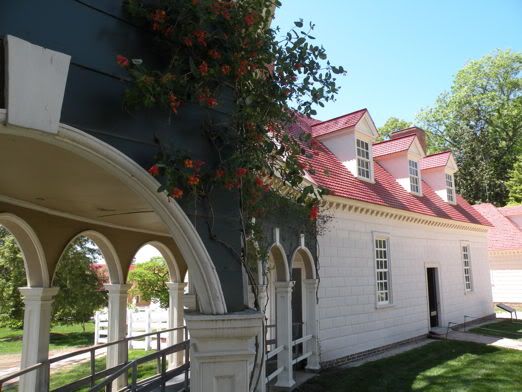 Not Washington's actual coach, but one like it, made by the same firm. This one was owned by contemporary Samuel Powel, Mayor of Philadelphia and friend of the Washingtons. In fact, you can see the Christ Church graveyard he was buried in in my past Philadelphia installment.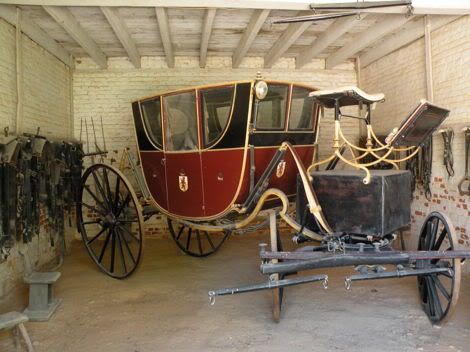 Washington's Tomb. Mind you, you know how irked I get at mindless people getting in my shot. Well, just let it be said that there was a Junior High group.
The flag on the right is called his Commander-in-Chief flag. But, historical evidence for its purpose is not clear. Nevertheless, the original does exist, and at the very least it was a personal standard.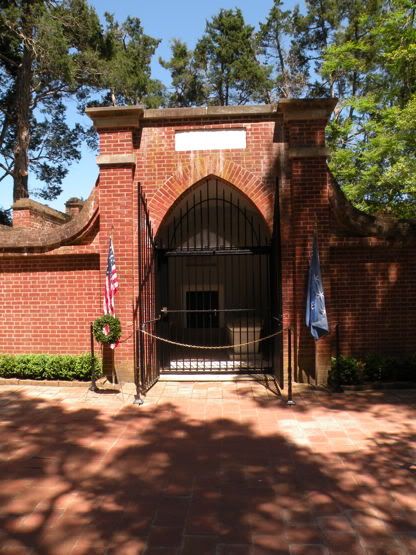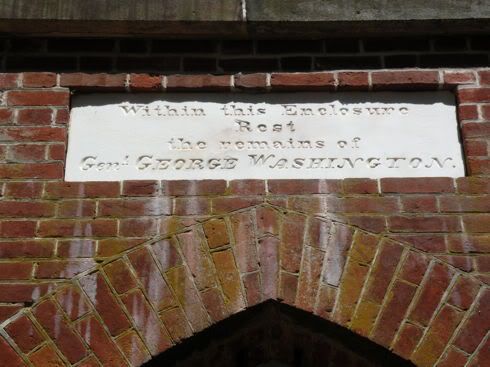 Martha lies to the left, George to the right.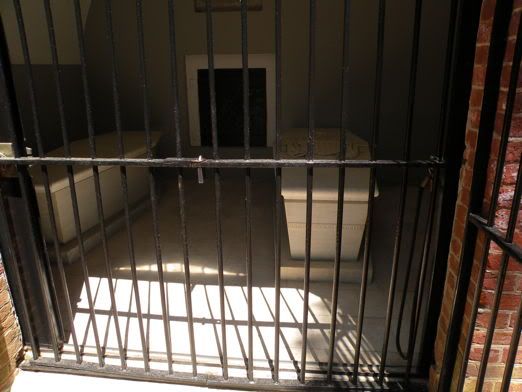 George Washington's eternal repose.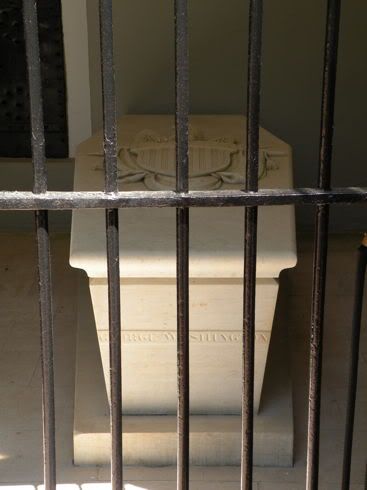 Though not originally marked, the following is a memorial to the slaves' graves. I was watching biographer Ron Chernow talk about Washington's treatment of his slaves on C-Span a few months back. Aside from him wanting to treat his slaves relatively well (as well as one can treat human chattel, I suppose), in not separating families and the like he told one time of it being so bitterly cold that Washington couldn't even mount his horse. Now, Washington prided himself on getting dirty and working hard, but he had to retire back inside due to the snow and cold. When told that his slaves weren't working he was irate. WTF, George, WTF. Nor could Washington quite grasp why his slaves didn't give it their all like he did, but only did enough to get by. He thought they must have bad work ethic. Sure, either that, or maybe they were half-assing it because they were, oh, I dunno, slaves?! As impressed as I've become with George, he sure had the same blind spot other white slave holding land owners of the time had.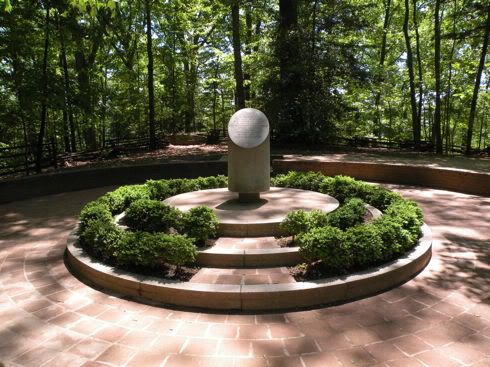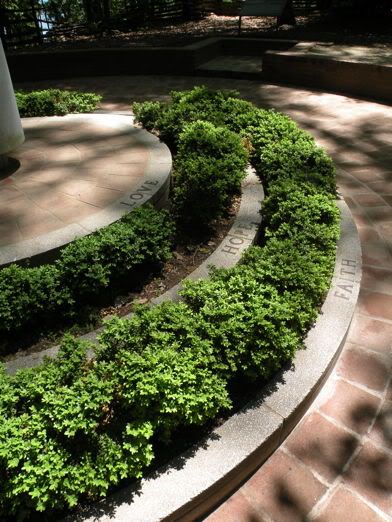 An earlier memorial stone.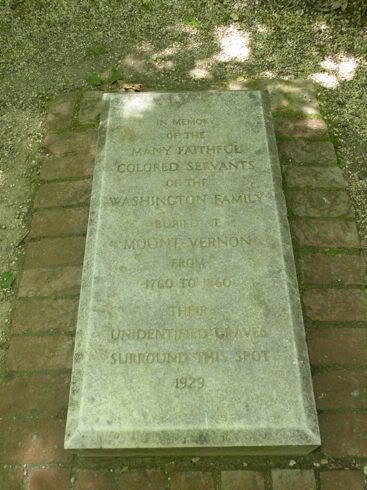 After walking down an idyllic wooded pathway to the Potomac, one sees this from where the modern dock is.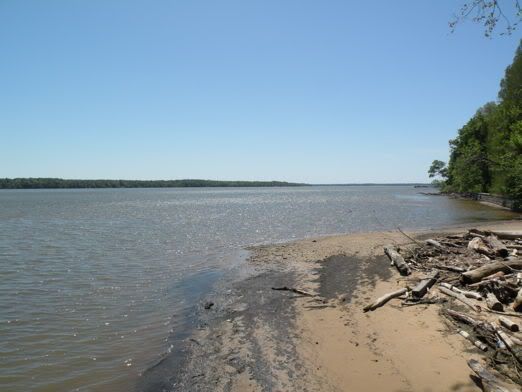 Turn around and you see the mansion's personal farm. When I saw that Obama would be sending his pardoned turkeys (Apple and Cider) this year to Mount Vernon, it made perfect sense to me. More so than Disney World. What could be more fitting for a presidential turkey than this?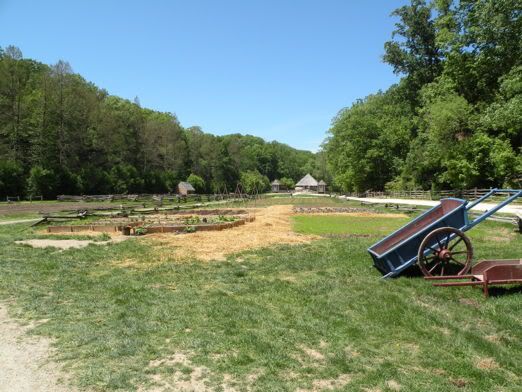 Always an innovator, this is Washington's own sixteen-sided wheat thrashing barn (recreated).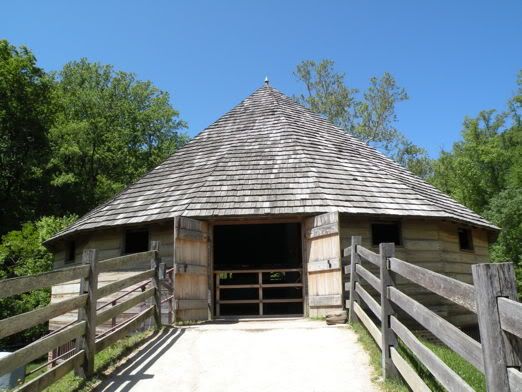 In the upper story was the threshing floor.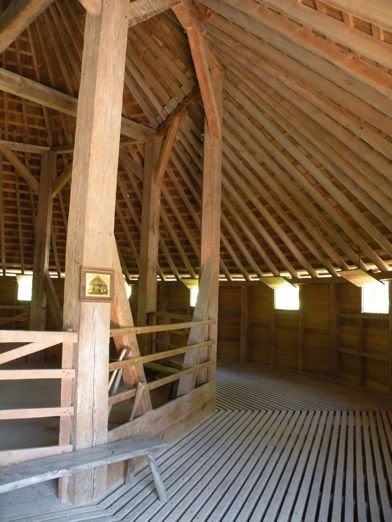 In which the separated grain would fall through the cracks below to be winnowed.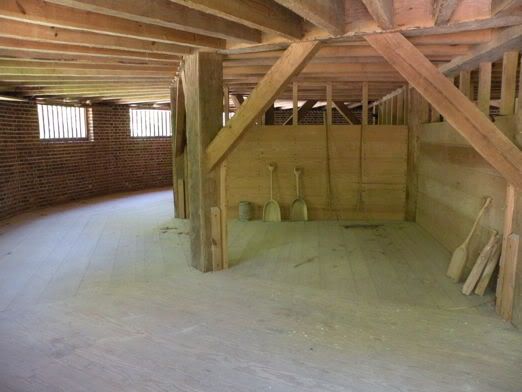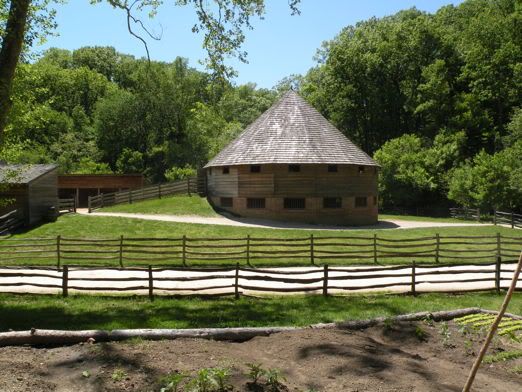 A slave's house. This is a slave that had earned "privileges" for his family.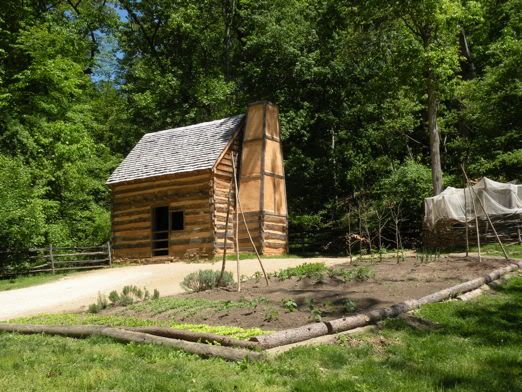 One part of me thinks, "oh, how romantic and charming," and the other part says, "my Lord, life must have been dreadful."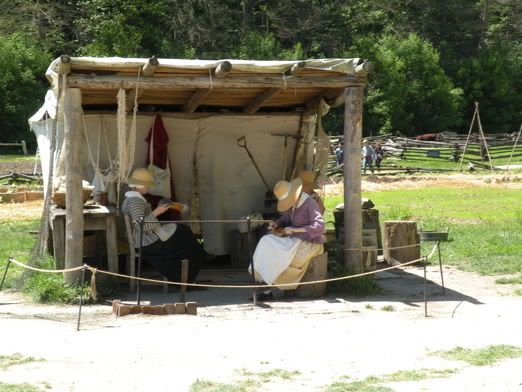 The aforementioned path, this time, going back up.
Washington's first burial vault, now unoccupied – or is it? (murder mystery writers, here's your cue)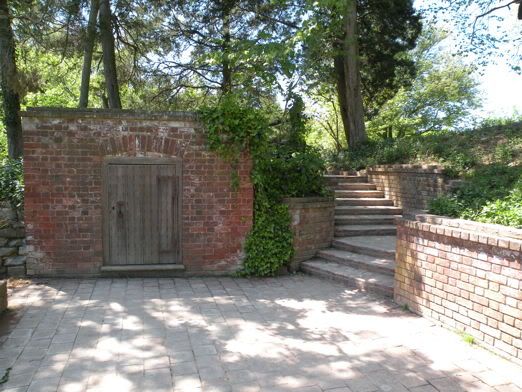 Pasture. Almost has an old English city wall feel to it. (Not that I would know, personally.)
That "guardhouse" is a Necessary. Do click on the link here to find more out about that!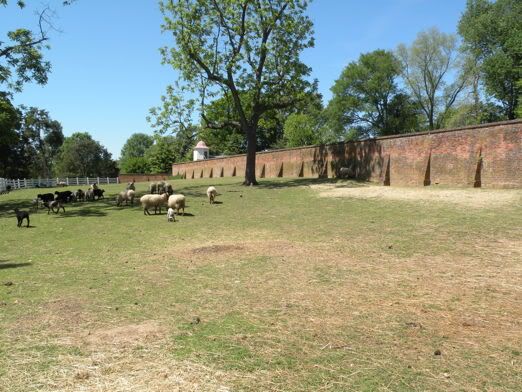 A view of the porch, or portico, if you prefer, from the rear.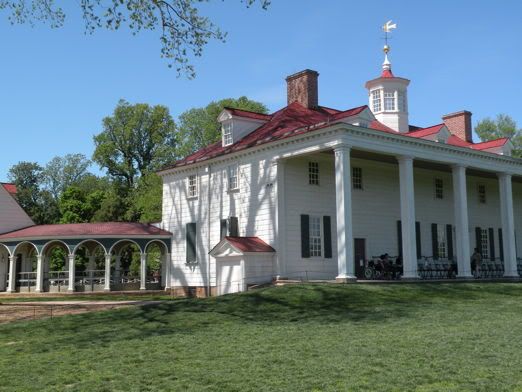 The witness tree to the left of the porch.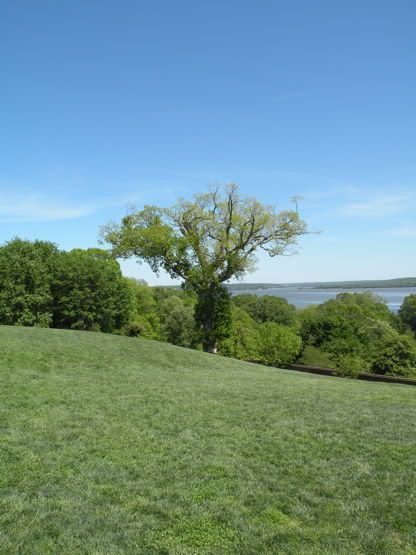 A closer view, because I couldn't choose one over the other.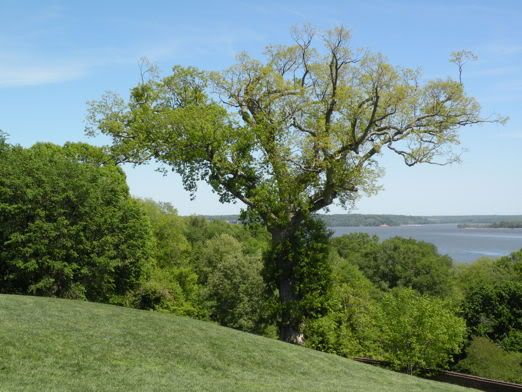 A view of the Potomac not unlike what the Washington family may have seen.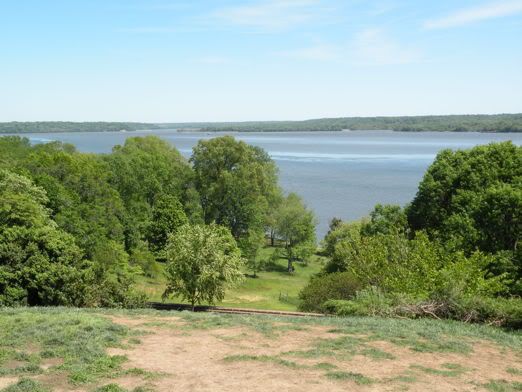 Rear view of roof and cupola.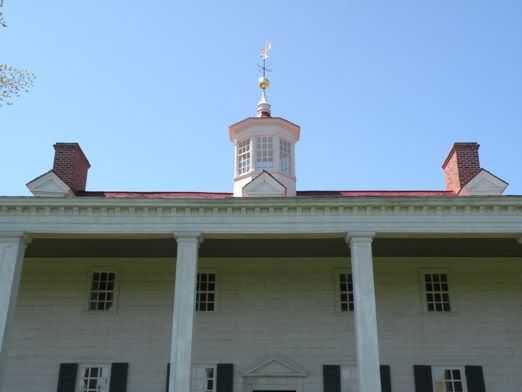 Front view of roof and cupola.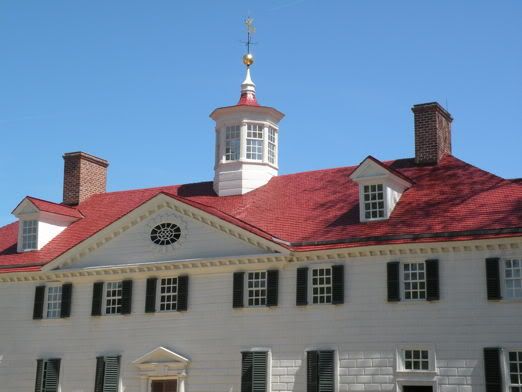 Upper gardens, I believe. With necessaries; necessarii portapotticus?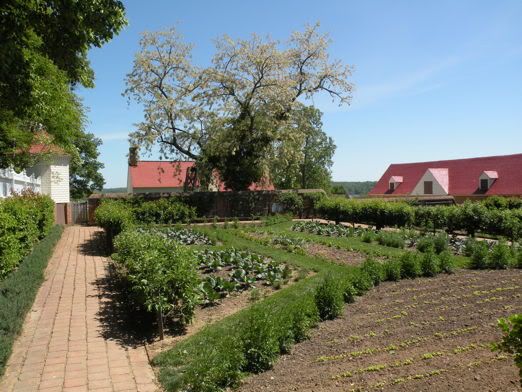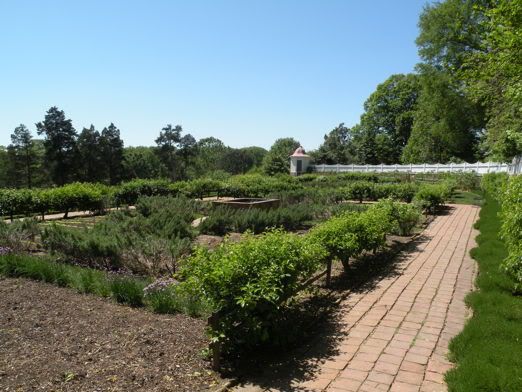 I pretended not to see the "keep off grass" sign.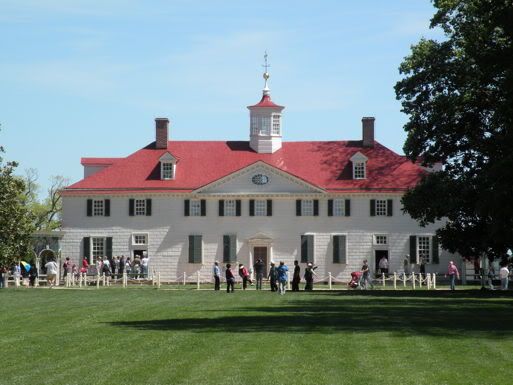 The museum is also very good, particularly the part with artifacts from his life – the cops as security weren't screwing around when some high school classmates were getting raucous and frisky with each other. The chaperone asked him to write the brats a citation. I thought is was mildly annoying but hilarious, as well. In any case, it did perturb me on the level that these kids were from a school in the region and could not have cared less that my school trips were a little more mundane than this (yay, another fur trading post or spot where Lewis and Clark took a whiz once). I enjoyed the bit on Washington and religion, myself, in the interactive part of the museum. It was more candid than some watching it with me may have liked! Damn Deists. Although, with Washington we really don't know much, except that he didn't like going to church much. But, "so help me God" after the oath of office? Another myth. We do know Chester A. Arthur was actually the first president on record to add those words.
As much as I am annoyed at those kids not appreciating how close to history they've grown up, I wouldn't trade my native state for any other. A state as great as its namesake. Heck, I've even been to George, Washington pictured here (for a Tom Petty concert). And not only have I been to Washington's Mt. Vernon estate now, I already know Washington's Mount Vernon quite well.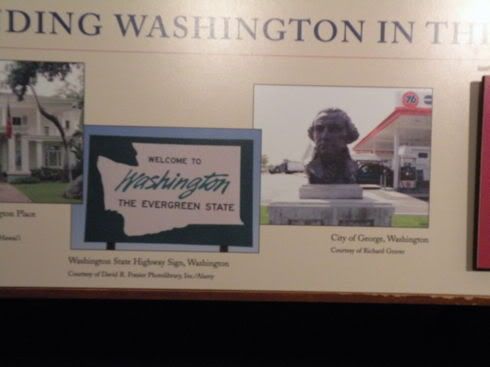 One can only wonder what the General would have to say about the questions of Afghanistan, but I'm sure he couldn't have imagined his face on top of a mountain there!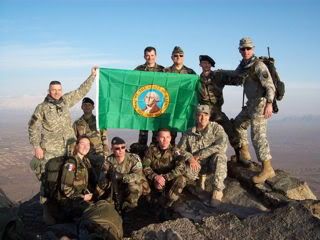 A quick heraldic note. Just in case you didn't know, Washington's ancestral crest gave its design to the flag to the District of Columbia, and to Washington state's military crest.
And, how fitting is it that on the Metro ride back along the Potomac that one crosses the Tidal Basin in view of the Washington Monument?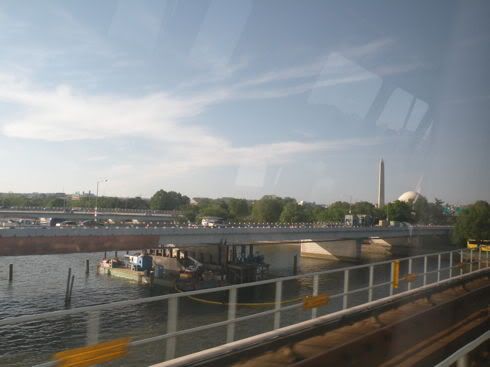 Back in Washington's eponymous city, the Old Post Office in the gloaming. (Seriously, I edited that thingamajig in the upper right corner out and reuploaded it, but, whatever… deal with it!)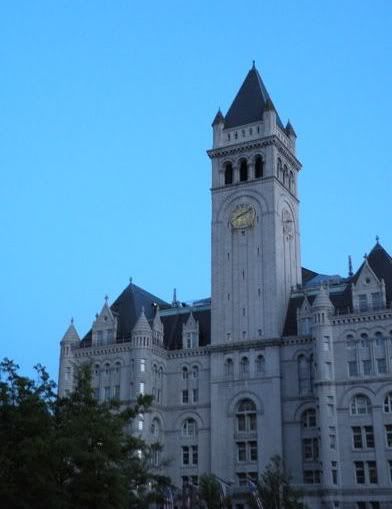 Celebrity spotting. He's just as dapper in person. My apologies to lady in red (don't worry, you look lovely).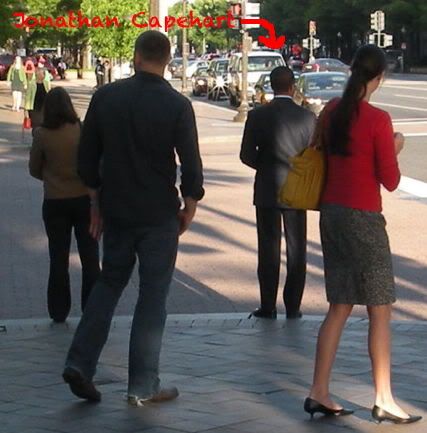 And, back to sleep for another day. Won't you join me again?