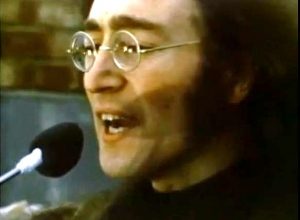 For fewer and fewer people Dec. 7 has a special meaning; fewer and fewer people have a personal connection to that date 69 years ago. It's a date that's slowly becoming a benchmark known in history, like July 4 or April 14, rather than a benchmark seared in memory. Before too long, Nov. 22 will also fall into that category. Someday, a long time from now, Sept. 11 will, too.
I am struck by how many more people have a direct personal connection to the date of Dec. 8. I brought this up last night on another site (no, not THAT one), and I was really touched by how many people told heartfelt stories of where they were and how they felt 30 years ago today. In a weird way, I wish I had been a part of it. I really can't connect to it the way others can. I have Sept. 11, a day no one likes to talk about, a day so utterly painful I wish I could forget it. I can't even remember June 20, 1987 (see if you wallys can figure that out! :)), Damn it!
I wasn't yet a twinkle in my pop's eye  😉 on Dec. 8, 1980 , but I can imagine how stunned people must have felt that night, how unreal it must have felt. How it must have felt that the world had gone utterly mad.
The photo I put up is one of my favourite images of John Lennon, from the rooftop concert in "Let it Be." He was in full rock-god mode, with the thick sideburns and fur coat. The Beatles were quite miserable by this point, burned out, on each others' nerves and all dying to move on into separate directions, but they managed to drop all the conflicts for a brief moment of magic on the roof. Over the next four years, John did some of his best work, while Paul, unfortunately, became content with becoming a "hit machine" after Band on the Run.
The Beatles were one of the few groups I was allowed to listen to when I was young; they were "safe" and "harmless," so like all adolescents, I went through a major Beatles phase. I find now I like their older stuff more, kind of from Help to Revolver to Rubber Soul; the psychedelic Sgt. Pepper and Mystery Magical Tour phase seems so dated.
(It's amazing how many people think is a Beatles song)