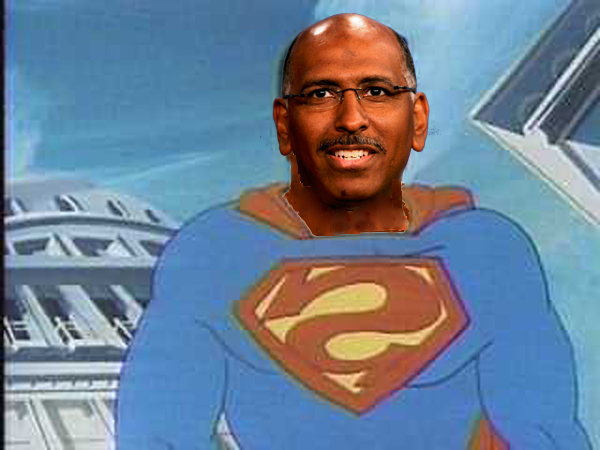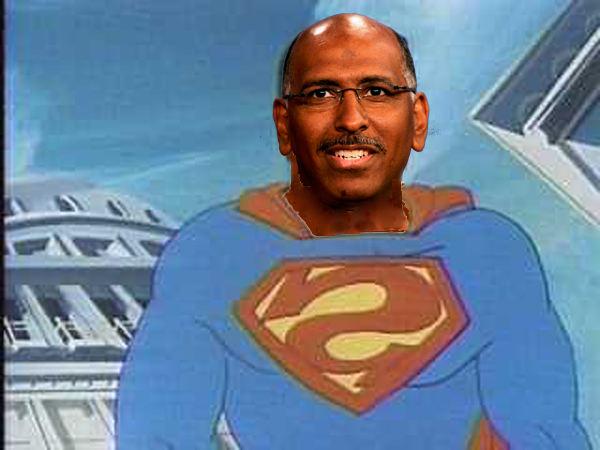 When we last left The Man of Steele, he was cornered by Moral Outrage outside a lesbian bondage club in West Hollywood!
Using his Super Ignorance, The Man of Steele closed his eyes and ignored Moral Outrage, causing it to not exist for him and was able to escape its power.
The Man of Steele flew back to his Fortress of Ineptitude…on a private jet which he charged to the RNC at a cost of $12,000 but it included a pair of  socks.
There, he used his Super Tunnelvision to  keep a watch over the political landscape of America, ever vigilant, ever watchful for an opportunity to raise funds from the easily frightened or defeat his arch enemies with an expensed trip to Hawaii.
That's when the Man of Steele came up with a brilliant idea. "The eternal struggle against evil and non-business-related expenses is too much for one man to handle by himself, even me. Batman has Robin, Rush Limbaugh has The Republican Party, what I need is a sidekick!"
The Man of Steele picked up his Hotline and made a collect call to Neil Alpert who, unknown to others was in fact The Green Embezzler.
"Neil, this is The Man of Steele. How would you like to team up and raise money to fight evil together?"
"Nice to hear from you, Man of Steele!  Actually, that sounds "super, I'm glad you trust me this much to work with you," Neil replied. "And just so you know, I accepted the collect call as "Mooney McButtocks" so I'll just dispute the charge anyway, no worries."
The Man of Steele was pleased. He hopped into his chartered jet, engaged the masseuse for a neck rub at RNC expense then called to the pilots, "Up, up like my pay!" They all chuckled as the very,very expensive gold-plated jet soared off into the sky.
The Man of Steele's jet landed on a secret airstrip near Nationals Stadium, home to the Washington Nationals baseball team.
The Man of Steele took of his Armani robe and stepped down into the darkness of the airstrip. "Green Embezzler? Are you there?"
There was terrible danger in the air which The Man of Steele sensed as "just peachy" using his Super-Oblivious-Vision.
The Green Embezzler suddenly stumbled out from around the corner of a building.
"There you are Green Embezzler! Hop on in the jet, I've just installed a business-related jacuzzi in it," The Man of Steele smiled.
Sweat poured down the nervous face of The Green Embezzler, "Man of Steele…it's…it's…"
The Man of Steele hurried towards him quickly, "What?"
The Green Embezzler coughed up a Krugerrand then fell to the ground, "It's…a…trap!"
Suddenly from all directions, the evil Liberal Media Gang flicked on the lights on their video cameras, blinding The Man of Steele!"
"Now we have you, Man of Steele," they spoke in unison, "We will destroy you with our reporting and our love of salad! Heh-heh-heh!"
The Man of Steele was surrounded! They were approaching, bent on his destruction for no reason that his Rusted Steele Trap Of A Mind could figure out!
That's when he remembered! He reached down to his utility belt (which he bought from the Neiman's catalog for $1300 but used his Super-Expensing powers to classify it as Office Supplies), opened the secret compartment and pulled out a card that was all black! He brandished it at them and they backed off!
"Ha-ha! Stand back, evildoers! You chablis guzzling liberal media types can't defend yourselves from the Black Kryptonite in my Race Card!"
To The Man of Steele's surprise, The Liberal Media Gang was only backing away momentarily because The Green Embezzler had waved them over to announce that he would be doing commercials for Goldline.
The Media Gang turned back and closed in on The Man of Steele who was incredulous that his Race Card hadn't worked on them! "Wait! I know! I forgot to charge my Race Card with Authenticity! Oh no! Now what?"
How will The Man of Steele escape this time?!
Tune in next time for Episode 24: "Where There's a Bill, There's a Way (to expense it)".