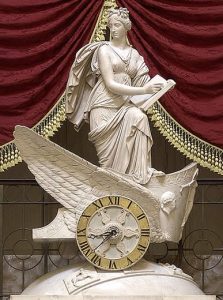 Clio, the muse of history, is as thoroughly infected with lies as a street whore with syphilis.
~~Schopenhauer
Why the hell is our nation's history in dispute? Why are we so ignorant about some basic historical facts? Maybe the answer is that it is boring—or at least, taught in a boring way. A bunch of dates we are made to memorize. But the other answer is, we are taught lies. Sometimes these lies are little white lies –like Washington and the Cherry Tree. But sometimes they are Big Lies.
Here's one example of a Big Lie: The Thanksgiving story. The Pilgrims landed on Plymouth Rock to escape religious persecution. But during the Salem Witch Trials they executed a couple of Quakers and  a year later, another Quaker named Mary Dyer was executed and a fourth was hung in 1661 –simply for the crime of being a Quaker. They left that part out of the Thanksgiving Story, didn't they? We don't talk about this when we discuss America as a so-called "Christian nation" and the Puritans coming for freedom of religion. That meant their religion not anyone else's.
When I was a kid in California's public school system, we spent a good deal of time in the 4th grade on the California missions– set up by the Spanish Franciscan Friars led by Father Junipero Serra.  (I can recite that by heart.) We were taught that the Spanish missions were the civilizing force in early California and the brave Friars converted the heathen Native Americans (then called Indians). The settlers introduced European livestock, fruits, vegetables, and a work ethic into the California region. The Friars were kindly and beloved by the Indians.
Today, the Social Studies program for the fourth grade is more nuanced; it includes: "the major nations of California Indians, their geographic distribution, economic activities, legends, and religious beliefs; and how they depended upon, adapted to and modified the physical environment by cultivation of land and sea resources."
Better, but not history from the perspective of the indigenous Californians. And nothing was mentioned as to why the Spaniards wanted to set up the missions (to control Spain's holdings in the New World, to make converts and tax paying citizens of the people they conquered, and to prevent colonization of the Russians.)
As they say, history is written by the victors. Or as Dick Gregory famously said, "We used to root for the Indians against the cavalry, because we didn't think it was fair in the history books that when the cavalry won it was a great victory, and when the Indians won it was a massacre." We hide our history when the truth is ugly. We like to paint a picture of that that makes history tidy and acceptable. But our history isn't tidy or bloodless. And it certainly isn't boring.
Until lions have their historians, tales of the hunt shall always glorify the hunters.  ~African Proverb
I have been thinking a lot about history. It's a subject I love, but am not very proficient in, although I've read my fair share of history books, ever since I discovered one of my favorite historians, Barbara Tuchman. But the topic of history—especially the way history becomes history—has come to the forefront with the Texas Schoolbook Massacre.
Actually, I became aware of historical revisionism way before that—I think it was in the late sixties. And not all revisionism is bad. As shown with the teaching about California Missions, it appears children in my state are now learning about the Native Americans to a greater extent. But that begs the question: What is historical fact? Who decides?
History seems self-eveident: The Allies won the Second World War. War history is easy enough though, unless you are a Holocaust denier. How is Holocaust denial even possible? Why can't everyone at least agree on a fact? And if they do agree that the Holocaust occurred, they still deny the number of victims.
There are dozens of examples where basic history—and I'm talking about recorded history, not even ancient accounts—is in dispute. A few months ago, in preparation for writing a blog here about the Arab-Israeli conflict, I wanted to check on some general facts about the creation of the State of Israel. Depending on my source, I read that a.) The Arabs fled Israel after the United Nations declaration or b.) The Arabs were forcibly exiled. The 1967 Six Day War was a.) A defensive response by Israel or b.) A preemptive war or even a war of aggression.
Revisionist History– Good and Bad
Patriotism ruins history. ~~ Goethe
Thomas Jefferson has recently become an example of revisionist history in valid and invalid ways. People accept that Thomas Jefferson wrote the Declaration of Independence and served as the third president of the United States. Those are FACTS. But another fact is that Jefferson had a slave mistress named Sally Hemings, with whom he fathered children. Despite people's discomfort with that nugget of information, DNA evidence in the late 1990s confirmed it was true. So what did that discovery mean for revisionist historians?
Considering the evidence from a social or theoretical perspective allowed scholars of African-American history to draw interpretations about the earliest interactions between blacks and whites in the United States.
From a fact-checking perspective, the evidence of the affair and the offspring was enough to merit exploration of the Jefferson-Hemings relationship in new biographical accounts of Jefferson.
Until DNA evidence proved the Jefferson-Hemings affair, skeptics who held the negative perspective maintained that the claim was false revisionist history meant to sully the Founding Father's legacy.
The same revisionism is seen regarding Alexander Hamilton (my high school's namesake). Federalism today is front-page news. Federalism is a founding principle and aspiration of American society. The cry of states' rights has come to mean something quite different today from how it was originally intended; it has returned to political debate. But states ' rights does not begin to capture the real essence of federalism.
Take Dick Armey—PLEASE!  Recently, someone in the audience asked Armey: How can the Federalist Papers be an inspiration for the tea party, when their principal author, Alexander Hamilton, "was widely regarded then and now as an advocate of a strong central government"?
"Historian" Armey was flummoxed by this new information. "Widely regarded by whom?" he challenged, suspiciously. "Today's modern ill-informed political science professors? … I just doubt that was the case in fact about Hamilton." Alas, for Armey, it was the case. Hamilton favored a national bank, presidents and senators who served for life and state governors appointed by the president.
I can understand (but not condone) how American history could be taught in other countries from their historical perspective, but as a nation, we are debating something that we all should have been taught in high school. More about teaching history in a minute.
The Scholarship of History
Scholars try to make sense of the era they are analyzing through primary source materials—oral histories, maps, letters and diaries, newspapers (including ads and political cartoons), even popular songs and other arts. The task of the historian is more complicated than that of simply reporting what the records say. At the very least, the records that survive for most periods of history are both incomplete and often contradictory, and the historian therefore has to try, somehow, to address those gaps and contradictions. That is, he or she has to act as an interpreter.
Just as I want journalists to report events without their personal bias, I want the same from historians. But complete objectivity is nearly impossible since history rarely takes the form of a continuous, chronological narrative, and events don't happen always in perfect sequence, all tidy-like. One thing influences another, and sometimes in surprising ways. (It reminds me of an amazing series on PBS many years ago, called "Connections," with science historian James Burke. He would show how some obscure discovery, like the creation of a loom card led to the computer. )
Archeology, anthropology, forensic science and other disciplines all contribute to revising history in the most basic sense of correcting facts. Documents may become declassified, Deep Throat comes forward. Whenever new facts are unveiled, they alter — and hopefully enhance — our understanding of past events.
But updating history isn't always as simple as adding in a couple of sentences here and there in textbooks as newsworthy events take place. First, scholars and researchers develop new historical theses and theories that they publish. Then, academics, teachers and textbook authors meet in conferences to compile recommendations for which of the new facts should be included in upcoming textbook editions. They also analyze current textbooks for accuracy and tone. The Institute for International Textbook Research, for example, analyzes the language of the text and the diversity of topics covered to ensure that they aren't skewed toward particular races, genders or cultures.
How History is Taught
The Great Depression is another hot topic today, for obvious reasons. Understanding the causes and the responses are critical to us, yet here again is  another example of our inability to agree on our own history. I have heard Right Wing legislators say that FDR both caused the Great Depression and prolonged it!
In a 2005 study, two researchers set out to examine how language shapes knowledge in history. Specifically, the authors looked at how the language used in history textbooks influenced the study of causality, that is, the link between particular actions and specific outcomes. They discovered that some textbooks that set out to explain cause and effect contained wording that might prevent students from understanding the causes of events.
One example they looked at was how the Great Depression was taught in a tenth-grade textbook. They looked for linguistic patterns that might help students draw a connection between cause and effect. They identified two kinds of passages: accounts and explanations. An account was defined as a chronological narrative in which cause and effect emerge as a natural sequence of events, while an explanation frames events in an organized way, highlighting the key factors students should focus on.
The texts relied heavily on abstract nouns, failed to use explicit language linking cause and effect, and frequently employed the passive voice in describing events. Consequently, both passages created the impression that the course of history was somehow inevitable. While the Great Depression text did focus on causes, it used overly abstract language. Phrases like "economic overproduction" and "lessening demand" held little meaning for students trying to connect certain actions with specific actors.
As the researchers explained, the word "because," can help students draw a direct link between cause and effect. Well, DUH! Unfortunately, the texts focused on "what happened," but stopped short of establishing why it happened. It obscured causality.
Here's how the textbook section on the Great Depression obscures causality:
In the late 1920s, the world economy was like a delicately balanced house of cards. The key card that held up the rest was American economic prosperity. . . . The rising productivity led to enormous profits. However, this new wealth was not evenly distributed.
While the passage does offer specific causes for the Great Depression, it creates the impression that these events were logical and automatic instead of the result of human actions. The use of passive voice ("new wealth was not evenly distributed") disguises how individual actions led the U.S to economic disaster, and never questions how such an outcome could have been avoided.
Here is a pfd of a current and widely used textbook discussing FDR and the Great Depression. See what you think.
http://www.glencoe.com/sec/socialstudies/ose/tajrp/sample/docs/chap25.pdf
Or this, about FDR, from the site US History.org
http://www.ushistory.org/us/49a.asp
A country without a memory is a country of madmen.
~~George Santayana
We are living history right now, every day. I worry about how our current events will be written in the future. Will Bush be able to go down in history as the bumbling idiot he is? Or will history be written by Cheney and Rove?
I wish that there was some way to ensure that the history we learn is accurate and inclusive; that we could learn the "truth." In Robert Heinlein's 1961 masterpiece, "Stranger in a Strange Land," there are "Fair Witnesses. " A Fair Witness is someone trained to observe events and report exactly what he or she sees and hears, making no extrapolations or assumptions. In Heinlein's society, a Fair Witness is a highly reputable source of information.  But that was science fiction. ~sigh~
If "those who cannot learn from history are doomed to repeat it" we are doomed, period.
——————————————–
To read about the politicization of how history is taught:
History Standards Then and Now
http://www.howstuffworks.com/framed.htm?parent=historians/revisionist-history.htm&url=http://www.historians.org/Perspectives/issues/1997/9705/9705DIR.CFM
Senate Testimony on History textbooks:
http://www.historytextbooks.org/senate.htm
Pdf: UNESCO Textbook Guide on Revisions
http://www.howstuffworks.com/framed.htm?parent=historians/revisionist-history.htm&url=http://unesdoc.unesco.org/images/0011/001171/117188E.pdf