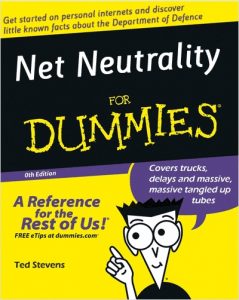 Probably not but in another amazingly corporate friendly decision a Federal appeals court struck down the FCC ability to prevent Comcast from punishing it's own internet users. The court vacated a 2008 "net neutrality" ruling that guaranteed users access to all legal net traffic. Comcast had complained that it's users who prescribed to BitTorrent used too much bandwitdh because it prevented other users from gaining as much bandwith. What the article and Comcast won't tell you is that Comcast has an inherent bandwith problem with it's cable modem technology where if you have allot of users on a particular local hub it slows down internet traffic for everyone unlike DSL technology.
BitTorrent was the softest target to attack because peer-to-peer networking has been under a barrage of lawsuits for years by the RIAA, Movie and Software industies. But this is not about peer-to-peer networking this is about internet providers who eventually want to team up with content providers like Google does now with Verizon as an example. Some day in the very near future if you use Comcast you may have to use Bing instead of Google because they have an exclusive contract. Furthermore this sets a very dangerous precedent where internet providers can limit or prevent streaming content like Pandora, Live365, Hulu and even C-SPAN.
Furthermore in their strategically evil way the right wing has been fighting the concept of "net neutrality" under the guise that it is an evil conspiracy by the FCC and allows illegal content even under Bush. They are trying to conflate it with the old media "fairness doctrine" but they are totally unrelated. What Republicans are really trying to do is use right wing paranoia to give their minions another reason to vote against their self interests.
Click here to read the whole story on Wired.