I think we all recognize that poverty in our nation has increased in the past three years, but what is not so much discussed is that it has been increasing steadily over the past 10 years.  In the past 10 years, millions of Americans who work full-time have consistently fallen below the poverty line and it is almost as though they are unemployed as well.
Any person who works full-time responsibly in this country should be able to earn enough to rise above the poverty line and have decent healthcare.  Our President and the Democratic congress took care of the latter and now it is time to address the former.  No economic system based on having 37 million of it's citizens(as of 2007) living in poverty or only 1%-5% holding the most wealth can survive.  There needs to be an honest critique of capitalism in this country.  The McCarthyism that derides anyone who dares to question the perfection of unbridled capitalism needs to be confronted and soon.
Shortly after LBJ took office, he declared a "war on poverty".  Through his efforts of abatement our country implemented Head Start, Medicare and Medicaid.  This war was fought on many fronts by people who recognized that poverty has many causes and consequences and it was a noble war that spoke to the deepest spiritual beliefs of the American people.  How much more successful would George Bush and his Republican led congress have been had they declared a "war on poverty" instead of their "war on terror"? 
Since the days of LBJ the war on poverty has gradually mutated into a war against the poor, a punative approach that places pressure on the "least of these", our fellow Americans.  Today we need a 21rst Century version of the War on Poverty.  And we cannot just expect the government to fight it alone, it needs to be a partnership between the Private sector and Government.  With Healthcare signed into law, we now need to look at seriously reforming education(which President Obama has already started) and we need to deal with the minimum wage.  We need to learn to deal with poverty more agressively when it arises and to prevent poverty before it starts. 
Why is it that some people will excuse their lack of action by replying, "there will always be the poor among us"?
The injustices of an individual working full time at minimum wage, only to be rewarded with poverty, is not what this nation was founded on.  An individual working full time at the current national minimum wage, $7.25 per hour as of summer 2009,  will earn $15,370.00 prior to taxes.  Forget benefits because most employers who pay minimum wage do not provide benefits.  Add to that single worker the scenario of a single mother with two children and I think the picture becomes quite depressing very quickly.  What is the cost of a healthcare premium for one year, what about food, clothing and shelter?  It is very clear from the chart of minimum wage increases since 1955 which party has done the most on behalf of the workers, and it still has not been enough.
http://www.infoplease.com/ipa/A0774473.html

Far from getting ahead, minimum wage workers have been steadily falling behind for at least the past 10 years.  As of 2006, the minimum wage had not been adjusted since 1997, so for 9 years it steadily lost it's value.  During this same time pay for Congress went from $133k per year to $174k in 2009.  The increase alone amounted to nearly triple the annual income for a full time minimum wage worker(using only 2009 figures), if you go back the numbers are worse, much worse.  Tom Delay, an ardent opponent of increasing the minimum wage, made this statement in 2005 on a pay raise for congress
"It's not a pay raise," said House Majority Leader Tom DeLay, R-Texas. "It's an adjustment so that they're not losing their purchasing power."  and made this plea on the floor of congress, "Mr. Speaker, I will tell you something, Members of this House have families.  They have 2 homes, in most cases.  Some members are living in their offices because they cannot afford a second residence…..I am not making excuses or apologizing, it is difficult to raise a family and serve in Congress….My wife and my children suffer enough."
Really?  Are you kidding me, Really?  At least we don't have knowledge of DeLay staying at C Street, because that would make his plea even more insidious.  What about the purchasing power of millions of Americans, do they not count?  I am sure the members of Congress have a hard time making it but a fast food worker cannot even afford one home, much less two.  I doubt if Congress' suffering is going to make America's top 10 list of America's most disadvantaged groups.  I am not saying they do not deserve the pay they get, and some might disagree with me on that, but don't deny the same fair treatment to other Americans.
If corporations had been stagnant during this time period, you might be able to justify the mimimum wage, but that is not the case.  In fact when the "to big to fail" Banks nearly took our economy over the cliff they received attention within days and not much discussion was allowed prior to the "bottom falling out of our economy".  And despite the tax benefits to Corporate America, they have been steadily moving operations offshore where they can pay a worker $0.50 an hour, if that.  Our manufacturing base has nearly disappeared and the United States is quickly turning into a "service industry" society.  Toga parties, conferences at posh resorts, parties in Las Vegas, have all been taken on the backs of the poor in this country.  Inequality, we  all know, is surging.  This erosion is neither an accident nor the product of apathy, it is the result of  a deliberate policy choice of the right.
Maury Weidenbaum, one of Ronald Reagan's Economic Advisors once said:
If we had our druthers, we would have eliminated the minimum wage. 
Former Congressman from Pennsylvania, Bob Edgar, commented on this saying:
Since that would have been such a "painful political process", he and other officials were content to let inflation turn the mimimum wage into an "effective dead letter".
My question is where and how did the United States breed such distasteful and evil people?  Like Teddy Kennedy asked of the Senate, "Have you no shame?" Look at the Republican record(link above) when they hold the majority in congress.  What about the recent extension of unemployment, their stand on the recent jobs bill?  Do these members of Congress really have a bead on the public sentiment or have they spent so much time in the Beltway that they are immune to what happens in the real world?  Do they ever wonder about that worker who hands them a sandwich for their lunch and how they might be surviving?  The Right has two myths regarding the minimum wage; 1) increasing the minimum wage would destroy millions of jobs and 2) nobody actually earns the minimum wage, except for teenagers.  The contradictions of these two myths is amazing.  Millions of jobs have been sent overseas anyway and far more adults in this day are making minimum wage, and for millions more the minimum wage sets a floor that determines their pay.  Sometime when you have a few hours to spend, peruse the want ads, you will find entry level jobs for college graduates with at least a Bachelor of Arts starting not much higher than $30k a year, for High School graduates, it is around $20k, if you can find many these days.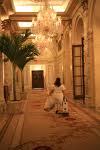 Those working at or below minimum wage perform some of the most important jobs in our society, home health aides to the elderly and daycare workers for our children.  What about the hospitality industry?  Without them, these CEO's couldn't sleep in their "heavenly beds" in a hotel room that is clean as a whistle, nor could they entertain their important clients at the many restaurants in this country.  Who would stock the shelves in our stores, keep the offices clean, clean the pools, keep their golf courses groomed, provide the laundry services for their hospital beds?  Who would do all of this in the absence of minimum wage workers?  You can bet the wealthy would be complaining if these workers were suddenly gone and they would not feel the least bit bad about it, in fact they would find a 1000 ways to justify their whining and complain about the welfare roles.
Rewarding a hard day's work with poverty is an abomination, but what we have not done is to frame a living wage as a "values issue".  These workers work as hard as any other American.  We see them everyday, we smile, they smile back but the heartache and sturggles they face at home are invisible to us.  The minimum wage should be framed as a values issue in that it must be a living wage that properly reflects the cost of housing, food and other needs in individual markets.  A living wage in Arkansas would not be a living wage in New York or Los Angeles and should be adjusted based on the demographic. 
In some states responsible people have stood up for these people, led by grassroots activists, and minimum wage increases were passed by overwhelming margins.  In California the minimum wage as of January 1, 2008 was $8.00 an hour, $.75 above the national wage but still not enough.  There is an old African proverb that reads:
If you want to walk fast, walk alone.  If you want to go far, walk together.
The 9th Psalm verses 17-18 says:
The wicked bought a one way ticket to hell. For the needy shall not always be forgotten, nor the hope of the poor perish forever.
Government and Private Industry need to work together, they need to "go far" not "go fast".  So when the far right pulls out their "government is not the answer", tell them it is the only institution capable of compelling corporations and individuals to observe the rules of fair play in the marketplace.  I don't think the poor and middle class in this country want a big share of the wealth redistributed, they just want a fighting chance.