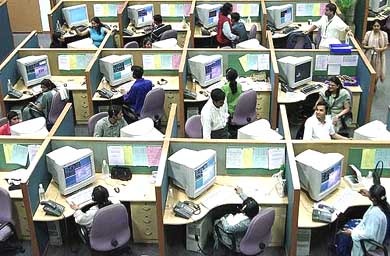 In ancient times, when the Earth was young and teabagging was part of a cultured afternoon, merchants would provide those who frequented their establishments with a quaint, old fashioned consideration called "customer service".
Then came the 1980's and the era of "Greed is good" (not to mention Jordache Jeans and New Coke). Junk Bond fueled corporations and Wall Street went on a buying spree with their fraudulent capital (thank goodness we learned from that!) and bought up other corporations and businesses.
In order to hasten the return of revenue so they could turn around and buy other corporations they couldn't afford, they enshrined the profession of Efficiency Experts to make two employees do the work of three or four and make pink slips the new black.
And there was one department at companies that the new owners consistently saw as unnecessary as Bob Dole taking Viagra…customer service.
This may sound fanciful today, even the ramblings of man who stuck his mouth under the Mimosa fountain today at Sunday Brunch but at one time the Customer Service Rep was a well paid position for professionals who had valuable people skills.
The idea of keeping customers happy and burnishing the reputation of one's company in this way used to be seen as good business.
Thankfully, this theory was put to rest along with those of energy conservation and the lack of lead in paint on children's toys.
Now, customer service is outsourced no differently than the chore of emptying the dumpsters out back…both being messy and distasteful necessities to these corporations.
And customers get to add to the frustration their flickering tv or spark-spitting microwave oven has caused them with the guilt of venting at the innocent, low wage person in India who is paid to be the receptacle of customer dissatisfaction with U.S. corporate greed and indifference.
In fact, the corporations using a literally and figuratively distant person to deal with customers is both compounding the customer's existing frustration and very symbolic.
So, though we are increasingly referred to as consumers instead of citizens in this nation, we are helpless to do much more then to please hold as our call is so important to them that they have to divert it out of the country.