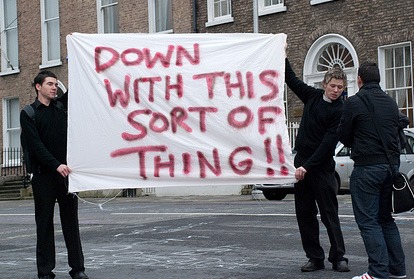 No, I don't have a lisp and I wasn't cursing.
Just a reminder that today is "Thank Huffington It's Thursday!". To help me with this reminder, I've brought my nephew, MadLib to join me in this post. Say hi to our members, Madlib…
"Hi."
Madlib, why don't you repeat that question you just asked me?
"Why?"
Uh…so everyone else can hear it.
"You already told me the answer."
I know, I'm just asking you to repeat it for the nice people here.
"That's okay."
Madlib, please, as a favor to me?
"Uh-uh."
It's the whole point of this post. I just need you to ask it one more time.
"I don't want to."
You don't–*deep breath*–Madlib, can you just repeat your question please?
"Make me!"
Look, you're taking up these good people's time and wasting all this page space, will you just ask the question again?
"I'm texting."
Listen you little…okay, fine…then I'll just join your Facebook page.
"NO!!! Okay…Uncle Adlib, why is this day different from all other days?
I'm glad you asked. You see, Madlib, this day is not like all other days because it's the day we symbolize our torturous trek through the barren wasteland of Huffington Post to freedom. That's why each Thursday, at 9pm PST, we begin a fast and don't consume any pages from the Huffington Post until midnight PST Friday night. In this way, by our absence,  we also say to Huffington Post, "Let our moderated comments go!"
"Huh?"
Jesus! Can you stop texting for ten seconds?!
"I heard ya."
Oh really? What did I say?
"Um…you're going to EPCOT."
Boycott! We're going to boycott!!! And we're going to visit Huffington Post all day today, until our boycott begins at 9pm PST, to invite folks there to join us here at The Planet on Friday!
" Yeah? So what about people who don't want to EPCOT…boycott HuffPo? Ya gonna rag on them?"
NO! IT'S TOTALLY OPTIONAL! MEMBERS HERE SHOULD FEEL TOTALLY FREE TO BOYCOTT OR NOT! THAT'S WHAT RESPECT AND FREEDOM OF EXPRESSION IS ALL ABOUT!
"You sure yell and get angry a lot. You sure you shouldn't be posting on Huffington Post instead?"
You want something to text about?! I'll give you something to text about! Come back here!!!