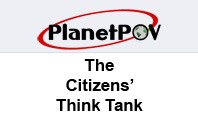 AdLib has been good enough to let me start working on a facebook page for PPOV:
If you're a member of facebook, please think about fanning our page and spreading the word to the facebook community. We're also going to connect to twitter and beef up our social networking presence.
I've modeled the facebook page after other popular facebook pages (e.g., Barack Obama's page). The page doesn't allow fans to add posts to the page, but people can comment on the posts that appear there. The reason for this is to prevent off topic or abusive posting by people who might visit the site for that purpose. We're also trying to encourage people to post here—at the main website.
I've tried to post the most popular articles from the many posted here, selecting about two to three per day. I've focused on our discussions of policy and social issues. Let me know what other kind of posts you think would be helpful to publicize our community. Or if you have any other suggestions for our facebook page, please let me know. You can post here, or email me at nellieblogger @ yahoo dot com.
Enjoy!