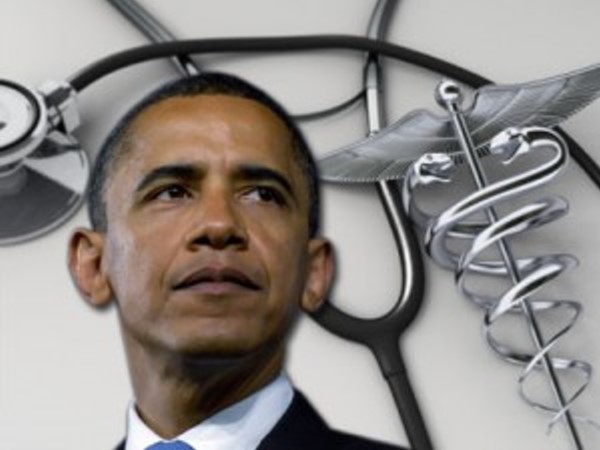 The president was up against it.  The whole centerpiece for his young presidency was on the line and in jeopardy from those on the left and right alike.
President Obama took the podium nervous with almost half the crowd wanting him to fail. He more than anyone knew if he did not lead the country now healthcare reform would die on the vine.
The president first framed the attempts throughout history to reform this country's healthcare system like invoking battle cries of past wars never resolved so they are fought over and over again.
However this president was determined that this time the healthcare reform wars would be fought to a definitive conclusion when he said, "I am not the first President to take up this cause, but I am determined to be the last."
Then president started slowly and methodically describing the atrocities of our current "healthcare" system.  Who has not heard the horror stories of a healthcare system so unjust in a nation so rich as ours?  You could almost hear the strings of melancholy in the background along with the faint cries of families who had to deal with the ultimate question life or death or bankruptcy.  But the reaper does not wait for a family to acquire enough money to pay for expensive chemotherapy treatments once an insurance company drops you for gallstones you did not know existed.
He reiterated the basic moral argument when he said, "We are the only advanced democracy on Earth – the only wealthy nation – that allows such hardships for millions of its people."
Even the GOP politely applauded feigning respect for the citizens of this country.
President Obama then pirouetted in describing the crippling costs of our unsustainable healthcare system.  We should have all heard the figures before or I have not been doing my job.   We pay 1.5 times the rest of the world in healthcare costs and healthcare costs advance three times faster than wages.  The biggest threat to Medicare and Medicaid have always been rising providers cots which private insurers can easily get but doubling premiums in about eight years but government cannot control because they cannot double payroll taxes in the same time.
Then brilliantly channeling the same tone in his "Enough" acceptance speech during the campaign, President Obama ended the silly chaos created by the right wing and the teabaggers who really never wanted reform but to destroy a young presidency.
Like a father chastising wayward children the president said, "Well the time for bickering is over. The time for games has passed. Now is the season for action. Now is when we must bring the best ideas of both parties together, and show the American people that we can still do what we were sent here to do. Now is the time to deliver on health care."
Then in a major shift of tone the president went from poetry to prose and and laid out what he wanted in a healthcare plan.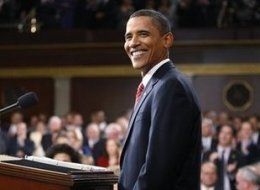 First the president wanted to reassure the already insured that all this healthcare bill will do is give you the healthcare "security and stability" most American citizens have never known.
You will not be dropped just because you become sick.
You will be covered if you have a preexisting condition.
You will not go bankrupt with no limits on out-of-pocket expenses.
You will not have some arbitrary lifetime cap that assumes what your value as a human being is.
You will be covered for routine checkups and preventative care.
In a sane country these problems would have been solved decades ago.
Second the president wanted to reassure the uninsured that help is on the way.
If you lose your job you will get coverage.
If you want to start a small business you will get coverage.
You will have access to a competitive insurance exchange where you will pay group rates instead of individual rates that are three times more.
Individuals and business will get tax credits and subsidies to pay for these premiums.
The exchanges will take four years but in the interim everyone will be provided low cost basic insurance.
There will be individual and business mandates with penalties and hardship exemptions.
Then it was time for a bipartisanship interlude which was not quite the same conciliatory tone the president struck before.  Instead you could almost hear the rising and quicker paced sound of bass drums off in a distance.  The president may acknowledge that at one time he offered the hand of bipartisanship but he did not want to get bitten again.  Now it was time to fight the lies with the boldfaced truth.
President Obama grimaced and roared when he said, "Some of people's concerns have grown out of bogus claims spread by those whose only agenda is to kill reform at any cost. The best example is the claim, made not just by radio and cable talk show hosts, but prominent politicians, that we plan to set up panels of bureaucrats with the power to kill off senior citizens. Such a charge would be laughable if it weren't so cynical and irresponsible. It is a lie, plain and simple."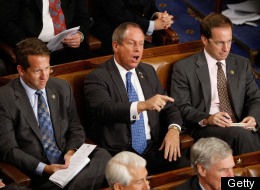 Then came the moment that defined where both parties stand in this country today.  One party is led by a thoughtful, eloquent leader who has a plan to progress this nation.  The other party is a regional party stuck with disrespectful cowards that hide behind Blackberries and shout out lies like their AstroTurf compatriots because they have no ideas to make this country better.
Still the president went on undeterred and defunct the lies one by one.
Death panels – LIE
Government coverage for undocumented aliens – LIE
Government funding of abortions – LIE
Government takeover of healthcare – LIE
Reduce Medicare benefits – LIE (that's what Republicans wanted to do)
Increase deficit spending – LIE (that's what Republicans AND conservative Democrats did with tax cuts and Iraq War)
You will not be able to keep you insurance – LIE
Then the president compared the right wing lies to our system today.
No competition for healthcare insurers in most states – TRUE
Private insurers cherry pick and cut coverage for the sick – TRUE
Executive bonuses for NOT covering patients – TRUE
In the middle of his speech was the climax like in the middle of a Shakespeare play the president then address the need for a public plan to spur competition.   President Obama let the door open for alternatives but he set the bar high for any alternatives to a public option that likely could not be reached in reasonable discussion.  Using the analogy of our hybrid system of public and private colleges was shear genius.  This analogy was the most apropos example of a competitive system where both public and private systems can strive and succeed.  This analogy also gave a glimpse into healthcare's future since private universities dominated in the past where public universities dominate now due to the very reason that you can get a similar eduction for lower cost.
After assuring seniors that their benefits will not go down while waste will be cut in Medicare and again criticizing the so called fiscal conservatives for their hypocrisies of the past, the president hinted at one more gesture of bipartisan reconciliation.
President Obama was not in the mood for Kumbya moments last night when he said, "But know this: I will not waste time with those who have made the calculation that it's better politics to kill this plan than improve it. I will not stand by while the special interests use the same old tactics to keep things exactly the way they are. If you misrepresent what's in the plan, we will call you out. And I will not accept the status quo as a solution. Not this time. Not now."
Then President Obama hit the emotional crescendo of the night when he invoked Senator "Ted" Kennedy's letter.  If you did not choke up just a bit you simply did not have a soul when thinking about the unfulfilled requiem of Senator Kennedy's life, healthcare for all Americans.  All the compassion and passion that was modern liberalism was exposed in a uniquely human way.  Senator Kennedy spoke of the "character of this country".  Do we let people suffer needlessly or does ever American get access to healthcare?
At the end of the speech the president combined a symphony of great oratory, historical precedent and a big picture outlook like few American politicians in this country ever could.  Defining his view of liberalism in a rare way he went throughout history when the conservative mindset failed and government needed to step in for the good of the people.  President Obama described how the country went from the advent of Social Security to the start of Medicare and Medicaid.  President Obama does not want to reinvent the nanny state like many right wingers believe.   Having entered office on the heals of unfettered capitalism President Obama sees this moment as a time to curb unfettered healthcare insurance oligarchies.
In a paragraph the president defined Obama liberalism.  "You see, our predecessors understood that government could not, and should not, solve every problem. They understood that there are instances when the gains in security from government action are not worth the added constraints on our freedom. But they also understood that the danger of too much government is matched by the perils of too little; that without the leavening hand of wise policy, markets can crash, monopolies can stifle competition, and the vulnerable can be exploited. And they knew that when any government measure, no matter how carefully crafted or beneficial, is subject to scorn; when any efforts to help people in need are attacked as un-American; when facts and reason are thrown overboard and only timidity passes for wisdom, and we can no longer even engage in a civil conversation with each other over the things that truly matter – that at that point we don't merely lose our capacity to solve big challenges. We lose something essential about ourselves."
It was a speech for the moment and a speech for the ages.