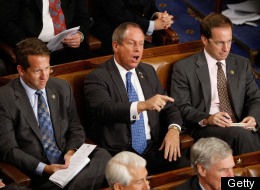 Hi all!
I believe the perfect storm is a'brewin'. The elements are coming to a head. Over the last few weeks, we've seen many corrupt politicians exposed for their debauchery, bigotry, lies, and plain ol' pay-to-play corruption.
Yesterday, Joe Wilson added his name to the list of politicians who really don't represent America or American values. Since when is it ok to heckle the President of the…wait; since when is it ok for a CONGRESSMAN to heckle the President of the United States – GIVING A SPEECH TO THE NATION ON THE SENATE FLOOR??? His behavior was undeniably despicable and most certainly unAmerican.
The ongoing spinelessness of the democratic party has allowed the storm to increase in size for months. Last night's insolence demonstrated by the republican congress has kicked it up to hurricane strength.
The reaction by the public has been notably remarkable. Wilson's leading opponent, Rob Miller, has become an overnight sensation, as his supporters have generated several hundred thousand dollars in one morning. This activity clearly illustrates the citizens of the nation are ready to ACT.
So, when people are ready to act, they must have something to actually DO. Of course, ideally this would be something PRODUCTIVE to do. THIS IS WHERE MY "PLAN" COMES IN.
Yes, I have a "plan". Did you expect any less of me? It is multi-phase of course.
First, I am building a website. Ooh, a website?; you may scoff. Stay with me. The site will at first have two primary functions: 1) to identify every congressman – representatives and senators, for every state; and to give them a ranking on the "corrupt-o-meter". We must identify who the bad eggs are in our congressional basket. 2) to identify trustworthy candidates in each district to replace the bad eggs.
The site will be open to the public, who will contribute information about the incumbent candidates, positive or negative, which will form their corruption "rating". The public will also "nominate" the people they believe are trustworthy individuals with potential to run for public office. Once we identify the people worth electing, we will work together to promote, endorse, and support these people.
The site will NOT BE PARTY DEPENDENT. I am sick of the words Republican and Democrat. They have become labels that mean nothing other than to be used as divisive epithets. I do not intend to create a new party; but simply to identify trustworthy Americans who will promise to do what is right for American citizens as a whole.
Does this sound ridiculous? Then YOU are not who I am looking for. But if this sounds like a great idea, IF it was feasible, then read on. There is obviously more to my "plan", and of course, the structure of the website is critical to its success. I will not lay it all out here, as I don't want someone to run away with my idea…unless it would also do what I intend. I am not interested in becoming famous, I am interested in saving our nation from itself. I believe there IS a way to do it. The public has never had so much power, than before the existence of the internet. One person finally has the power to reach every part of the nation, as surely as I am typing these words, and you are reading them. The technology exists to do the job. We are no longer restricted by the extremely high wall that is campaign finance.
Americans have lost faith in govt. The reason is clear: the system has been corrupted by corporate and elitist influence. The money flows in, the politicians party like rock stars, and the public watches their tax dollars squandered on saving the elite from their own bad business practices. This must stop.
Govt need not be large. But it should be effective at maintaining balance in our nation. When abuses occur that affect the public as a whole, it is the function of govt. to resolve that abuse. It is time for us to ACT, and address these abuses, together as one nation, indivisible.
The elite have been running our country into the ground for the sole purpose of increasing their profit margins. This must end. We voted for CHANGE in 2008, and that was a start. But we have learned in the last 9 months that DC requires more than a new president. It requires an extensive sanitizing, starting with the halls of the Capitol building.
Please contact me if you have EXTENSIVE web design experience, and would like to volunteer to work on this project with me. (You must be 31337 and know what that means). You must also have the same passion that I do about our nation's current state of affairs. If you're interested in what my views are, please read my articles here at planetPOV.com
I am not a Democrat or a Republican; I do not have an agenda short of helping the people of our nation to recover from the pillaging and plundering we have suffered at the hands of elitists. They have manipulated our laws to work against us. The time has come for us to act. We MUST take our govt. back. It will be OF THE PEOPLE, BY THE PEOPLE, AND FOR THE PEOPLE once again.
Please help me make this a reality. Volunteer at: ofbyandfor@gmx.com
Please describe your qualifications including links to sites you have created, blogs you have written, etc. If you once believed in "yes we can", well, here's your chance to be part of that "we". But "can" isn't enough anymore. This time, it's "yes we WILL."