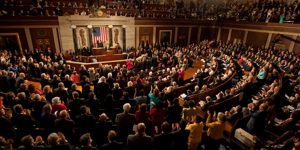 President Obama's speech tonight was just the prescription Health Care Reform needed and made me remember how he inspired me during the election.
And Republican Rep. Joe Wilson who screamed, "YOU LIE!" in the midst of the speech was just the overdose the GOP needed to go into a coma.
Could it be any more black and white…even literally (the Republican side of the room was middle aged and old white man Heaven)?  Pres. Obama presented a smart, principled and moral approach to treating All Americans with compassion and respect.
And the Republicans scream, "YOU LIE" and deliver a response that is one long list of lies about how reforming health care will kill grannies and how Repubs can somehow insure 47 million Americans just by kicking lawyers in the balls.
In keeping with the health care theme, Pres. Obama and progressives seem to be like the healthy body of the nation, trying to heal, trying to be productive, trying to grow while the GOP seems to be like a virus that is virtually mindless in following its single instinct to attack the host body and usurp its power.
We need political reform that parallels health care reform.
Here is my proposal for Political Health Reform:
1. No Republican can be denied nor deny themselves mental health diagnosis or treatment.
2. A Public Candidate who cheats on his wife, is caught taking bribes and/or secretly has gay sex while railing against gays will always run against Republicans in Republican primaries to encourage competition.
3. The millions of Republicans who are not covered by tin foil hats will be guaranteed tin foil hats.
I am open to suggestions by my friends in the Republican Party if they have any suggestions or ideas…
…*crickets*…
Oh well, I tried.