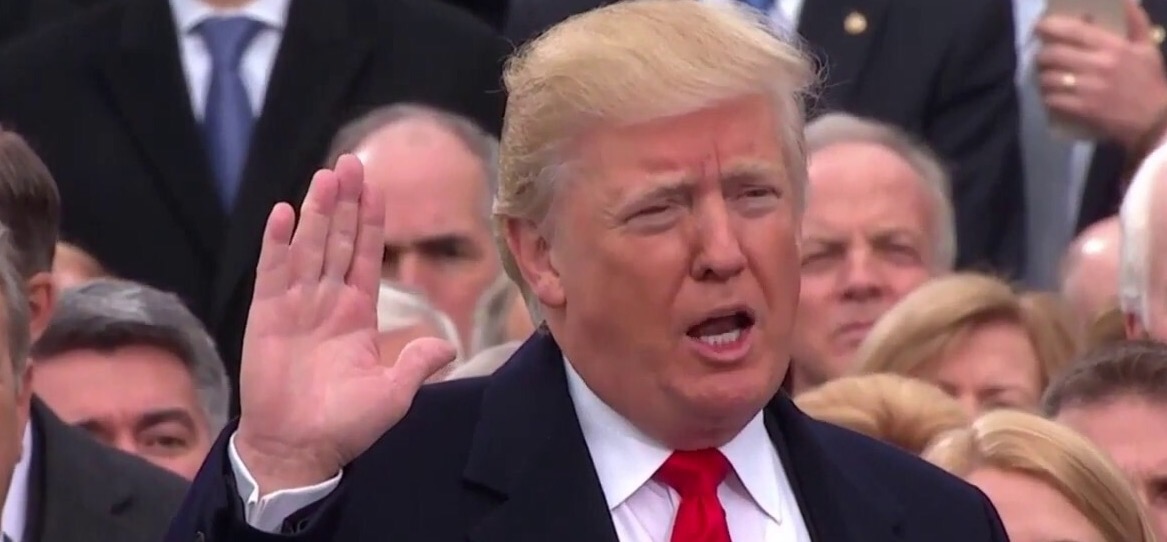 In response to ex-FBI Director James Comey's devastating testimony to the Senate Intelligence Committee about Donald Trump's efforts to stop the investigation into Michael Flynn, Trump has offered to testify under oath..but then appeared not to know what an "oath" was.
This all comes from a call-in conversation Trump had with Sean Hannity on his Fox News show:
TRANSCRIPT OF DONALD TRUMP'S CONVERSATION WITH SEAN HANNITY

TRUMP: I am 800% ready to give testimony myself about my conversations with that showboat and lying leaker Cowardly Comey.

HANNITY: Under oath?

TRUMP: Absolutely! Under oath…or hell or high water.

HANNITY: You understand what "under oath" means, right?

TRUMP: Of course I know! Like "under any circumstances".

HANNITY: Well…not exactly. It's a vow.

TRUMP: I know that and I know all about vows, I've made three of the most magnificent wedding vows you've ever seen, each was more absolute than the last.

HANNITY: It's not exactly the same as a wedding vow because of the legal implications. I'm sure you understand that.

TRUMP: What do I look like? Of course I understand it. But how do you understand it?

HANNITY: "Under oath" means under penalty of law, you tell the truth.

(TRUMP LAUGHS)

TRUMP: Who thought up that ridiculousness?! What does that even mean? I think you're wrong about that, who would agree to testify if they'd go to jail for not telling the truth?!

HANNITY: I feel the same way but that's the way it is.

TRUMP: Nope, sorry, I don't think anyone's gonna buy that. Believe me, if that's really the way it is, I'll sign an executive order making oaths optional.

HANNITY: What about the oath of office?

TRUMP: I've already made that optional!

(TRUMP CHUCKLES, HANNITY GRINS WIDELY)
Shortly after this interview, Trump signed an Executive Order nationalizing Merriam-Webster and installing Sarah Palin in a new position as Director of Definitions.