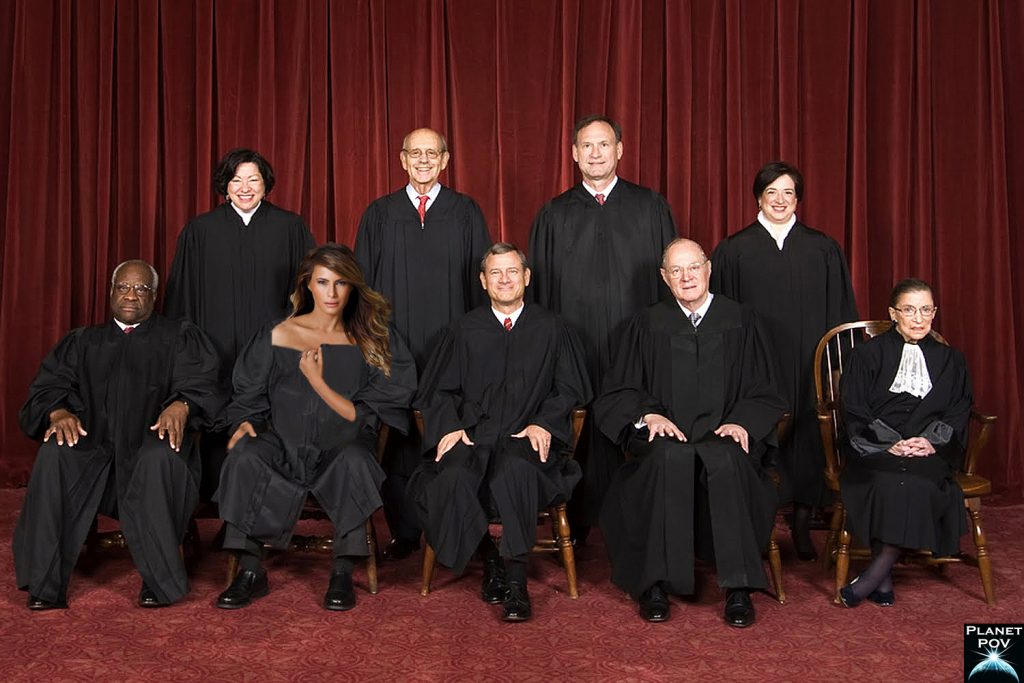 Preparing for her speech tonight at the Republican National Convention, Melania Trump is expected to announce that if Donald Trump wins the Presidency, she will be nominated by him to become an Associate Justice on the Supreme Court.
Melania was reticent at first to discuss this, since it was supposed to be a surprise but due to her apparent excitement at the prospect, she eventually opened up about it.
"When Donald first told me that he wanted me to be on his SCOTUS, I have to admit that I misunderstood and told him that I had a headache," Melania explained while motioning for a servant to get on all fours and act as a human foot rest for her. "But once he explained to me that SCOTUS stands for 'Supreme Court Of Trump's Ultrahot Spouse', I was very flattened. Or is it 'flattered'?"
When asked what experience she has to be one of the nation's top jurists, she first asked what a 'jurist' was then confidently stated she is well qualified. "I think that in the 10 years I've been an American, I've learned as much about law as Judge Judy…I mean, I've learned much about the law from watching Judge Judy. 'Don't pee on my leg when it's raining,' you see?" Melania smiled vacuously.
Melania continued, "And being right beside Donald as he's filed so many lawsuits along with my spending a lot of time around so many judges…like the ones who decide Miss Universe, I know I'm ready to hit my little…what is it? Hammer? And declare that the dependents are 'Guilded' or 'Not Guilded'."
"Being a judge is about having good judgement, right? I'm a college dropout who made a great living from the most superficial aspect a human being could exploit and married a man almost twice my age for his money, a man now known as a racist, misogynist and emotionally on a par with a 10 year old bully. I think my judgement speaks for itself," Melania boasted.
Melania says she knows there will be many who oppose her joining the Supreme Court but that it won't impact her. "I know I will be a wonderful Supreme Court judge. I believe in predicting the Constitution, I have binge watched many Law and Orders and most of all, I look fantastic in a gown!"
Ruth Bader Ginsberg could not be reached for comment, Supreme Court clerks explained she admitted herself to George Washington University Hospital due to severe headaches from repeatedly pounding her head on a wall.