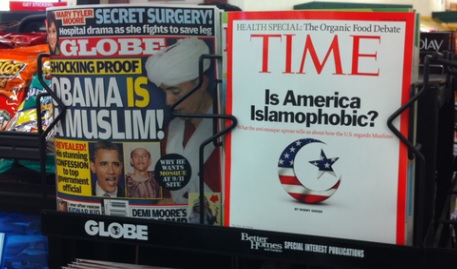 Terrorism is a tool. Terrorist acts are not the last act of a terrorist mission, they are the first act of the much bigger mission.
In their stampede towards cowardice and embrace of the flip side of prejudice that ISIS relies on, a number of Republican Governors are obliviously following the desires of ISIS in proclaiming that they won't accept refugees from Syria, Iraq and the region under siege by ISIS. And this is exactly what ISIS wants, overt bigotry and hatred by those in the West against Muslims, affirming the Crusaders vs. Righteous ISIS scenario which is their primary recruiting propaganda.
To be clear, Republican Governors are blindly providing support for ISIS' recruiting efforts to make ISIS grow bigger and more powerful. And they're doing it through knee jerk cowardice, almost crowing about how their prejudice against non-whites and non-Christians (those who are different form them, that is) is now completely justified.
Which Republican Governors have jumped aboard the Cowardly Bigot Express? The 24 (so far) are the governors of Alabama, Arizona, Arkansas, Florida, Georgia, Idaho, Illinois, Indiana, Iowa, Kansas, Louisiana, Maine, Massachusetts, Michigan, Mississippi, Nebraska, New Hampshire, New Jersey, North Carolina, Ohio, Oklahoma, South Carolina, Tennessee, Texas and Wisconsin. Only one Democratic governor (NH) has joined this panic party.
The first question that comes to mind is why these Republicans, especially those in The South, think that panicking after a terrorist attack and proclaiming how fearful they are, comes off as macho in the supposedly "macho" Republican community. Their fear doesn't make them look strong to those outside of Republican communities, they look like small, weak, cowardly men.
It seems clear that these Republican Governors are acting politically, they know that the xenophobes that make up the core of their voters will reward them for using the attacks to proclaim Islamophobia as state policy. Still, consider the stupidity behind such declarations:
All but one of the Paris terrorists were citizens of France or Belgium. Are all these governors going to also bar everyone who's French or Belgian from entering their state? Are they going back to Freedom Fries and Freedom Chocolate? Didn't that defeat the terrorists too?
Once in the U.S., Muslims can drive cars, ride on planes and buses and even walk. So Republican governors, you've refused to allow the U.S. government to settle Syrian refugees in your state. Instead, they've been settled in a state near yours. Guess what? They can come into your state anytime they want by driving, flying or taking a bus. Unless you ask Donald Trump to build a "yuuuge" wall around your state, of course. BOO!!!
Islamophobia creates more terrorists that could come and attack you. It's pretty well documented that the ISIS volunteers coming from The West to join ISIS are disaffected Muslims who feel oppressed and mistreated. Openly and aggressively voicing support for Islamophobia as these Republican governors are, is exactly the desired outcome that ISIS was hoping its attacks would inspire. Unintentionally, these Repubs are collaborating with ISIS as top tier recruiters.
Brave people are defiant against evil people, not their victims. As President Obama is displaying, brave men and brave leaders encourage their citizens to not give into fear and to defy the intent of terrorists. They urge people to continue acting on their principles and not allow the terrorists to win by compromising who they are. America and the world have long believed in the moral responsibility of providing a haven for the refugees of terrible conflicts. It is part of the American character and the nation's humanity to do so. Republican Governors might be quick to throw away such principles but when they do so, they allow terrorists to have power over them and their alleged principles.
An American Muslim community that is supported by our political leaders is a strong defense against extremists and terrorism. Instead of smearing all Muslims as possible terrorists, embracing Muslims as equals and non-automatic terrorists helps build a community that embraces America back. Part of the reason France is such a target for Muslim extremists is that their government has been at odds with the Muslim community over the years. Some will remember the Muslim protests that swept France a decade ago, this tension has been around fro some time. It is a different situation in America, in general, Muslims are more comfortably integrated into the country. This provides for a more positive sensibility for Muslims in America and is more conducive to their feeling a part of the country instead of feeling like outcasts in an Islamophobic nation and more prone to hatred and committing violence.
Islamophobia right after 9/11 only made everything worse. Osama Bin Laden made clear that he had a goal to bring America to its knees. The attack on the World Trade Center didn't do that in itself. But the Islamophobia and knee jerk fear and rage driving more violence and wars, accomplished Bin Laden's goals for him. President George W. Bush whipped up and rode the wave of Islamophobia in America to go to war in Iraq which helped destroy our economy (not to mention cost us so many irreplaceable lives of our soldiers and innocent Iraqis) and created ISIS. At least in comparing the economic and human toll that Al Qaeda directly caused and that Bush directly caused, it's hard to argue that the attack on 9/11 caused more losses to our country than the Islamophobia-driven responses by our leaders afterwards.
It is an important goal for ISIS to have the response to their terrorism be one of Islamophobia. They want and need an existential battle between Muslims and non-Muslims and inspiring Islamophobia is key to that. So when we see the rise of xenophobic, anti-immigrant nationalists like The National Front party in France, UK Independence Party in the UK, the Danish People's Party in Denmark, etc., we see ISIS' wet dream coming true.
And watching Republican governors jump onto this Islamophobic dog pile makes one ashamed at the cowardice and ignorance they proudly display on behalf of America.
Those who are smart, learn from experience. Panicking about Muslims after 9/11 led to disasters that continue today as we've seen this past week.
We need to be smarter than our fears, holding on strongly to our principles especially when confronted with hatred and violence. It will always be what's best in us that protects us in the end, not catering to the worst of our fears and prejudices.
(UPDATE: This article has been updated to reflect the increased number of Governors opposing refugees. Also, Republicans in Congress and running for president are unsurprisingly jumping on the Fear and Bigotry bandwagon, Jeb Bush and Ted Cruz even stating that only Christian refugees should be allowed into the U.S..)