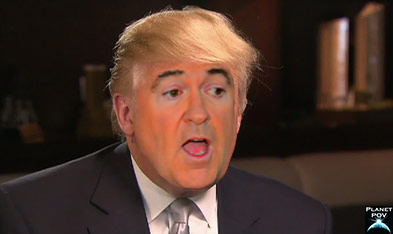 This weekend, Mike Huckabee was admitted to a Little Rock, Arkansas hospital, suffering from what doctors describe as PTSD, or Post Trumpatic Stress Disorder. Mental health experts explain that the Republican Presidential candidates are especially vulnerable to this disorder, triggered by the emotional stress of being forgotten about and unable to get media attention since the entry of Donald Trump into the GOP Presidential Primary.
Currently under observation by mental health experts, Huckabee has been rambling incoherently about President Obama being Hitler, peaceful nuclear agreements being a march of Israelis into ovens and Obamacare forcing Jews to put mayonnaise on their pastrami sandwiches. As part of this tragic mental illness, not only is Huckabee uncontrollably using Nazi imagery to describe every opinion he opposes but he has begun wearing a Donald-Trump-style toupee and his Southern accent has changed overnight to resemble Donald Trump's east coast accent.
Huckabee has been observed trying to fire all of the medical staff attending to him, filing for bankruptcy four times and calling for Latino orderlies by saying, "Tell the rapists I need a new bedpan."
Unfortunately, doctors are expecting Huckabee's condition to worsen. "We've still got Lindsay Graham and Rick Perry in our isolation ward…which coincidentally is the same term the GOP is using for the rest of their primary field," explained Dr. Walter Irony. "Mr. Huckabee appears to have the most acute case of PTSD so far, we're concerned about how much worse he will become when he runs out of Nazi imagery to get attention. We have started him on a media exposure drip, hooking an IV up to him from Sean Hannity's posterior."
The prognosis for Huckabee and other GOP candidates to overcome Post Trumpatic Stress Disorder isn't encouraging. Doctors warn of its potential to become an epidemic that spreads throughout the Republican Party and are bracing for it by installing many banks of escalators for Republican candidates to use to enter their facilities in as Trumpian a way as possible.
"We're preparing for the worst case scenario, we've made thousands of copies of a list comparing various Nazi persecutions of Jews to Obama policies, we're training our Latino staff members to self-deport and we've instructed all our workers to incorporate the words, "huge", "billion" and "worst" into any sentence they speak," Dr. Irony stated.