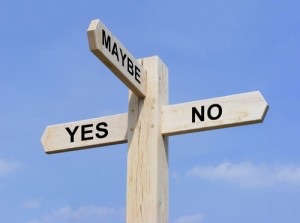 In the midst of being urged from a variety of directions to take a position on the Trans Pacific Partnership, police violence against black citizens and other controversial issues, Hillary Clinton has announced definitively that she will be taking a strong position against taking positions.
"For too long, candidates running for President have been harassed by the media to explain their positions on the most important matters of the day at great risk to their campaigns," Hillary explained. "Someone has to have he courage to take a stand not to take a stand!"
Surprisingly, Secretary Clinton's position on not taking positions  appears to have bipartisan support. Republican Presidential candidate Jeb Bush expressed a similar position on non-positions.
"Presidents have to be deciders. They have to make the tough decisions even when they're not popular…but…still have to stay popular to win the election," Bush explained with a tone of uncertainty. "It's what my brother George W, would call a "chicken in an egg" dilemma. So in the name of honoring the will of the American people to support candidates who don't say things that could be controversial, I am strongly adopting a position of not taking positions on difficult issues."
Most of Bush's fellow Republican candidates are following his lead and staking out a "no positions" position. Senator Rand Paul stated, "I want voters to know where I will always not stand. A candidate is defined by the positions he or she takes which is a real problem. I've solved that problem just as I can solve all the rest of America's problems. There is nothing we can't accomplish together if we just unite behind not having opinions."
Due to the growing adoption of this position by Republican candidates, debate organizers are re-thinking the structure they will use.
"Our real concern is that our debates may run less than five minutes with all the candidates refusing to offer opinions," GOP Chairman Reince Priebus confessed. "We're thinking of replacing the moderators with circus sideshow acts to keep viewers watching…but we're worried that some of them might look more viable and beat out our candidates to win the GOP nomination. It's a toughie!"