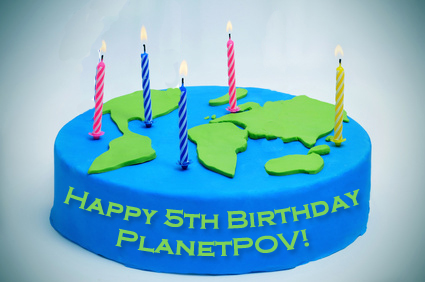 Five years ago, after George W. Bush left the White House to pursue a second career in bathtub self-portraits and a young Senator named Barack Obama defied predictions and convention to be sworn in as America's 44th President, PlanetPOV began it's orbit.
Kalima, KQuark and me met as bloggers at Huffington Post and as its character changed, we imagined a home for bloggers that echoed what we enjoyed of the early HP, the sense of community, the freedom of expression and the informed, conscientious and wit-filled conversations. To that, we added our own sensibilities of what an ideal site for bloggers should include, an adamant respect for freedom of speech, spotlighting real people with real opinions and insisting on a modicum of respect for all.
Along the way, we and our fellow members added unique features to PlanetPOV and continue to keep The Planet spinning in fresh ways. We've upgraded our server and our software in an ongoing commitment to keep PlanetPOV speeding along.
We are an all volunteer site, all the work you see our Admins doing here (and a lot more you don't see behind the scenes) are provided purely as dedication to the community here and all that The Planet represents.
PlanetPOV doesn't accept the typical advertising that you see at many other sites because some of it would conflict with our principles and those of our members (no doubt you've seen pro-Right Wing ads on HP and other sites not perceived as Right Wing sites). So, the way we pay our bills is primarily through your kind donations.
As part of our celebration of  five years of providing a platform for real people to speak truth to power and express their opinions on any and all issues, we invite our members and readers to donate to PlanetPOV to help out with our ongoing expenses of keeping The Planet orbiting the political universe as well as encouraging colleagues, friends and family to join the growing community here.
If you appreciate the conscience and informed nature of the articles, comments and conversations you find here, please donate. If you enjoy the international rundown of what's going on around the world on Morning Blog, please donate. If you enjoy Vox Populi and the new live chat room software we've added, please donate. If you enjoy the Weekend Music Thread that Kilgore Trout hosts, please donate. If you enjoy the irreverent humor in the comic and satirical articles posted here, please donate.
We don't make many requests during the year for donations, this is the first time we've done so this year so we do encourage all those in our community to pitch in even if they've donated in previous years.
There are two ways to donate, you can make a one time donation or subscribe to make a $5 monthly contribution (just about the price of one coffee at Starbucks…and The Planet never makes you wait in line!).
To make a one time donation, you can click this button:
To subscribe to PlanetPOV, please click this button:
A big thanks to all of our members for helping us reach and celebrate our fifth anniversary! With a midterm election coming up fast this year and a Presidential election picking up steam next year, not to mention all the big stories happening in the U.S. and all around the world, there's going to be a lot going on here at The Planet and your contributions will help make all that possible.
So…here's to the first five years of our remarkable community here…and to the next five! Cheers!