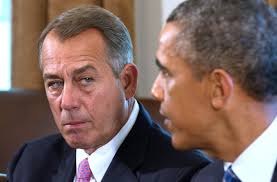 House Speaker John Boehner announced today that he will be spearheading a new bill that will, in advance, impeach all Democrats who become President. Boehner claims that this will result in greatly freeing up the time of a Republican led House of Representatives so they can spend more time on more important bills that help the American people, chuckling as he finished that sentence.
As part of the promotion of this bill, Boehner produced a spreadsheet showing how many hundreds of millions in taxpayer money would be saved over the next ten years by House Republicans not having to spend most of their time trying to find a scandal that sticks to each future Democratic President.
"We discussed this amongst the GOP leadership and realized that as long as we're going to try to impeach every Democrat President that gets elected, we ought to be efficient about it and do it all in one fell swoop," Boehner explained. "Obama may lead from behind but we're going to show that instead, Republicans can take it from behind and reach around to to the future."
The bill is constructed so that a form-letter-type declaration of impeachment will be automatically generated by The House on the same day that any Democrat is inaugurated into the Presidency. The declaration uses blank lines in the areas where charges against a future Democratic President should appear, and terms like "Enter Scandal Here", "List Connections to Terrorists" and "Fill In Traitorous Act" are placed  beneath the blanks, in parentheses. The section asking for a bodily function and the name of a farm animal does seem to betray that the bill may indeed have been adapted from a page out of a Mad Libs book.
When asked if such a bill would show that Republicans simply want to undo democracy whenever someone from the other party is elected, Boehner yelled incoherently about the liberal media, Obamacare and how scotch makers could fill their bottles a little more before capping them.
Republicans in The House are anticipated to pass this bill next week, after their investigation into Obama's birth certificate being forged by a socialist Fast and Furious agent who pals around with terrorists in Benghazi is completed.