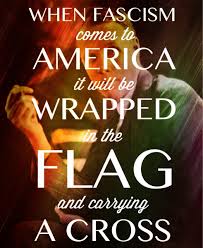 Manhattan has been fortified, well as much as the remaining residents of New York can with their limited resources.  Now they wait, for what, they are not sure.  On October 22, 2022, New York is the last bastion of what was once a free country.  Within hours, the last bastion of free society has capitulated.  They tried, they really did but fighting a new President who has the military at his disposal, militia and the National Guard now under his control as well as the Joshua Brigade, the 22 states that were a hold out and refused to remain with this new America, had no chance in a losing proposition against the new Christian-based government.  You say, what?  How can this be?  How could a President completely take over in the space of a year?  We are the bastion of the world in Democracy, this is just not possible.  Well, it is possible because they did so from within, they did so slowly, they did it in small ways, they did it using the same ideas people tried to warn you about.  They used a Shock Doctrine to erode the rights of the people, they used fear to bend the will of the people and they used the legions of people they had been placing in local, state and national offices all over the country to take control.  They did not manage this in a year, they waited patiently for many years to reach this pinnacle.  Many people across the country are puzzled but why should they be?  The Religious Right told them they were going to take over, why was it so hard to believe they did what they told the people they would do?
The above is a synopsis (without giving away the whole plot) of a book called, Christian Nation by Frederick Rich.  The plot of the book revolves around a New York City attorney(Greg), and his college buddy, an internet entrepreneur, Sanjay.  Sanjay begins to feel that things are going in the wrong direction and starts researching the Religious Right.  What he uncovers, is what many of us have uncovered in our search for information regarding their activities.  He tries to warn people and eventually with Greg's help, he starts to make some inroads but it is way too late.  In the book, McCain won the Presidency and of course Sarah Palin was his VP.  As planned, they gave her little to do but no one really counted on the fact that within a few months McCain would die of an aneurysm and that Palin would become the new President.  For a short period of time, not much changes.  Oh there are little things happening here and there, Sam Brownback is appointed VP and Steve Jordan from the Faith and Freedom Coalition is set up in an office at the White House as an "unpaid political consultant".  In the event others want to read the book, I will not give away much more of the story.  What I will tell you is that it is a valid version of what COULD happen if America does not wise up and pay attention and act, most importantly action is needed.
Men never do evil so completely and cheerfully as when they do it from religious conviction – Blaise Pascal – Pensees
We have seen this in action all throughout the history of the world and the people planning on doing that evil always warn us, we may not always hear them but they do warn us.  People are trying to tell all of us what they will do if they ever reach the White House again.  Hobby Lobby was a huge warning shot over the bow.  Internet chatter from trolls who claim civil war or a revolution is coming.  The hints of religion in the halls of our government offices.  Our Supreme Court making decisions that are directly in conflict with our Constitution.  They are all thumbing their noses at us and privately and sometimes publicly gloating.  In fact, it is my guess that even if they do not win the White House, they might attempt a coup based on their sheer madness in not being able to fulfill the destiny they think that God has for them.  Throughout history we have seen over and over what religious fundamentalism will do to a people.  We see it in countries all over the world.  What is supposed to be a peaceful and loving experience is taken to the opposite end of the spectrum.    And that opposite end always ends in violence.  I was recently given an article from a very good friend and it really drove home to me just how much of this fundamentalism has already impacted our country's decisions and our conduct in war.  When you have a soldier who is proud of the number of Iraqis he has killed and who makes no secret of his fundamental religion, do you think there might just be a slim chance that there are many more and that he truly believes that he is doing God's work?  And perhaps there are many more whom it would not take much persuasion to do the "right thing for their Lord and Savior?"  Call me silly but I know how deeply the religious right has infiltrated our military and it sometimes keeps me up at night.
We have many people in this country that would institute their own form of Sharia Law faster than you could blink, if they were given the opportunity.  It should be a secret to no one in this country who can read that there is a nasty undercurrent in our politics that has far more to do with a power grab than actual hate.  I am not saying that there is not hate involved, but I do believe the drive is more toward control than anything else.  And when you add a religious fanaticism to that drive for control, the endgame is not pleasant.  I have studied the religious right for the past 6 years, some call me an expert(unprofessional, that is), but I can tell you, I have not even scratched the surface.  I have not been able to dedicate full time to it and trying to set up a database would be a herculean effort.  What I can tell you is that it is no joke, these people are determined to rule this country.  What will happen is if you profess your allegiance to their "God" you will be fine, if you do not, there will be any number of forms of retribution but they will give you a chance to reform first.  Despite their twisted view of Christianity, or maybe because of it, they do so enjoy proseltyzing so you will get a certain amount of time to make a "sincere" decision.  I do not have a crystal ball to tell people exactly how, when or where it will be, all I can tell you is it will be hard.
So how do we prepare or head it off completely? All I can say is be vigilant, listen to these people when they talk, listen carefully.  I can guarantee that even if they are not addressing us as a whole, they are addressing people they know and their plans are being communicated among themselves.  Hannah Arendt dated her awakening to February 29, 1933, the day the Reichstag burned down.  "From the moment Adloph Hitler began using the fire as a pretext to suspend civil liberties and crush dissent", Arendt said, "I felt responsible" (Samantha Power, Introduction to 2004 edition of Hannah Arendt's The Origins of Totalitarianism).  We are seeing our police forces meet peaceful protests with riot gear, we are seeing police more violent with the citizens they interact with, these are signs of a change in the structure of our country.  What I see is intimidation and intimidation is a driving force in creating a populace who does not speak up, speak out and certainly not fight back.  While you cannot tie them directly to the Religious Right, surely you can see it as a step toward a docile population.  A population for which the majority will not fight back.  How much easier would it be for fundamentalists to take over with a population that has been conditioned not to fight back?  Here are some quotes from religious right leaders.  Read them carefully and see if you can see the underlying message that is being sent.
The Religious Right proclaims they are being muzzled and it is their rights that are in jeopardy in spite of their freedom of speech on politics, within certain boundaries.  Tony Perkins of the Family Research Council:   "What liberals who misread America's original document are really saying is that the Federal government should not only silence churches but also exclude their members from any influence on government.  In the name of tolerance, they would be intolerant to others."
What?  In a system that is designed to encourage religious freedom for everyone, Perkins is branding it as silencing churches and being intolerant.  Our Constitution provides protection for the rights of all citizens but to tell the truth, the rights of ALL citizens are not the Religious Right's concern at all.
"It is not possible for there ever, in the United States of America, to be a separation between God and government because God is the source of every single right which government has a sacred duty to protect … not a single one of our unalienable rights will be safe in the hands of a president who believes that we evolved from slime and we are the descendants of apes and baboons … look at the nation states in the 20th century which rejected the creator God of the Judeo-Christian tradition – Nazi Germany, Stalinist Russia, Communist China. The one thing all of these secular states share in common is dead bodies." Bryan Fischer, American Family Association
The dead bodies are a true statement, however, Hitler would beg to differ with Bryan Fischer about Christianity:
The national government will preserve and defend those basic principles on which our nation has been built up.  It regards Christianity as the foundation of our national morality and the family as the basis of national life.  February 1, 1933
Ralph Reed (on his prowess as a political operative for the Christian right wing in 1991):
I want to be invisible.  I do guerilla warfare.  I paint my face and travel at night.  You don't know it's over until you're in a body bag.
Jerry Falwell:
I hope I live to see the day, when, as in the early days of our country, we won't have any public schools.  The churches will have taken them over again, and Christians will be running them.
Sarah Palin:
Go back to what our founders and our founding documents meant — they're quite clear — that we would create law based on the God of the bible and the 10 Commandments.
—Michael Schwartz, chief of staff to Senator Tom Coburn (R-OK), in 2004
I'm a radical! I'm a real extremist. I don't want to impeach judges. I want to impale them!
Cornerstone Church's Rev. John Hagee, who endorsed John McCain during the 2008 presidential race.
As soon as Jesus sits on his throne he's gonna rule the world with a rod of iron. That means he's gonna make the ACLU do what he wants them to. That means you're not gonna have to ask if you can pray in public school. We will live by the law of God and no other law.
Rev. Andrew Sandlin, Chalcedon Report, March, 1994 (Rousas Rushdooney's Chalcedon Institute)
If Christians are charged with exercising dominion in all spheres of life (Gen. 2:26-28), to abandon public education to Satan is to compromise our calling. The attitude and approach of Christians should be that they never expose their children to public education, but that they should work increasingly to expose public education to the claims of Christ. Certain specially suited Christians, in fact, should pray and work tirelessly to obtain teaching and school board and even administrative posts within public education. The penultimate goal of these Christians should be the privatization of these larcenous institutions, and the ultimate aim the bringing of them under the authority of Christ and His word.
Need any more?  These people have made no secret about what their intent is and if you look around you at the state our populace is in relation to their lack of respect for and belief in a good public school education, you just might think some of these people and their followers have had a lot to do with it.  Like Ralph Reed said, they are going to come in the night, they will lull the public to sleep and then by virtue of some national tragedy(real or false flag) they will make their move and do Exactly What They Said They Would Do.  Where will you be?  I hope I am in a world where people finally woke up and stopped this for good, but I am not holding out much hope.
***I have also done some other work here on the Religious Right, you can find them in the archives here.
President Kennedy had some foresight into domination by Christianity, he talked about it in his speech to the Greater Houston Ministerial Association in 1963
http://www.americanrhetoric.com/speeches/jfkhoustonministers.html
Religious Fundamentalism in the War on Terrorists
http://m.aljazeera.com/story/201369121946527287
This is a religious civil war:  Hobby Lobby only the beginning for religious theocrats
http://www.salon.com/2014/07/08/this_is_a_religious_civil_war_hobby_lobby_only_the_beginning_for_new_religious_theocrats/
I'm Terrified of these Religious Zealots – Claire Connor Mork
http://claireconner.com/2013/09/21/im-terrified-by-these-zealots/