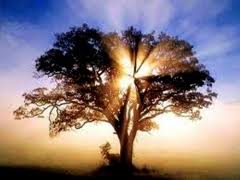 This is a re-post of an article I posted to God's Own Party website.  For this posting I have added information I found after the original post and I have also re-written some portions.  With the exception of new information discovered after the original posting, all information remains the same.  I went to some dark places the day I was researching all of this and had a strange dream that night.  These people just keep multiplying their organizations.
A few months ago I decided to get up very early on a Sunday morning to view a relatively new program on MSNBC, Up With Chris Hayes.  I had seen Chris in various political pundit situations and was somewhat impressed with his quiet way of speaking the truth so I was curious to see what his show was all about.  For the most part the discussion was pretty general about politics and the coming election.  Then the subject changed to Latinos and their role in the coming election.  Chris Hayes had invited Pastor Samuel Rodriguez to participate in the discussion.   Knowing what I know about Dominionists I immediately perked up.  First of all, how did Chris Hayes find this guy?  Did he do any back-check on the man at all, or did he just see the title, National Hispanic Chrisitian Leadership Conference(NHCLC), and go all out?  I listened to the conversation and Mr. Rodgriguez does make for a good conversationalist, however I was struck at how one can be lulled into thinking a person (who would not know anything about Rodriguez) could think, hey, this guy is representing Latinos and the issues they have with the GOP obvious disdain for them.

Unfortunately for Chris Hayes I knew who Rodriguez is and I was disturbed that he would produce this man as some harmless Latino pastor.  Any google search would have proven to Hayes there was more to this guy than NHCLC.  By not vetting this guy completely, he left his public and his guests with the impression Rodriguez spoke for a majority of Christian Latinos.  I don't usually do this, but I wrote Chris Hayes an email explaining my disappointment of his lack of vetting which should be expected from any "journalist." Validating his guests should be the least he does prior to introducing them.  I told him how he deceived his audience by portraying this guy as some social justice warrior for Latinos purportedly based on the name of his organization.  Hayes never responded to my email.  I guess he was not concerned that I might relay my experience to others who now may question his due diligence as well.
So you might be wondering why Samuel Rodriguez might warrant such a spirited response from me and it is because he is involved in The Oak Initiative.  The Oak Initiative is really just another dimension of the myriad groups of followers of C Peter Wagner of the 7 Mountains Mandate.  To be quite honest, I seriously doubt that a majority of Latinos have never heard of this organization, but rather are familiar with him in his role with the NHCLC and you may not either so I will tell you about the Oak Initiative.
You can best understand who they are by knowing what their purpose is although intentionally they will describe themselves as pretty bland.  Only by knowing their background would one know their true purpose:  To dominate all the nations of the world for Jesus Christ.  The following is their purpose statement, but make no mistake it falls under the umbrella of the 7 Mountains mandate:
"Our Purpose

America is in crisis, possibly the greatest threat to its continued existence yet. However, we can do something about it, and that is the Purpose of The Oak Initiative.

Along with a political and spiritual shift we find our self in need of a shift in our core values and there are signs that this shift is happening. Unlike many other groups, our goal is to see the development of leaders and leadership skills in our members so that along with a shift in the spirit of America, we are ready to champion the core values that are based on biblical or kingdom principles and wisdom. Then it will be the blend of a spiritual awakening with sound wisdom that will lay a foundation for lasting results…

For us, it is not simply about measuring, evaluating, or responding to the change around us but rather being change-agents and facilitating change in every aspect of our culture as we, the Oak Initiative, become infused into the areas of social, cultural, and political impact wherever we find ourselves….

For us, it is not just about less taxes, correction in government spending, large or small government, liberal or conservative agendas, or correcting the balance of power in our legislative branches at local, state, and federal levels….

For us, it is about awaking our people to the voice of our Founding Fathers recorded in the Declaration of Independence, the Constitution, and the Bill of Rights. It's about bringing wisdom, which we have gained from our personal relationship with the Lord and study of His word, into the market place at every level of social, cultural, and political expression.

Our goals will not have been accomplished when we simply provide solutions that impact today's problems but will only be accomplished when we have been a part of a spiritual awakening that lays a foundation for course correction in the future of America.

For us, it is not just a voting ballot or a single set of issues – it's about being a part of an historical shift in a nation that is called to a destiny by God to disciple other nations…

We are The Oak Initiative"
So, there you have it, they are in the business of bringing lasting change to America/The World and only a biblical resolution will be the successful conclusion of that change.  They named themselves as a result of their interpretation of Isiah 61:3:
"and provide for those who grieve in Zion—to bestow on them a crown of beauty instead of ashes, the oil of joy instead of mourning, and a garment of praise instead of a spirit of despair.  They will be called oaks of righteousness, a planting of the Lord for the display of his splendor.'
According to Gill's Exposition of the Entire Bible:
"that they might be called trees of righteousness; that is, that the mourners in Zion, having all these things done for them, and bestowed on them, might be called, or be, or appear to be, like "trees" that are well planted; whose root is in Christ, whose sap is the Spirit and his grace, and whose fruit are good works; and that they might appear to be good trees, and of a good growth and stature, and be laden with the fruits of righteousness, and be truly righteous persons, made so by the imputation of Christ's righteousness to them: "the planting of the Lord"; planted by him in Christ, and in his church, and so never to be rooted out"
In actuality, all they really did is search the Bible for a verse that would fit their agenda and then take up that mantle, I doubt God spoke to them and offered it to them. These are their stated beliefs in a nutshell:
"They believe in charity, but only at the local/non-government level.
They claim they want to defend individual freedom but hold "Awakenings" around the nation to turn Muslims to Christ and that freedom is based upon eternal law that God is sovereign and grants all rights.
They claim to defend political freedom but their website is geared toward Republican voters.
They will establish, maintain and defend religious liberty and challenge attempts to inhibit such liberty
Their conviction is that the development of the Constitution and Bill of Rights of the United States were guided by biblical principles and morality. These are the basis of legitimate government of the United States, and any who seek to void or circumvent these must be opposed.
The (claim) to seek resolutions for healing moral offenses, prejudices and justice(except if you are a Muslim so their all does not really mean all)
They are pro-life except when the state decides to kill someone
And they are guided by The Lausanne Covenant (you can read about this covenant at http://www.lausanne.org/covenant)"
"The Church must be in the world; the world must not be in the Church."  I found that statement in one section of The Lausanne Covenant and thought it rather strange.  To me it means, no matter what they do in the world, the world will never be able to enter their realm.  Perhaps that is somewhat simplistic but knowing these people I just thought it strange for them to claim dominion over the world but tell the world "you have no say in what we do."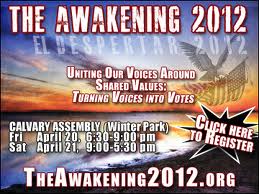 So, who are these people?  If you have followed the Dominionist movement you will recognize their names.  They do not list Samuel Rodriguez on the website any longer but there is also a reason for that.  He was questioned by Faith2Action – Rachel Tabachnick and he claimed he did not belong.  She questioned why he was named as a VP on their site and they promptly removed his name.  She had gotten a screen capture and confronted them again at which time both Rodriguez and Rick Joyner assured Rachel he was leaving the group.  Sure he did, but of course he did not, he just took on another role as a steering committee member and attended their recent "Awakening 2012" as a speaker.  So that would bolster my discomfort with his original appearance on Up With Chris Hayes.  But to continue, sometimes even if you have followed them, new names will still pop up, as it did for me. I will add comments below but I urge you to read their full bios, there are some surprises there, like no religious background asserted?  So who else is involved?  Read on:
Chairman: Marc Nuttle is an attorney, based in Norman, Oklahoma, who represents corporations, business projects and political entities nationally and internationally.  He is managing partner of Oklahoma Sovereign Development, LLC (OSD), an Oklahoma based industrial development company.
They make no mention of his religious leanings but this man is well versed in political campaigns.  Of course, being the defenders of political rights that they are, he has only helped Republican candidates.
President: Rick Joyner is the Founder, and Executive Director of MorningStar Ministries, which includes MorningStar University, and The MorningStar Fellowship of Churches, as well as Heritage International Ministries, the restored Heritage USA Grand Hotel and Conference Center. He is the author of more than 30 books, including The Final Quest Trilogy, There Were Two Trees in the Garden, and his latest, I See A New America. Rick and his wife, Julie, live in South Carolina with their five children: Anna, Aaryn, Amber, Ben and Sam.
He also believes that Sarah Palin was anointed to be the leader of our "great nation" and that her turn would come.  Of course if that failed he has Michelle Bachmann waiting in the wings.  Sadly, this year, that failed as well.
Lt.Gen. (U.S. Army Ret.) W.G. "Jerry" Boykin was one of the elite warriors chosen in 1978 to make up the first unit in America's ultra-secretive and deadly Delta Force. He then became commander of the unit, and later still, commander of all U.S. Army Special Forces. His thirty-six years in the military included a tour at the Central Intelligence Agency and clandestine missions around the world. Jerry retired in 2007, serving his last four years as the deputy undersecretary of defense for intelligence.
Don't let the intelligence function fool you, this man is more delusional than Dick Cheney or George Bush, in fact even George Bush had to reprimand him for describing military efforts as a holy war against Islam while in uniform.  As a matter of fact Boykin has all sorts of conspiracy theories he is more than happy to expound on to anyone who will listen.  Sadly, many do.  Boykin is also a member of the Knights of Malta, a Catholic organization seen by some as a dangerous group.  I will include some links below written by people who have done research on them.  Some claim Catholics, Mormons and Evangelicals have all joined together in the United States because of their joint hatred of Islam.  Also surprise Boykin supported Rick Santorum
Why Boykin supported Rick Santorum
http://www.rightwingwatch.org/category/organizations/oak-initiative
Bishop Larry Jackson is the founding pastor of Bethel Outreach International Church in Charlotte, NC.  He currently serves as a regional bishop for the Fellowship of International Churches (Bishop Wellington Boone, Founder and National Bishop) in the southeastern region of the United States and the Vice President of Strategic Planning.
Bishop Jackson is one of their media people, he has founded Shachah Records, a newly formed Christian record label; Kindgom Writers and Music Association, established to facilitate the advancement of new and independent artists while at the same time serving as a vehicle to unite them; and Kingdom Distribution Network, a distribution company that distributes Christian products directly to the public.
Cindy Jacobs is a respected prophet who travels the world ministering not only to crowds of people, but to heads of nations.  Perhaps her greatest ministry is to world influencers who seek her prophetic advice. She and her husband Mike have founded Generals International. The heart and mission of Generals International is to bring Godly transformation to the societies and nations of the world through intercession and the prophetic. More…
Cindy Jacobs is a longstanding member of the 7 Mountains organization.  She specializes in prophetic intercession. The ministry, now known as Generals International, was founded as Generals of Intercession.  Intercession is still a major thrust of the ministry as they have "generals" around the world who are starting prayer networks in regions such as Central Asia and Turkey.  Here he is attending an Knights of Malta event with Jerry Boykin(in fact he brought Boykin in to the group) H.S.H. Nicholas F.S. Papanicolaou GB.GCSJ(H)
Nicholas F. Papanicolaou was born in 1949 in Athens, Greece.
He was educated at Williston Academy, Easthampton, MA where he graduated cum laude in 1967. He then earned a Bachelor's degree in Economics at Harvard University from where he graduated with advanced placement in 1970, and a Master's degree in Business Administration from Columbia University in 1972.
Nicholas's father, Georgious, discovered the Pap Smear, unfortunately Nicholas has pursued a far darker path than his esteemed father.  Nicholas is a Grand Master in the Knights of Malta with a title of H.S.H. Nicholas F.S. Papanicolaou GB.GCSJ(H).  I searched the net for a wiki on him and found nothing.  Strange since he is an active member in the Oak Iniative.  There appears to be a dark connection between Nicholas and Boynkin, both are in the Order of Malta and both are virulently against Islam.  Here he is attending a Knights of Malta event with Jerry Boykin(in fact he brought Boykin in to the group) Pics are in the Gallery.  http://www.theknightshospitallers.org/leadership
Rev. Lou P. Sheldon is Chairman of the Traditional Values Coalition, a lobby organization representing churches and the grassroots that works to preserve the Judeo-Christian ethics upon which America was founded. The Traditional Values Coalition, founded in 1980 by Rev. Sheldon, speaks on behalf of more than 43,000 churches across the United States regarding pro-family legislation and policy. With an emphasis on the restoration of the values necessary to maintain strong, unified families, TVC focuses on such issues as religious liberty, marriage, the right to life, the homosexual agenda, pornography, family tax relief and education. He is a familiar face and voice for the family before the U.S. Congress and the White House.
At first I did not recognize this man but when I read his full bio, I immediately recognized him and changed his name above from Louis to Lou.  This is Lou in a nutshell:
"A strong voice of the traditional values that have been the foundation of America's greatness is essential if we are to have good government policy. We need to have these values expressed and no organization does that better in Congress than Traditional Values Coalition"
– John Ashcroft, Former United States Attorney General
Enough said about Sheldon.  He is there to lobby Congress and if Ashcroft thinks he is special, you know he is batshitcrazy when it comes to strict religious beliefs.  Ashcroft is the AG who went around DOJ covering the naked statues.
Bob Weiner was moved by God to found Maranatha Churches and Campus Ministries, now with locations on 150 campuses in 20 nations.  During the last 10 years, Bob trained 50,000 youth in Russia for ministry and covered all the training expenses for them.  God multiplied this ministry, and today many hundreds of thousands of youth have been saved, established in churches and cell groups by the thousands.
Weiner's ministry in the 70's and 80' recruited young people mainly on college campuses.  It was reported to be a cult-like ministry with an authoritarian hierarchy where the individual was taught not to think individually but in groupspeak. Weiner's main targets were the best and brightest on campus. Members were told to work hard, get the best grades, and look as good as you could in order to rise in the economic and political ladders of success to be next to influence decision-makers.  The Christian Research Institute said of Maranatha Ministries, "Until we have clearer understanding of the changes which MCM claims are being implemented, and until we see more discernible evidence of change in the lives of people being impacted by MCM, we would not recommend this organization to anyone."
You can read for yourself all about Maranatha Ministries at:  http://en.wikipedia.org/wiki/Maranatha_Campus_Ministries but I find it strange that Weiner once issued an apology for his work with the ministry and now is right back in the mix.  I guess I should not be surprised.
Ardell "Danny" Daniels is an apostle and oversees Spoken Word Ministries with his wife, Kimberly Daniels, in Jacksonville, Florida. Together they travel the globe touching lives for Jesus. They have six lovely children that range from the ages of 11 to 30. Ardell is an ex-drug dealer and addict.  God has miraculously transformed and raised him up for the last days.
Not much is written on Ardell but Kimberly Daniels uses her strength and determination for another purpose. She's known as the Demon Buster, the leader of a small army of deliverance ministers who are exercising spiritual authority through prayer to confront demons of drug addiction, violence and witchcraft in their community in Florida.
Janet L. (Folger) Porter is the President and Founder of Faith2Action – turning people of faith into people of action to WIN the cultural war TOGETHER for life, liberty and the family. She reports from the front lines of the cultural war on her nationally syndicated daily program, Faith2Action with Janet Folger, from 2:00-3:00 p.m. EST (heard on the VCY, REACH FM (Calvary Chapel), Bott Radio, National Pro-life Radio, and Christian Worldview Networks, as well as individual stations throughout the Midwest).  She also hosts a 60-second daily radio commentary which airs on more than 100 stations and at www.F2A.org.
"When the killing stops Operation Rescue and Troy Newman will be among the first to receive our thanks." Janet Folger Porter.  Enough said about Porter.
Dr. Lance Wallnau  has been described by People For The American Way as the hidden architect behind the increasingly viral and politically potent seven mountain template for cultural impact. From forums at Harvard, to work with the United Nations, and training and serving on Ken Blanchard's board, Lance has taught and shaped the contemporary worldview and strategy of leaders on a global level. Taking ideas rooted in the life labors of Abraham Kuyper, Francis Shaeffer, Lorren Cunningham and Bill Bright, Lance has reinvigorated and updated their relevance to a new generation of leaders wrestling with the complex business of societal transformation. For this reason Lance's network spans a diversity of nations and spheres of influence including artists, business leaders, government officials and Universities.
All you really have to do is look at how his ideas were influenced and you know enough about him as well.  There are numerous pieces written about Wallnau on the internet and in order to give my son an idea about this movement I actually bought one of his books.  My son was getting involved in a "dominionist" church and now he has moved on.  Wallnau is bad news.
Dr. Negiel Bigpond  has been in ministry for over thirty years and has been both evangelist and pastor, evangelizing in over 143 native reservations and currently serves as Apostle of Morning Star Church of All Nations. He is an accomplished musician and singer and is also a certified drug and alcohol abuse counselor. Dr. Bigpond is a full-blood Euchee (Yuchi) Indian and a fourth generation minister of the gospel. He and his wife Jan have been married for 39 years and have 3 children, 2 sons-in-law, 1 daughter-in-law, and 6 grandchildren.
You can read more about Dr. Bigpond here:  http://www.sonstoglory.com/RoyMoore.htm
Thomas Hall  has worked for Lou Engle, the founder and visionary for TheCall and TheCall to Conscience.   TheCall is a ministry that has filled stadiums with youth crying out for the nation and for the ending of abortion, for seven years.  TheCall is divinely initiated by God and is multi-racial, multi-generational, and cross-denominational. On September 2, 2000, 400,000 youth gathered together to fast and pray for America. Since the year 2000 TheCall has touched hundreds of thousands of people all over the world through the power of prayer and fasting.
Thomas started his own company called Hall & Brown Associates, which offers event management, event production, marketing, etc.  With this company he is actively working with many organizations in the Political and Christian sectors to help mobilize young people across the nation.  How convenient for the Initiative right?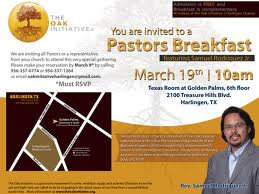 The basic strategy of The Oak Initiative according to them is to be a grassroots movement but I have to ask how can you claim grassroots with so many people who are have influence in high places in the Catholic Church or the Dominionist movement?  They claim they will find and help develop principled and effective Christian leaders who can mobilize and organize a cohesive force of activated Christians.  According to their website:
"These will be called to work on every level where government is found, from the most local to state and national levels."

Believing our strategy will only be effective to the degree that we have leaders and active members who are the most informed and best trained possible, a basic purpose of The Oak Initiative will be the development and dissemination of resources for the purpose of constantly increasing knowledge and upgrading skills to be effective citizens.

Action plans of The Oak Initiative may include everything from community service, promoting commerce, disaster response, as well as the evaluation, proposing, and when necessary, the challenging of government legislation and/or actions that are deemed immoral or hurtful.

The Oak Institute is being developed to raise up effective leaders for all of the dominant areas of influence in the culture, including: government, business, education, arts and entertainment, family services, media, and the church.

The Oak Initiative will help mobilize for and work with other organizations that share our common goals and values."
If you doubt their purpose, then you have not been paying attention.  We have heard so much lately about these groups and their works, usually not in a good way.  What can appear to be innocent activity with these people is always not the case.
This info touches at the edges of the group and their activities.  Perusing the web you will find much darker information.
Identifies Rodriguez as a speaker and a steering committee member
http://freedomfederation.org/content/awakening_2012_speakers3
The Oak Initiative
http://www.rightwingwatch.org/category/organizations/oak-initiatThe Oak ive
Samuel Rodriguez
http://www.talk2action.org/story/2011/9/2/133338/8422
Samuel Rodriguez Claim to have left Oak Initiative
http://www.talk2action.org/story/2011/9/21/01935/7353
http://www.patheos.com/Resources/Additional-Resources/Samuel-Rodriguez-Extremism-and-the-Oak-Initiative-Greg-Metzger-09-14-2011-
Samuel Rodriguez – Washington Post – His story has now changed since he hooked up with the Oak Iniative
http://onfaith.washingtonpost.com/onfaith/panelists/samuel_rodriguez/2008/04/parsley_islam_mccain_and_21st.html
Note:  On the Greg Metzger blog I sent him an email showing Rodriguez was now a steering committee member and was attending "The Awakening 2012" as a speaker.  He asked for clarification and I provided it.  I do not know if he has done an update but will peruse his site at a later date.