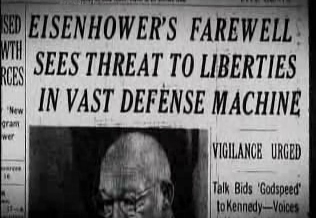 Our military is the strongest and largest in the world. We have enough weapons to destroy the entire world as we know it.
With wars ending the military will have to downsize. People who have an interest in the military industry (that is corporations that make the tools of war) are going to want to get the US involved in some other war somewhere else, or back in Iraq. These people profit from the wars. They don't care about the people in the military. The soldiers are pawns, expendable just like in a chess game. Lets call them the profiteers. They make money by investing in the business that make guns ammo ,bombs, armor, helmets, aircraft, ships, missiles, drones, even uniforms. 
During war time soldiers can advance in rank faster than they can during peace time. So many soldiers want us to be engaged in some war or conflict for their personal gain. We don't use the Draft like when I was in the army. So our soldiers are professional and want to advance their careers. Especially those in the officer ranks. Those who join to defend their country may not think about their own advancement.
When an officer is in a war he is more likely to advance in rank faster due to attrition (his predecessor got wounded or killed so he moves up the ranks). The same is true with enlisted men/women.  Without a draft we have people who want to be soldiers and fight. They will follow orders whether they are righteous or not.
In war there are going to be atrocities , in Vietnam there was My Lai   http://en.wikipedia.org/wiki/My_Lai_Massacre. In Iraq we has the friendly fire, and Abu Ghriab prisoners mistreated. http://en.wikipedia.org/wiki/Abu_Ghraib_torture_and_prisoner_abuse        War is a dirty business.
Next we have politicians who are  lobbied  beyond belief by the military industrial complex. When they are with a lobbyist from a big corporation wanting to get a piece of legislation passed that will benefit them and their corporation, I feel it is bribery. They receive gifts and other valuable considerations (like money) for the promise of their vote on said  Bill.
When you put it all together it makes the strongest military in all of history. This should make us feel safe and secure, right? Then why are we so paranoid ? Why are we afraid of men with beards? Full disclosure here, I wear a beard, have ever since I got out of the army. Why do we fear men who wear robes and turbans?
Why do those bearded men with turbans hate us? Could it be that we invaded their homeland?  Could it be because we were lied to by the worst possible person who was VP and had ties to Halliburton.
President Eisenhower (Ike) warned us about the military industrial complex. To me Ike was the last good Republican President.
So it all comes down to profits for those who have more to gain from war than peace. We have McCain in the Senate who never met a war he didn't like. Why, because he can line his pockets with considerations.
It is all about PROFITS. 
Lets talk about this in a civil way. You may disagree or maybe you agree with me. Either way lets have a discussion.